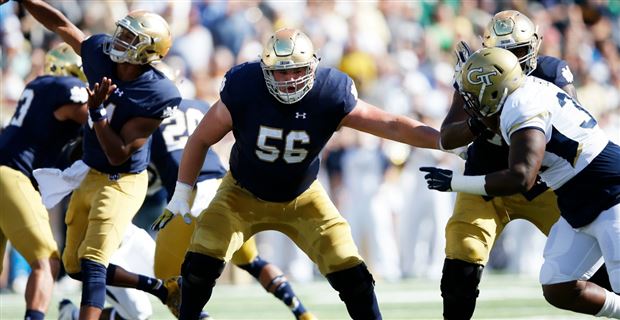 Those who cannot remember the past are doomed to repeat it.
In the spirit of that line by philosopher George Santayana, I have autopsied the 2018 NFL Draft to look for clues on where football is headed, what mistakes we've made in the rankings process and where we can correct them in the future.
In this exercise, I've analyzed the top 100 prospects drafted in April (rounds 1-3) and considered those the sure things — the guys that were draftable players on every team's board and the guys that theoretically should have been highly ranked players coming out of high school. I've compared those players to the players ranked in the top 100 by 247Sports that have been draft-eligible and gone undrafted between the three recruiting classes of 2013, 2014 and 2015. I've excluded a few players whose careers were derailed by off-field issues or injuries so as to help numbers and identifiable traits best tell the story. The idea is to compare the perceived sure-things with the actual sure-things as high schoolers to isolate some positive and negative indicators of future success or failures.
Here's what I learned at offensive line.
The numbers:
Twenty offensive linemen were drafted within the top 100 picks in April. Two of the six offensive linemen drafted in the first round were centers (though neither played center in high school). Seven of the first 10 offensive linemen taken in the NFL Draft are interior guys. Thirteen of the 20 top 100 picks were ranked inside the national top 500 per 247Sports. Nine were four-star prospects. Four were unranked completely. There were nine prospects ranked in the top 100 between the 2013 and 2015 class, who were available in the draft but went unselected. Five of those nine transferred at some point during their college career while each of the 20 drafted prospects finished with the school he signed with.
Takeaway No. 1: Heavier isn't better
The average height between the drafted group and the undrafted group was essentially the same, both at right around 6-foot-5. There was, however, a stark disparity in the average weights of the undrafted guys and the players picked within the first 100 selections. The average high school weight of those 20 plum selections was 284 pounds. The average weight of the nine undrafted top-100 recruits was 25 pounds heavier, at 309 pounds. We have high school weights for 17 of the 20 drafted prospects and only five were listed over 300 pounds. Among only nine undrafted prospects, five were over 300 pounds and seven were 290 pounds or heavier.
Takeaway No. 2: Athleticism indicators are everything
This is no surprise and it is consistent with the first takeaway. Offensive linemen that land in the NFL are athletes, not just wide bodies, and there are a lot of ways to sniff out an athlete beyond the film. Does an offensive lineman play defensive line too? Twelve of the prospects that ended up taken within the first 100 picks played significant snaps on defense (I could only verify that two of the nine undrafted played defense). We have high school testing numbers on six of the first 100 selections. The average 40 time was 5.24, shuttle was 4.77 and vertical was 27.1. The average numbers for the three undrafted prospects that we have data on were 5.7, 5.13 and 23.6, respectively. There's also the multisport background that gives valuable insight. Quenton Nelson practiced taekwondo. Mike McGlinchey was a four-sport athlete that played lacrosse. Nevada second-round pick Austin Corbett was a four-sport athlete that wrestled, played basketball and threw shot and discus at a high level. Joseph Noteboom played ice hockey while Chukwuma Okorafor had a heavy soccer background. At least four of the 20 drafted prospects converted from tight end in either high school or college. Six of the 20 threw shot put better than 54 feet. Only one of the nine undrafted had a shot put mark of better than 50 feet.
Biggest positive outlier: Orlando Brown
A conservative weight for Orlando Brown in high school was 348 pounds. He was raw, sloppy, overweight and had academic concerns. He didn't play on both sides of the ball, didn't have a big multi-sport resume but he was massive. He almost ended up at South Carolina State due to schools passing on him. But Brown has pedigree and Oklahoma helped him shape up and tap into his physical gifts. In this case, mass mattered. The OU All-American was selected in the third round by the Ravens, the team his late father "Zeus" played for.
Biggest head-scratcher: Hunter Bivin
Bivins had the length you want at 6-foot-6 but he wasn't overweight at 290 pounds. We don't have verified testing numbers on him, but he played both sides of the ball, was a three-sport athlete that competed in basketball and track and was the state champion in shot put with a throw of over 55 feet. He signed with Notre Dame but never emerged as a guy.
Biggest miss: Will Hernandez
Hernandez wasn't ranked by 247Sports. We didn't know who he was and never evaluated him. I'd hope that had we taken the time to evaluate him, we would have liked what we saw. Hernandez played both sides of the ball (had eight sacks and an interception as a senior). He was a state champion on the shot put and discus and he even ran the 100 meters for his school (his top time was 12.64 as a senior). Hernandez was also the son of a former Mexican professional soccer player and had a soccer background through middle school. The UTEP product was a second-round pick by the Giants.
What were we thinking?: Damien Mama
The verified measurement we have on Mama in high school is 6-foot-4, 379 pounds. He ran a 5.97 40 at that size, didn't play both sides of the football and had a mediocre 45-foot shot put to his credit as far as resume. Mama was an impressive talent in high school and it was rare to see a guy of his size that could mirror and react like he did. He had a strong college career at USC but that size is always going to be a long shot to translate long term to the NFL.
Looking ahead to 2019
Logan Brown is currently the No. 2 ranked offensive lineman in the country according to 247Sports but he's got maybe the most NFL-friendly profile of the whole crop. The Wisconsin commit is a lean 6-foot-6, 285 pounds. He plays defense in addition to offensive tackle. He's a nationally ranked shot-putter with a top throw of 61-1.5. There is all kinds of athletic upside remaining for Brown as he gets developed in a college program.
On the flip side, LSU commit Kardell Thomas has some of the red flags that we've seen from the overrated crop. He doesn't have the ideal length at 6-foot-3 but he's also really heavy and last weighed in at 356 pounds. While he does compete in track, Thomas doesn't throw at a high level with a top shot put number at only 42-8 and he hasn't shown verified athleticism elsewhere with a 19-inch vertical. He's nasty, though, and he's physical so he may prove to have the kind of toughness that can compensate.
Previous stories: QB evaluations, RB evaluations, WR evaluations, TE evaluations.