Mock draft season is fully underway with the NFL early entry deadline having passed last week for the 2018 cycle. That means projection after projection for former college stars and their future pro teams. But what about the guys still in college, don't they deserve some love, too?
And since we don't have enough big boards and mock drafts out there, we're using Thursday 10 this week (originally published Jan. 26) to create an early look at the 2019 draft class.
College football will see a reset of stars next season in many ways, which you can see from the wide open early Heisman odds. That creates an interesting draft mix as we look forward to 2019 and the rising juniors who could potentially depart early. The quarterback draft class in 2019 isn't great. But one thing is for sure – if your team needs a pass rusher, this is the draft for you.
With that in mind, let's take a look at 247Sports too-early big board for 2019.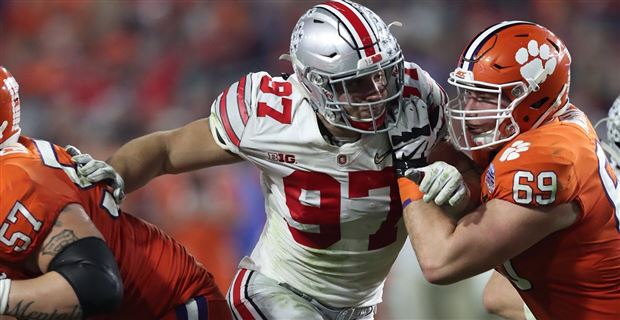 1. Nick Bosa, DE, Ohio State: The top defensive lineman this draft cycle – and by extension, the top prospect – is a matter of preference. We're going Bosa here simply because edge rushers are a premium position in the NFL. Despite a heavy rotation at defensive end with the Buckeyes, Bosa had 16 tackles for loss and 8.5 sacks as a sophomore. The 6-foot-4, 270-pounder also finished second nationally among edge defenders with a 91.6 PFF College Grade. A former five-star prospect, Bosa's very much lived up to his recruiting billing. Expect him to be a top-5 pick next April while contending for this No. 1 spot.
2. Ed Oliver, DT, Houston: One of the best players in the country as a true freshman, Oliver continued that strong play this past season despite some injuries. PFF College rated Oliver as a 92.3 for the season, which was third nationally among interior defenders. He had 16.5 tackles for loss, 5.5 sacks and even threw in three pass deflections for good measure. Oliver is as good a run stopper as you'll find at 6-foot-3, 290 pounds. But what really sets him apart is his burst off the line and ability to create leverage, which destroys protections. For my money, Oliver is the best overall prospect in this draft cycle.
3. Dexter Lawrence, DT, Clemson: Another star lineman in yet another mold, Lawrence is more of a traditional nose tackle at 6-foot-4, 340 pounds. But make no mistake, Lawrence is also a freak athlete who's perfectly capable of shedding blocks and getting after the passer. His numbers won't jump out at you (2.5 tackles for loss, 2 sacks), but Lawrence's presence allows the Tigers' other three defensive linemen to shine – more on a few of them later. Lawrence regressed a little following his true freshman season, but this is a player those around Clemson talked about as a potential No. 1 overall pick a few weeks after he showed up on campus. People with Lawrence's combination of size and athletic ability are that rare.
4. Greg Little, OT, Ole Miss: Remember Little? The No. 3 overall player in the 2016 class and the top-ranked offensive tackle? Well, he hasn't gone anywhere. You'll see a lot of names thrown around as the top tackle prospect in the 2019 draft class, and we'll get to a few of them, but Little was the best among that group last season. PFF College gave Little an 85.3 overall grade in 2017, and his 87.3 pass block grade is well ahead of the other blind side protectors under consideration. And remember, Little, at 6-foot-6, 332 pounds, is a hell of an athlete for his size. This ranking could shift as players like Trey Adams and Jonah Williams put another year on film. But Little is the top tackle on our big board for now.
5. Rashan Gary, DE, Michigan: Probably the biggest projection of the list thus far, Gary is a special athlete who should emerge as an All-American at Michigan as a junior. Gary certainly wasn't bad as a sophomore. He graded out as an 83.4 per PFF College, which was 32nd among edge defenders. He also had 11.5 tackles for loss and 5.5 sacks. He'll still be next to Chase Winovich, a future high-round pick, next season. But Maurice Hurst is departing. His absence should open up a window for even more production from Gary. And few have the ceiling of the 6-foot-5, 281-pound former No. 1 overall player in the country.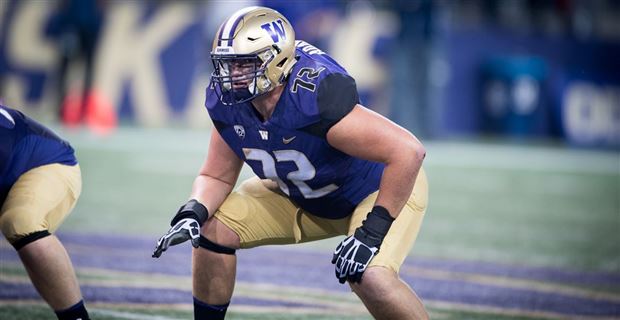 6. Trey Adams, OT, Washington: Widely considered a 2018 first round pick before tearing his ACL in October, Adams is back at Washington for his senior season. Adams is an interesting case. He's all potential at a hulking 6-foot-8, 327 pounds. But he, unlike some other tackles, has further to go in his development. PFF College graded Adams as a 75.3 over 210 snaps this season, and Adams rated as a 78.2 the year before with a full season of work. Adams should only continue to get better, and he's got a huge ceiling. But Adams will need to prove he's fully healthy and show progress in 2018 in order to maintain this highly-billed status.
7. Christian Wilkins, DE, Clemson: The second Clemson Tiger defensive lineman on this list, Wilkins is prized in large part due to his versatility. Able to play virtually any position along a defensive front, Wilkins, at 6-foot-4, 300 pounds, is both a capable interior defender and edge rusher. Wilkins' numbers at defensive tackle this past season won't wow you (9 tackles for loss, 5 sacks), but he's a difference maker who can help a team regardless of system. Wilkins is back for his senior year to cement his stock.
8. Andraez (Greedy) Williams, CB, LSU: Another projection based on talent and a small window of production, Williams had a breakout redshirt freshman year. He finished fourth nationally with six interceptions, and PFF College rated him 26th nationally among cornerbacks with an 85.9 grade. At 6-foot-2, 182 pounds Williams has the length that NFL scouts salivate over. He's also got great hips in terms of his ability to work out of breaks and good speed. If he continues to gain weight and improves as a run defender (he ranked 31th among corners in that category per PFF), Williams should be the top corner off the board in the 2019 draft class.
9. A.J. Brown, WR, Ole Miss: One of the most productive receivers in the country last year, Brown had a breakout sophomore season catching 75 passes for 1,252 yards and 11 touchdowns. He led the SEC in the latter two categories and finished 10th nationally in total receiving yards. Brown, at 6-foot-1, 225 pounds, is an explosive combination of speed and power with a near linebacker's build. He's also a good route runner with excellent hands. PFF College rated Brown as a 85.2 for the year, which was 25th nationally among receivers. Brown also had some of his best games against good competition, catching 10 passes for 109 yards against Auburn and reeling in six catches for 167 yards and a touchdown in the Egg Bowl, which was Ole Miss' Super Bowl a year ago. Brown, the No. 36 overall player in the 2016 class per the 247Sports Composite, will go off the board early next year if he chooses to come out.
10. Shea Patterson, QB, Michigan: Obviously throw this placement out the window if he can't play next season, but Patterson is the best talent among the potential quarterbacks in the 2019 draft class. 247Sports' top-ranked QB in the 2016 class, Patterson is a dangerous dual-threat pairing a cannon arm with accuracy and a beautiful, consistent motion. He's smart and will pick up Jim Harbaugh's complicated scheme quickly, too. This cycle is a weak one for QBs after the bounty in 2018, but Patterson is a potential difference maker if available.
Other Prospects under Consideration (In Order by Position)
Jarrett Stidham, QB, Auburn
Will Grier, QB, West Virginia
Drew Lock, QB, Missouri
Rodney Anderson, RB, Oklahoma
N'Keal Harry, WR, Arizona State
Collin Johnson, WR, Texas
Kaden Smith, TE, Stanford
Jonah Williams, T, Alabama
Clelin Ferrell, DE, Celmson
Raekwon Davis, DL, Alabama
Cameron Smith, LB, USC
Chauncey Gardner, S, Florida
Mark Gilbert, CB, Duke
Deandre Baker, CB, Georgia