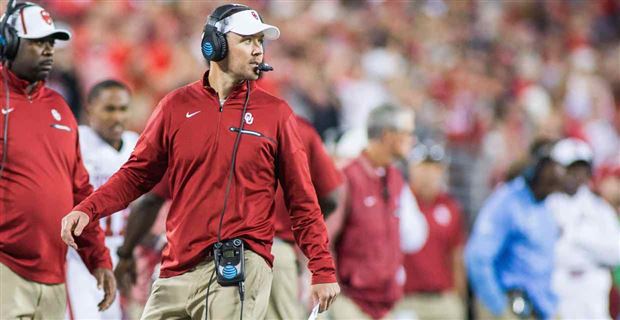 Now that spring ball is finished, the college football world can officially turn to recruiting.
Yes, it's early. But it's not THAT early. Kids are committing every day, and thanks to the accelerated recruiting calendar schools are allowed to host recruits on official visits during the spring. So in this week's Thursday 10 we're taking a look at a few programs off to a surprisingly scorching start on the trail and a few others that have some work to do.
There are no cookie cakes to be found below, but I do promise some delicious stats and insight. All rankings are via the 247Sports Composite Team Recruiting Rankings.
Off to a Fast Start
Oklahoma Sooners
Class Ranking: No. 2
The Sooners are riding high after a College Football Playoff run and the team's third Heisman Trophy winner this millennium. Oklahoma's 2018 class ranks second in the country, and it already holds commitments from a quartet of top 100 players in the 247Sports Composite, including the nation's top-ranked quarterback (Spencer Rattler) and a five-star receiver (Theo Wease). Oklahoma is killing it in the critical recruiting ground of Texas, too. The Sooners already hold commitments from seven Lone Star State players.
Oklahoma is a college football power mainstay, but if this ranking held it'd be an unusually strong effort from the Sooners. Their average recruiting ranking over the last five years is just 13th.
"They have a lot of juice going right now and a staff that's collectively working well together," said 247Sports Director of Recruiting Steve Wiltfong. "When you look at some of the top targets they're in on moving forward, like five-star safety Daxton Hill, they'll have a chance to stay up there. They'll certainly be in the mix for another top 10 class."
Wisconsin Badgers
Class Ranking: 15th
Quick: When was the last time the Badgers inked a Top 25 class? If you said never, congrats! You win. Wisconsin is recruiting at a level matching its status in college football the last few years – in the upper tier. The team's top-ranked commit, offensive tackle Logan Brown, is the No. 9 overall player in the country. If Brown signs with Wisconsin he'd be the Badgers' top-ranked prospect ever. Another of Wisconsin's eight commitments is Graham Mertz, the nation's No. 5 overall pro-style passer and a four-star recruit.
Wisconsin's average class ranking over the last five years is 38th. The Badgers are on pace to crush that if they continue their efforts on the trail.
Duke Blue Devils
Class Ranking: 19th
No, Mike Krzyzewski did not have too many five-stars and toss one to David Cutcliffe. The Blue Devils are simply killing it on the trail early in the process. Duke already holds a commitment from a pair of in-state four-star recruits (Donavon Greene and Zonovan Knight), which is pretty impressive considering the program's only signed 12 four-star recruits in its history. The Blue Devils are doing a particularly strong job in North Carolina, where they hold commitments from three of the state's top 20.
Duke's average class ranking over the last five years is 51st. So yeah, the Blue Devils are off to a pretty hot start.
"When you look at Duke's class, it's really good," Wiltfong said. "Some of the guys you have a chance to get like a Wandale Robinson. The skill players that they're getting in this class like Donavon Greene– he's a freak now, he can play anywhere in the country – and Eli Pancol, who's another three-sport stud who only played football his junior year. Those two guys, Knight and if they can get Robinson, those are skill players who can make Duke as dynamic as any program in the ACC."
Boston College
Class Ranking: 22nd
The Eagles are bolstered by already earning nine commitments, but this recruiting ranking is impressive all the same. Boston College has developed NFL players under Steve Addazio. In his five-year run at the school the Eagles have had 13 players drafted. In the previous five years before that, the Eagles produced just five. Add in productive first-year play from freshmen like A.J. Dillon (1,432 yards, 13 TDs), and Addazio and staff have plenty to sell.
Boston College's average class ranking over the previous five years is 65th.
"Their class isn't sexy," Wiltfong said. "They just have solid guys. But I love with what Duke is doing; Boston College is more of a maybe."
Miami (Ohio)
Class Ranking: 23rd
No, this isn't your sunny, sand-in-your-toes Miami. This is the, "It's what temperature in March?" school in the Midwest. Now, this ranking isn't going to last. The Red Hawks have 14 total commitments thus far, which is more than anyone in the top 50. Still, it's cool to see a Group of Five team, especially one that's not exactly a power, ranked this high. For some context, Miami's highest class ranking ever is 74th.
Iowa State
Class Ranking: 28th
The Cyclones are coming off one of the best seasons in program history, and Matt Campbell is taking advantage of it on the trail. Iowa State currently holds seven three-star commitments, but 247Sports ranks one of them, Blake Peterson, as a four-star talent. Campbell's only been in Ames a short time, but he's already shown an ability to quickly improve the team jumping from three wins to eight in Year 2. Recruits seem to be taking notice.
Iowa State's average class ranking over the last five years is 57th. So yes, the early returns in Ames on the trail are quite positive.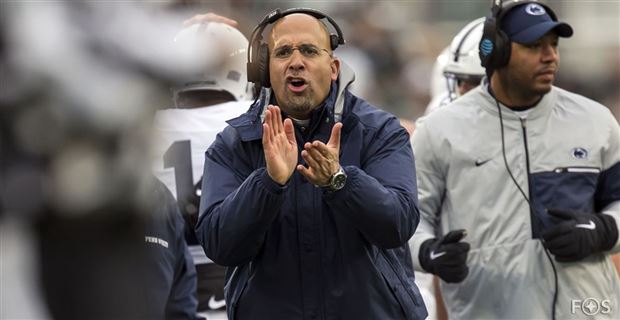 Have Some Work to Do
Tennessee
Class Ranking: 37th
The Vols aren't exactly recruiting poorly. You don't earn commitments from five-star prospects like Wanya Morris if you're doing that. But this isn't exactly a blazing start for Tennessee under Jeremy Pruitt. Honestly, though, that's probably the right strategy for this staff. It takes more than a few months to build relationships, and the Volunteer coaches will be in much better shape in that regard come the fall when they've known the prospects for nearly a year. Plus, there will be plenty of recruits waiting to see what the on-field product looks like following an abysmal final season under Butch Jones. It's going to take Pruitt more than a few months to get things rolling.
For context, Tennessee's last five classes have had an average ranking of 12th. You can recruit championship-winning groups with the Vols. It remains to be seen how Pruitt will fare in that regard.
Penn State
Class Ranking: 42nd
You can go ahead and label this ranking an aberration. The Nittany Lions are 42nd now, but it'd be a surprise to see them finish outside the top 10 come National Signing Day. Penn State's trio of commitments combine for an average rating of a 91 – only 15 other schools (including Tennessee) can say that at this point in the process. Additionally, the Nittany Lions are in great shape for a number of standout recruits left on their board.
"With Penn State and USC, they're going to get hot," Wiltfong said. "You know they are. I mean, I crystal balled the No. 2 linebacker in the country, Brandon Smith, to them Wednesday. They're going to get Devyn Ford, the blue chip running back. James Franklin just had his first ever top 5 class at Penn State. They damned near missed the playoff the last two years. They're going to make their move."
USC
Class Ranking: 52nd
The Trojans, like Penn State, aren't going to finish anywhere close to here in terms of recruiting. But they're also a more interesting case. USC's feasted on a Pac-12 conference/recruiting footprint that's largely underachieved the last few years. That's likely going to change moving forward with some new life being breathed into the conference, which creates more competition in California. USC is known for finishing strong – just look at the way the Trojans closed out the 2018 cycle. But Clay Helton's staff will be tested during the 2019 cycle as they look to sign a sixth straight top 10 class.
"USC's got to be careful in a sense because Washington is really hot out there right now," Wiltfong said. "Oregon is really ramping it up, and UCLA is going to be much better under Chip Kelly. I certainly expect USC to make a run because it always does, but I also think the schools it's recruiting against have gotten better at recruiting for the lack of a better phrase."
Stanford
Class Ranking: 71st
This is a prime example of it being early, because I can guarantee the Cardinal won't finish close to here in the final rankings. Stanford, perhaps more than any other school, must slow-play recruits a bit. The Cardinal need to know if a player can get into Stanford before anything else. That means at least a completed junior year transcript and SAT scores. You'll see movement with the Cardinal much later in the cycle. But, for now, they have an impressive start with their one-man class of Colby Bowman. The four-star receiver from national power St. John Bosco is the No. 192 player in the Top247.
Stanford's small but mighty signing classes have finished an average of 21st nationally over the last five years.