Alabama's linebacker corps suffered through a devastating set of injuries in 2017. With Tuesday's news that likely starting outside linebacker Terrell Lewis underwent surgery for a torn right ACL, 2018 isn't off to any better of a start.
Quality depth is the program's biggest advantage over nearly every other program, and the Crimson Tide have the pieces to endure.
Yet Lewis' loss remains a significant one. A former five-star prospect in the Top247 rankings and one of the Tide's brightest young pass-rushers, Lewis was expected to be an emerging presence on the outside.
"He was set for a monster year," said BamaOnLine senior analyst Travis Reier. "He was potentially a first-round guy for next year. (Alabama) didn't need it either. They have more depth on the outside than inside. But they don't have a lot of Terrell Lewis' sitting around."
Both of Alabama's starting middle linebackers from last year graduated, leaving the talented-yet-inexperienced tandem of Mack Wilson and Dylan Moses. There's more experience on the outside, largely due to the rash of Tide defenders forced into action last year.
Anfernee Jennings is going to play and play a lot. The redshirt junior fought through his share of injuries a year ago, but he dominated in the Sugar Bowl against Clemson, piling up a career-high three tackles for loss and a sack. If Jennings recovers well from offseason knee surgery, an injury he suffered against Clemson, he's in terms of setting the edge for the Tide.
"Jennings against Clemson, if you watch that game, was as disruptive as anyone before his injury," Reier said. "Once he finally had a chance to heal, we saw in three quarters against Clemson what he can bring as an edge-setter and a pass-rusher."
The other outside linebacker spot comes with questions. Christian Miller is the name you'll likely hear brought up the most. A 247Sports five-star in the 2014 class, Miller is a disruptive pass rusher off the edge when healthy.
Miller, like Lewis, missed 10 games a season ago after suffering an injury Week 1 against Florida State.
"In terms of edge rushing ability, Christian Miller ranks right there with Lewis," Reier said. "Miller might not be there with Lewis in terms of converting speed to power. But he can get after the passer."
Behind Miller is a group of raw, untested underclassmen. Christopher Allen will play a lot, greyshirt Jarez Parks, a former Top247 recruit, will like factor into the rotation and Reier says Lewis' injury might speed up the development clock for the nation's No. 4 overall recruit and early enrollee Eyabi Anoma.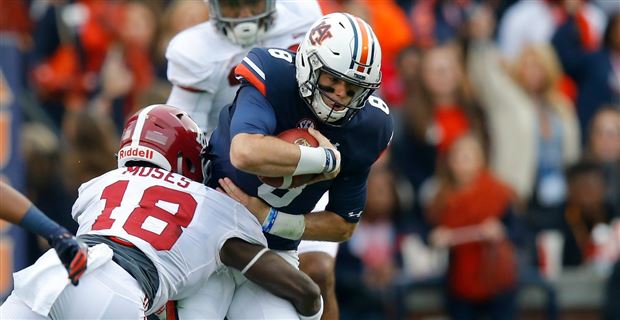 The most interesting aspect of Lewis' injury, however, might be what it means for Moses.
Moses worked inside and outside as a true freshman a year ago. While he's slated to start in the middle, it wouldn't at all be a surprise if Lewis' injury meant more time rushing the passer for the disruptive Louisiana native, a former five-star recruit. He would have a similar role to what Rashaan Evans had in the Crimson Tide's dime package a year ago when Evans would shift over in passing situations.
"I think Mack Wilson will be the guy every down at MIKE linebacker," Reier said. "Where it was a bit cloudy was when they go to six defensive backs and it's third-and-10. Is Dylan going to be an automatic to kick to the edge? They still had Lewis and Miller who can do that. I think they would have done it some even with Lewis healthy. With Lewis out now, Dylan and Miller become their two guys on the edge in dime."
"Their bigger question, actually, will be who their sixth defensive back is even with all this. I feel like they can roll Moses out there with Miller and still be pretty damn stout."
It's also important to remember that Lewis may not be done for the year.
He suffered an elbow injury that was deemed season-ending a year ago, and Lewis made it back in time for the Iron Bowl. An ACL is a tougher rehab with a longer process, but Nick Saban's statement from earlier today said the "timeframe for (Miller's) return is unknown."
Alabama gets players back on the field more quickly than nearly any other program, and Lewis has already shown once before he's capable of returning ahead of schedule. If Lewis does get back in time for the playoffs or a bowl game, he can also lean on the NCAA's new redshirt rule and keep his eligibility intact heading into what would be his fourth year in Tuscaloosa in 2018."
"This is where Alabama's war chest comes in handy," Reier said. "Their facilities and rehab and all that stuff are unlike anything. They benefit in so many ways that people don't talk about."