FRISCO, Texas – Draped in Nike gear, Owen Pappoe stands in front of a reporter and fields questions with a smile on his face. One after the other, Pappoe happily expounds on his The Opening Finals experience and the bundles of swag he received at The Star (home of the Dallas Cowboys) upon arrival.
This isn't abnormal behavior for Pappoe. Quick to flash a grin and good natured, he's handled questions with grace throughout his recruitment. Yet, something is different.
Pappoe, only a few weeks removed from a May commitment to Auburn, seems free.
"You can't even explain it," Pappoe told 247Sports. "It's a weight taken off your shoulders. I'm just relieved."
Special recruits come along annually, but it's hard not to view Pappoe as a generational story. The Opening Finals is the elite recruiting event each cycle. Pappoe, the No. 10 player in the updated Top247 , is both the youngest prospect ever to be invited and the first to attend three times.
A 6-foot-0.5, 209-pound athletic force at linebacker, Pappoe is capable of running a 4.54 40-yard dash and leaping 38.9 inches in the vertical jump. He's arguably the most athletic recruit in the country with a nickname, "The Freak," to match.
Owner of double-digit Power Five offers as an eighth grader, Pappoe is a teen so long in the spotlight that a full graduation cycle of prospects who received offers at the same time as him will have come and gone from college rosters by the time he reaches Auburn.
***
Pappoe's football career began with a missed dunk.
This wasn't just any rim-clanking deflection. It involved a man-child sixth grader running in the open court and attempting to jam over a defender, something few high school-aged prospects would even attempt. The miss caused former NFL player Kenyatta Watson to exclaim, "What the hell?"
Watson's son, Kenyatta II (a Texas commit), had told his dad about Owen's athleticism earlier that year. But when the elder Watson saw Owen standing on the curb waiting to be picked up, he just saw a "dorky" middle schooler. That image of Pappoe morphed with the missed dunk. Broad shouldered and unusually muscled, Watson's mind flashed to the possibilities of Pappoe on a football field. He had a youth team, the Gwinnett Chargers, and he wanted Pappoe to play.
Only thing was, Pappoe knew nothing about football. Basketball was king in his house. His dad, Lorenzo, grew up in the Michael Jordan era and spoke his gospel. Super Bowl Sunday might as well have been one of 104 weekend days in a calendar year.
When asked, though, Pappoe agreed to give football a shot.
A few months later, Pappoe played in his first tournament in Jacksonville, Florida. Watson called Pappoe's stance at defensive end "the most ridiculous thing you've ever seen." Yet when the whistle blew, Pappoe flew through linemen to destroy ball carriers mostly on speed and power alone.
Once, Pappoe hit an opponent so hard he struggled to get up, which caused Pappoe to look on in horror.
"I just said, 'No, no, no. That's a good thing, you're supposed to do that,'" Watson recalled with a laugh.
Thus, a terror was born.
The Freak moniker came shortly after. Watson decided to try Pappoe at running back in eighth grade. While Pappoe knew almost nothing about fits or blocking schemes, he had little trouble with the position's mandate – run fast. Pappoe scored 16 total touchdowns that season, adding 50 tackles and 17 sacks to that total in his second year as a football player.
Most eighth graders don't have a highlight video. The document of Pappoe's eighth grade campaign is the origin of his recruiting legend.
Pappoe looks like a 25-year-old man in the highlight tape. He ran through, around and into comparably pint-sized opponents. It had the internet buzzing. That got the attention of then-Boston College assistant Al Washington, who called Watson (a former BC player) about his pupil.
Washington watched and responded: "Are you kidding me? That's an eighth grader?" He decided to offer on the spot.
At a workout, Pappoe got a call from Watson saying Washington wanted to speak to him. When Washington told him the news, all Pappoe could manage was, 'Uh, thank you.' The football neophyte had no idea what an offer meant.
"That's how it all started," Pappoe said.
***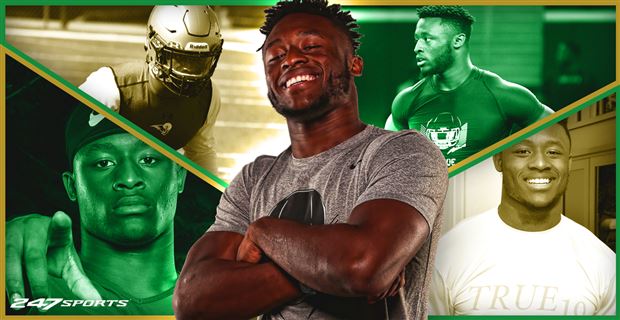 Time is a fickle thing. Depending on your mood or schedule, it can either trickle or rush by. For Pappoe, a junior high sensation, time did both. His offer list and friendship with Watson II set off a whirlwind recruiting experience. The elder Watson estimates Pappoe visited 34 different schools in a two-and-half year period.
That doesn't include the weekly phone calls Pappoe received from coaches or the interview requests from reporters. Things have slowed some since Pappoe's verbal to Auburn, but Lorenzo Pappoe insists the mail is still pouring by the day.
That leads to the idea of agency over one's self.
"(Recruiting) is nuts, but you learn how to control it," Pappoe said. "There will be some coaches that try to take advantage of you and pressure you into things. Like, there were times I almost committed to early and I'm glad I didn't.
"You go through the process and learn this is a serious decision. You've got a lot of time to think about it."
Lorenzo's thoughts on Pappoe's unexpected fame were pretty simple, in that it's provided teaching moments for the rest of his life.
Answering questions from reporters at such a young age had Pappoe thinking of smart, measured responses. Building relationships with coaches – life is all about forming bonds and engaging with a variety of people. Difficult decisions — those are the moments that define a person's path.
The Pappoes stressed individual thinking for their children, and Owen grappled with a lot quickly.
"Those are things that come with being a little high school football star and growing up," Lorenzo Pappoe said. "As you grow older, it can get even more complicated for you. If you can handle it now, you should be just fine."
Owen is somewhat of a rarity when it comes to players with a high number of junior high offers in that he's committed only once. Other recent high-profile examples like Tate Martell (thrice) and David Sills (twice) each made at least one verbal pledge to a different school than they ultimately signed with.
In many ways that's ordinary. Recruiting, by its nature, is a system designed to place pressure on a recruit to commit. When the offers arrive by the dozen in junior high, that pressure is magnified.
"It just shows (Owen's) maturity," said 247Sports Director of Recruiting Steve Wiltfong. "We're in a culture now where so many of these kids commit so early. The process has barely gotten going for them. They get all their early offers, take early visits and they think they're ready to decide. It seemed like Owen was close to decide a few times. But he waited.
"He didn't make his recruitment a circus and he committed with his friends at the school. It was all pretty normal."
Pappoe felt the pressure on more than one occasion. When thinking back on his recruitment, Pappoe admits he almost committed on three separate occasions to Tennessee (his original "dream school"), Georgia (his home state standout) and Florida State.
The latter most likely would have happened had Jimbo Fisher not abruptly left for Texas A&M.
"It's just how the coaches were talking to me," Pappoe said. "It just lured me in. You almost feel like you do (have to commit)."
Volatility can often define recruitment, and Pappoe's was no different. When he released a Top 3 last season, the Tigers didn't even crack the list. Given time, though, Auburn linebacker coach Travis Williams built the strongest and longest-lasting relationship with Pappoe. It's that bond that ultimately won out.
Given his family's background and constant advice, Pappoe shifted ably through the noise.
Lorenzo constantly hammered home the idea of being an "individual thinker," attempting to be a driving force in the back instead of the front. The family made lists of pros and cons, urging Owen to consider the large picture instead of a momentary relationship or post-visit feeling.
They also demanded responsibility. Watson, who accompanied Pappoe on almost all of his visits, said Pappoe's parents would never allow Owen to back out of a commitment. "Your word is your word."
Prodigious talents can come with equally ambitious parents (think Earl Woods or LaVar Ball). Thus, it's worth noting this piece of advice Lorenzo would give any family in a similar situation.
"It's not just the recruitment process, we were looking at it form a much bigger picture," Lorenzo said. "There would be days where we'd have to face our bills or other natural occurrences. We wanted to be sure Owen could make that decision for himself. I would tell any parent, let the child out and have the experience. You could do all the coaching and talking on the back end."
***
The grin remains firmly fixed in place as fellow recruits come up to give Pappoe love.
Everyone seems to know Pappoe, and it's not surprising since he's the longest-tenured recruit on the circuit. You can occasionally hear calls of "Freak" as Pappoe fields interviews.
More than three years since receiving his initial offer from Boston College, Pappoe, at least in Watson's view, remains that little dork he saw standing on the sidewalk. That's complimentary, by the way. Pappoe still comes home and plays video games with his brothers. His name's never come off the honor roll. The only difference is he'll occasionally have to pose for photos when approached in the mall. Smiling, of course.
"He's a perfect model for a recruit," Watson said. "He got all that attention early. It never affected him. He's never been in any trouble. He's always a yes sir, no sir kid. He's always remained Owen."