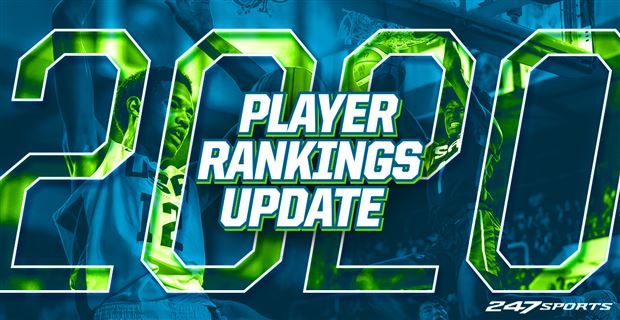 There's a West Coast battle brewing for the right to be the top-ranked player in the 2020 recruiting class.
This time last year there were a host of candidates for the top spot in the 2020 class, but Jalen Green stayed on course, continued to improve and earned his No. 1 ranking. But a worthy challenger emerged this spring in Evan Mobley.
Mobley, a 6-foot-11 post player with a 7-4 wingspan, was terrific with Compton Magic on the adidas Gauntlet and he continued that level of play at the USA Basketball u17 trials.
Blessed with an offensive package that allows him to score with his back to the rim or with a jump shot that extends out to three, Mobley is a dangerous offensive weapon. But he's a two-way player with potential as a rim protector and area rebounder.
"Mobley's development over the last couple of years has been constant and there's no reason to think he's slowing down," 247Sports analyst Josh Gershon said. "He's always had outstanding size and length, but his athleticism and skill seem to get better every time you watch him play."
"If Mobley's progression over the next two years is anything like it's been over the last two, it's scary to think about what kind of player he could become," Gershon added.
There are great reasons to bet on the Temecula Valley (Calif.) Rancho Christian standout. From his body type, mobility, athleticism and skill, to his all-around versatility and ability to impact the game on both ends.
With all that said, after going back and forth, we are sticking with Fresno (Calif.) and Joaquin Memorial guard Green at No. 1 for now.
Green's progress over the last year has been steady and notable. To be blunt, he's earned the spot. He's been productive, showed a competitive edge and proven himself against the best in the United States and in the world. On Sunday, Green was named the FIBA u17 World Cup MVP after he averaged 15.7 points a game and led the USA Basketball u17 team to a Gold Medal.
A versatile 6-foot-5 guard, Green is an explosive athlete with an improving scoring package, impressive passing and vision, plus the potential to be a very good multi-positional defender.
"He has the attributes that make up a quality wing prospect, and he has them at a high level," 247Sports analyst Jerry Meyer said. "Length, athleticism, motor and basketball ability are all in abundance for Green. A productive player now, Green is also consistently improving his game and has tremendous upside."
It's Green's spot for now, but there's a fun battle brewing between two very different, but impressive juniors.
Anthony Edwards makes his move
One of the most significant movers on this list was Atlanta (Ga.) Holy Spirit Prep guard Anthony Edwards.
One of the best scorers in the 2020 class, Edwards received a bump from No. 14 to No. 3.
Edwards has improved as an athlete, and his versatility as a scorer makes it difficult for defenders to guard him. Off the bounce, Edwards can create space. He's a comfortable shooter from mid-range, but also a very good shot maker from distance (45-percent from 3 in UA Association).
"Edwards has the size, toughness and athleticism to finish at the rim, the handle to gain separation from defenders in the mid-range, and also has deep range which extends beyond the three point line," 247Sports analyst Brian Snow said.
"When Edwards really gets it going, his offensive game is reminiscent of James Harden. Obviously he has a very long way to go to get to that level, but on the offensive end of the floor there might not be a more complete perimeter player in the entire country."
Rounding out the top 10
Coming off a below-average 2018 class and a 2019 class that is tracking in a similar direction, the 2020 group appears to be a little better, especially at the top. Outside of Green, Mobley and Edwards, there are some really good players at the top of the updated 2020 rankings.
Seven of the top 10 players are the same since last update. Edwards was a newcomer, as is Jalen Johnson, who will check in at No. 6, and Jeremy Roach moves up from No. 13 to No. 10 overall.
The rest of the top 10 includes Scottie Barnes at No. 4 and Greg Brown at No. 5. Following Johnson at six is RJ Hampton, Jalen Suggs and Kyree Walker.
NEWS & NOTES
•There are just four committed prospects in the updated list. The highest-rated pledge is Walker, a top 10 recruit already headed to Arizona State. The other players are Day'Ron Sharpe (North Carolina), Dominick Harry (Gonzaga) and Naseem Khalid (Florida State).
•By far the deepest position in this class is the shooting guard spot. Two of the top three players in the class are two-guards, five are ranked in the top 20 and 37 in the top 150 prospects.
•Arguably the thinnest position is the center spot, as just three are ranked among the top 20 prospects. Only 22 are ranked among the top 160 players in the class. There's a ways to go with this group, but it certainly appears light in the post.