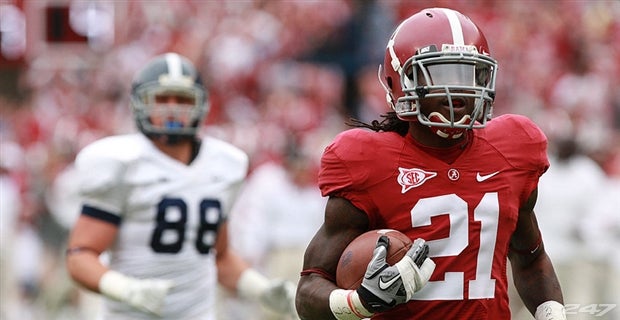 Former Alabama standout Dre Kirkpatrick gives back to his hometown of Gadsden, Alabama every opportunity he gets, sharing his time and resources to a community in need of hope for its youth.
The Cincinnati Bengals defensive back and his non-profit organization, the 21 Kids Foundation, recently took several at-risk children on a back-to-school shopping spree to give them confidence heading into the new academic year.
"At the end of the day this is where I'm from and this city means so much to me," Kirkpatrick told WVTM News 13. "Some of these kids just need a positive role model, someone to reach out and touch even if it's just for a couple of hours. You know, because that couple hours can change a kid's life or change the direction of how they think."
Each of the 19 children were given an "allowance" of $250 for sneakers from Shoe Carnival and new clothes from Old Navy.
"When you're walking around as a kid, the first thing a kid wanna do is look at each other's shoes," Kirkpatrick said. "It's the first thing a kid wants to do. That's just something that intrigues me."
Kirkpatrick says he rarely talks football to children, instead encouraging them to stay focused on education and becoming meaningful citizens in Gadsden.
"I try to give these kids the message that you can do anything you put your mind to," Kirkpatrick said.
A two-year starter in Tuscaloosa and member of two national championship teams, Kirkpatrick skipped his senior season and turned pro after the 2011 season. He was selected 17th overall by the Bengals as the third defensive back taken behind SEC mates Morris Claiborne (LSU) and Stephon Gilmore (South Carolina).
After his first five seasons were ultra productive with the franchise, Kirkpatrick inked a five-year, $52.5 million contract extension in March 2017 highlighted by $12 million guaranteed and a signing bonus of $7 million.
Four months ago, Kirkpatrick gave a $10,000 check to Gadsden City High School, but didn't want recognition for the gesture.
"It's a blessing for me to be in this position," Kirkpatrick said. "It's a dream come true (for me)."
Kirkpatrick was the top-rated cornerback in the 2009 class and No. 14 player nationally, according to the 247Sports Composite. At 28, Kirkpatrick is now the oldest player in Cincinnati's secondary and said this summer he's adjusting to his elder statesman role. Working with younger guys during OTAs has also made Kirkpatrick ponder coaching once his playing days are over.
"I'm in a different position now," Kirkpatrick said. "I'm one of the oldest guys in the DB room. I'm just trying to fulfill the leadership role that I've worked to earn. If I see guys lacking in certain areas, it's my job to make sure they're up to speed."