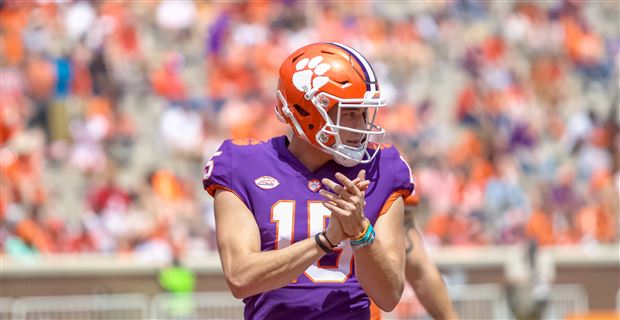 The Northwestern Wildcats have landed Hunter Johnson, the former 247Sports Composite five-star quarterback who announced his transfer from Clemson in May.
Johnson, a native of of Brownsburg, Ind., chose Northwestern over Duke, Purdue and Indiana.
"I'm thrilled to be a part of the Wildcat family," Johnson said in a later release from the school. "The program that Coach (Pat) Fitzgerald and his staff have built at Northwestern is phenomenal, and one my family has had the opportunity to get to know and trust. I am thankful to Coach (Dabo) Swinney and the Clemson family for all their support over the past year-and-a-half. My focus now is on doing everything in my power to help this team prepare to compete for a Big Ten West title. Go 'Cats!"
Northwestern's recent history of putting quarterbacks in the NFL (Trevor Siemian, Mike Kafka, Clayton Thorson next spring) was appealing to Johnson, who sees an opportunity to sit for a year and emerge as a frontrunner next spring to replace Thorson.
Johnson visited Northwestern the week of June 4. Prior to that, he had made an overnight stop at Duke. He also made quick stops in West Lafayette and Bloomington. Johnson's older brother, Cole, was a preferred walk-on at Northwestern from 2013-16. The 6-foot-2 Johnson threw for 234 yards, two touchdowns and an interception in limited duty a season ago. 247Sports is told that Dabo Swinney and the Clemson staff pitched a quarterback committee for the first several games this fall with plans to play Johnson, returning starter Kelly Bryant and 2018 five-star signee, the No. 1 recruit in the country per the 247Sports Composite in Trevor Lawrence.
Johnson ranked as the nation's No. 2 pro-style passer and 30th overall player in the 247Sports Composite during the 2017 cycle. He must sit out this coming season due to NCAA transfer rules. He will be eligible starting in 2019 with three years of eligibility remaining. He played in seven games as a true freshman, completing 21 of 27 pass attempts (77.8 percent) for 234 yards and two touchdowns to just one interception. In the spring game this past April he was good on 8 of 14 passes for 85 yards and a touchdown with one interception.
"We are ecstatic to add a player of Hunter's caliber and character to our program," Fitzgerald said. "He comes from an outstanding family, one we've had the opportunity to know for many years, and he will fit right in to the culture we continue to build here in Evanston. I'm excited for the opportunity to be his coach and look forward to him joining our football family on campus this month."
As noted, Clemson's quarterback room was crowded this offseason. Another signal-caller who saw the field in 2017 in Zerrick Cooper left shortly after the season, leaving the Tigers with Bryant, Johnson, Chase Brice (a redshirt freshman) and Lawrence. Bryant ended the spring in a clear competition with Johnson and Lawrence, who also shined in the spring game, throwing for 122 yards. If Lawrence doesn't start for Clemson this fall, he'll be Dabo Swinney's guy the rest of his time on campus.
Johnson's exit made it 10 five-star quarterbacks — of 16 to earn that designation — to transfer from their original school since 2010. He walks into an opportunistic situation in the Big Ten. Northwestern went 10-3 last season, its second such record in three years en route to finishing second in the Big Ten West. The brand new facilities right on Lake Michigan are mesmerizing and Fitzgerald and his staff have a Top25 recruiting class in 2019 as it stands right now, checking in at No. 23 in the 247Sports Composite Rankings.
Prior to arriving at Clemson, Johnson capped his prep career as a U.S. Army All-American where he earned MVP honors during the game. As a senior he threw for 2,233 yards and 25 touchdowns while rushing for another 525 yards and three scores. No high school quarterback posted a better Nike Football Rating than Johnson, which included a 4.7 laser-timed 40-yard dash with a 4.09 shuttle.
Competing with Johnson for the job after Thorson three-star quarterback Jason Whittaker who signed in 2018, three-star quarterback Andrew Marty who was in the '17 class, three-star Aidan Smith in '16 and three-star dual-threat type Lloyd Yates in '15.