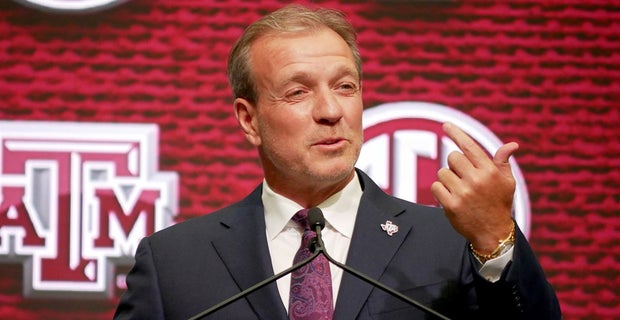 Standing on the sideline at The Opening Finals in Frisco, Texas, Dylan Wright is holding court.
247Sports' No. 69 overall player in the country isn't participating at The Opening due to an injury, but plenty of players come over to chat up the four-star receiver. Wright, at 6-foot-4, is an imposing physical presence and comes with a personality to match. On this day, he's talking to a reporter about the state of Texas recruiting while making bold statements. Most of them revolved around what the state of Texas could be in college football if the top athletes stayed home. But one of his quotes, in regards to first-year Texas A&M head coach Jimbo Fisher, stands out because it came mostly unprompted.
"He's building something that will change the whole thing," Wright told 247Sports.
Wright said this a few weeks before shocking many in the recruiting industry by committing to the Aggies. Only a single Crystal Ball prediction projected it, and Wright had previously been considered a Longhorn lean.
I wrote an in-depth piece about the recruiting war that's ongoing in the Lone Star State between Texas and Texas A&M last week. Don't expect that to end soon. But it's also important in the present to acknowledge the significant swell Fisher's created in Texas. The Aggies own the nation's No. 3 overall recruiting class in the 2019 cycle with Wright's commitment. They've owned the state, too. Texas A&M holds 11 verbal pledges from the state's top 30 overall prospects, including four of the top 11.
This head-to-head battle between the Longhorns and Aggies is hardly even a fight at the moment.
Of the 16 in-state players who have committed to the two programs this cycle, 11 of them will call College Station home. The Longhorns hold commitments from just four of the top 50 players in the state. This is not to say Texas is struggling on the trail with the nation's 10th ranked class, but it does show the impact Fisher's had early in his tenure on the state's recruiting landscape. Remember, it was only a year ago when Texas inked 11 of the state's top 15 prospects and landed the No. 3 class itself.
That's a drastic shift that can only be credited to Fisher.
"A lot of things changed at A&M," said five-star offensive tackle Kenyon Green. "A little more swagger, a little more oomph to them. They're trying to get there now. … It seemed like they wanted to win but they weren't pushing as hard as Fisher is now."
The 2019 cycle is far from over, and Texas A&M, which hasn't won a conference championship since 1998, must prove it can win.
But recruiting at this level is the norm for Fisher.
His full-cycle recruiting classes at Florida State (excluding his half-year effort in 2010) averaged at fifth overall nationally. The state of Florida provides plenty of talent, but Texas' borders produce no less than the Sunshine State annually. Yes, Fisher's aided by being a first-year coach who can sell promise. Yes, it helps that the Aggies haven't played a game yet. And yes, recruiting tends to be cyclical from class to class. But now the onus is on the other coaches in the state to keep up.
This is not a recruiting fluke for Fisher, and kids in the state have taken notice.
"He's getting nothing but dogs," Wright said.