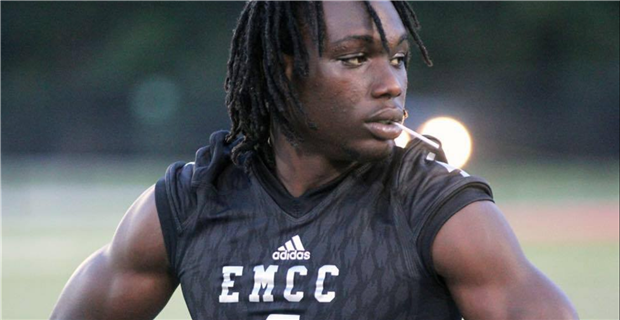 Former Last Chance U star Isaiah Wright is being released from jail on time served after agreeing to a plea deal in the murder case against him, according to a breaking report from TMZ Sports. According to his attorney, Kevin Angel, Wright pleaded guilty to one count of facilitation of aggravated robbery in exchange to have murder charges dropped.
He is being credited with time served in jail and will face five years probation.
One of the prominent personalities in Last Chance U's "EMCC & Life After" update episode available now on Netflix, the former East Mississippi Community College running back was arrested in Sept. 2017 and was one of several charged in connection with a stabbing death outside of Alcoa, Tenn.
Portrayed during Seasons 1 and 2 of Last Chance U, Wright lost an unborn child on the show, detailed a rough upbringing and helped raise his siblings with his older brother, former Indiana University player Camion Patrick, who has since been cleared of criminal homicide charges.
Wright is profiled extensively in "EMCC & Life After", an extended look at some of Season 1 and 2's featured athletes and characters.
"Isaiah's situation was pretty much what prompted us to do the follow-up episode," Last Chance U director Adam Ridley told UpRoxx Sports. "We were allowed to film his initial hearing, so we've got a lot of that footage, and we interviewed the victim's family as well. But he was with two people who allegedly murdered somebody, and now he's in jail awaiting a grand jury hearing to see whether he's guilty of being an accessory — there's no charge yet.
"But this all happened in his hometown, and he was only back in his hometown because he dropped out of school. Here was a guy, had to go the JUCO route, had offers from West Virginia and Florida State before Season 2, then he got a concussion, he tweaked his ankle, he had conflicts with his head coach, and the only offer he ended up getting was Division II West Georgia. He wasn't satisfied with that, so he dropped out and was just hanging out at home. And his background, that's the tragedy of his conflict with (coach) Buddy (Stephens). This is somebody who didn't really have a family, and there's this father figure he ultimately felt betrayed by. It's horrible. It's definitely the worst outcome of any of the kids."
During the update episode, Wright and original co-defendant Patrick are shown being interrogated by investigators. Wright and Patrick were allegedly in the car driven by two perpetrators who, minutes prior, fatally stabbed Caleb Radford during a marijuana transaction.
"Last Chance U" moved to Independence College (Kan.) for the third season after two years at EMCC. Ridley says it was necessary to film elsewhere after academic counselor Brittany Wagner's departure from the school and the need for a fresh start. The Netflix series also announced Wednesday it would be returning to Independence for Season 4.