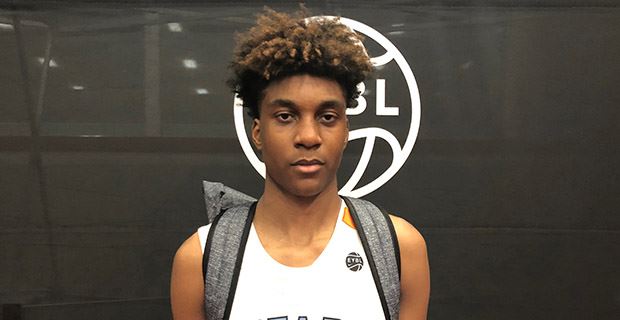 What did you take away from your experience at the USA U18 Trials?
You have to play hard all the time. Coach [Bill] Self was telling us all the time that it's not just about scoring, you got to do the little things like play defense, help the team, be a good teammate and stuff like that.

What's your rise been like for you?
It's been fun seeing myself go higher and higher trying to get to the number one spot. That's my goal so I'm just going to keep on working until I get there.

How often do you check in on it?
My trainer every once in a while will be like we got to get that number one and be like yeah, let's go and we will get to the gym or something.

Is that something that drives you?
Yeah, all the time.

Is there anyone you get really pumped to go against in the EYBL?
It's just fun playing against all the good players here.

Has Kentucky had contact with you?
I have talked to one of the assistants but they mostly talk to my dad right now because he does most of my recruiting so all the coaches talk to him.

Do you know what those conversations are like or what they tell your father?
He just tells me "Kentucky called and they're now recruiting you." And stuff like that. He doesn't really tell me what they said.

What do you know about that program?
They're big time. A lot of pros came out like John Wall, DeMarcus Cousins and all of them so it's just exciting so it's just exciting having a big time interest like that.

Who do you feel like has prioritized you?
I think everybody. Everybody is pushing every day. It's an equal amount of priority from each team.

Coach Hopkins from Washington has been at nearly all of your games, what's your relationship like there?
He talks to me a lot. When I work out he'll be at the gym so I see him all the time. He's like family up there because I've known him since I was little so it's a good relationship with them too.

Did you have a dream school when you were a kid?
Yeah, I did but I don't have one no more. It was Kentucky because John Wall was my favorite player so I wanted to go where he went but I don't have one now.

Where do you see yourself position wise at the next level?
Probably playing the three mostly.

How about San Diego State?
I like them a lot. I always go down there when I go visit my brother but I just talk to them all the time. It's like a family because they come up here to see me and I go down there to see them.

How appealing is it to play in the home state school and play for Washington?
That would be fun that would be something that I would like to do.

Do you feel like people are expecting you to stay close to home?
Yeah, a lot of people do. Everybody tells me to go to UW, stay in the purple and gold, like I don't know what I'm going to do yet.

What other schools should we list for you?
Texas, Oklahoma, Arizona, UCLA, Arizona State, Oregon, there's more that I can't really think of and Duke too.

How much communication have you personally had with Duke?
My dad mostly talks to them. I've talked to an assistant, like we text back and forth every once in a while but my dad is mostly on the phone and stuff with them.

Has your dad had the opportunity to talk to Coach K yet?
I don't know yet, he hasn't told me much about it.

How did you feel when your dad told you that day that they were starting to get involved?
It's big time. It's crazy that everything is happening like that. Duke interest is like dang you're somebody, you're not a regular player.