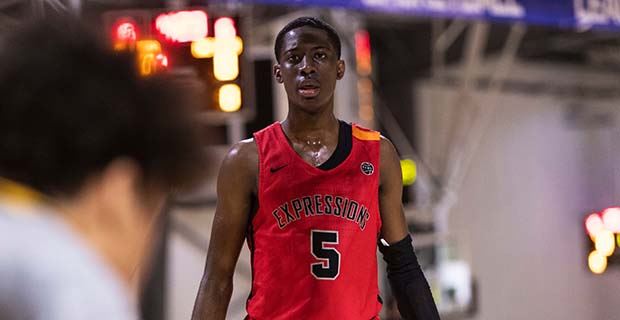 There aren't many 2021 prospects that can step in the Nike Peach Jam and made a significant impact.
But on Thursday, Terrence Clarke did just that, putting together one of the best performances I've seen from a sophomore at the Peach Jam. Clarke showed his versatile scoring attack, pumping in what looked like an easy 25 points.
"I work out every day for this so when the work comes to this, you just have to play and go out there and play my game," Clarke said.
Clarke, a standout at Weston (Mass.) The Rivers School, has good size, pushing nearly 6-foot-6. He has a long set of arms, is an impressive athlete and competes on both ends of the floor. Offensively, he's a good ball handler, that creates separation off the bounce and can score it from mid-range out to three.
He showed all of the above in a win over Woodz Elite. He sliced his way to the rim, made pull-ups off the bounce, catch and shoot three and had electric plays in transition. On the other end, Clarke competed on defense, had chase down blocks and went to the glass.
"I'm running down the court, making plays for others, making plays for myself, getting back on defense," Clarke said when describing his game. "I had a good chase-down block today so I'm playing on both sides and just in my feel right now."
To go with the physical tools and the skill, Clarke plays with tremendous confidence on both ends of the floor.
"It's through my coaches and my teammates, they just tell me to go play," he said. "At first, I was nervous a lot but I just grew into it now playing a lot of older kids at camps and stuff like that so I'm just playing my game now."
Although it's very early, Clarke's recruiting process is already underway.
"Indiana, Ohio State, Villanova and some big schools," Clarke said when asked which schools are prioritizing him. "Right now I only have three offers, but I'm still young."
Clarke's current scholarship offers are from Connecticut, Georgia Tech and Rhode Island. Thus far, Clarke said he's taken unofficial visits to Indiana, UConn and "a couple of other schools." Clarke's trip to Indiana was this past September for a camp.
"It was a good experience," Clarke said. "I learned a lot, they run a lot, pride on top of defense and a lot of work that I have to put in."
Although we've yet to release rankings at 247Sports for the 2021 class, when it's time, it's a safe bet that Clarke will be near, or at, the top of the list.