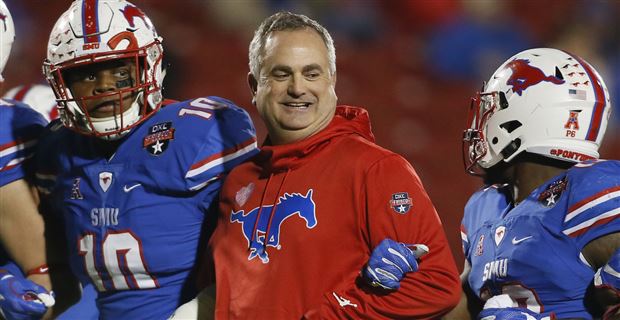 UNIVERSITY PARK, Texas – The first thing you notice when you walk into Sonny Dykes' office is the carpet. Massive with a red Mustang at its center, it spans most of an office that overlooks Gerald J. Ford Stadium on SMU's campus. Then your eyes arrive at the desk. Equally as looming, the brown, heavy wood owns the back half of the spacious room.
Behind this construct is where Dykes sits this Wednesday afternoon. From that seat, Dykes can't help but recall his last desk – this one located some 40 miles away on TCU's campus.
"A little bit smaller than this office," Dykes told 247Sports. "I promise you."
Then an offense analyst/consultant for the Horned Frogs, Dykes' original workplace dwelling at TCU consisted of his desk plus three others. Construction was underway in Fort Worth, and analysts aren't high on the spacing priority list.
Dykes, 48, served a one-year "recharge" stint at TCU before taking his third career head coaching job at SMU. A Texas native and the son of legendary Texas Tech head coach Spike Dykes, this is where Dykes always hoped to be. As a high school coach at J.J. Pearce High School High School (Richardson, Texas) in 1994, Dykes would drive by SMU's campus on the way to work and think: "That would be an awesome place to coach."
After a decade away from the Lone Star State (prior to his TCU stint), Dykes is back for what he considers a "long-term project."
A school with a storied, albeit inconsistent, football history, SMU looks to be on the rise after a three-year stint under Chad Morris that saw the Mustangs accelerate from one win to seven. Dykes said SMU is further along at the start than any of his previous head coaching jobs – both in terms of the on-field talent and the surrounding infrastructure. The overarching vision for the future, which starts with an under construction $27 million indoor practice facility visible from Dykes window, is there in Dallas.
That's why Dykes chose the Mustangs. It's also why his last head coaching job at Cal ended after four thorny seasons. Vision, above all, is why Dykes opted to return to head coaching in 2018.
"Cal was a great place to be," Dykes said. "But it was a complicated place, a lot of things that were going on. It was a grind when I was there, a tough four years. Having a chance to be around TCU really gave me a chance to get a new perspective and get excited about coaching again.
"Spending a year at TCU made me realize we didn't do that bad a job at Cal."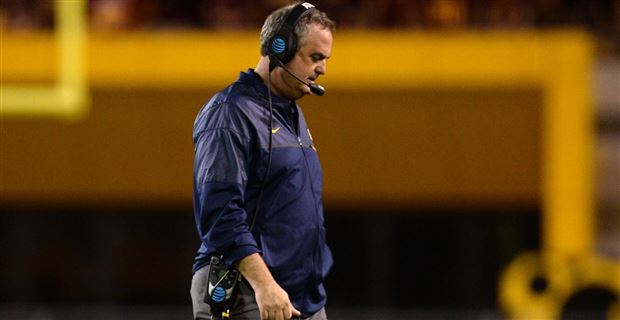 Dykes arrived at California before the 2013 season, inheriting a team that had finished 3-9 the previous year. His order from Golden Bears leadership upon taking over: Fix the academics. Dykes said his "biggest" directive from the administration was to improve the Golden Bears' APR scores. If this sounds odd to you, consider that Cal is one of the most respected public academic institutions in the country. Yet before Dykes took over, the Bears had posted three consecutive sub-930 scores, the worst rating in the Pac-12.
By the time the 2016 season came around – Dykes' last in Berkeley – the team's APR had jumped to a 997 on a 1,000-point scale, which tied for the best rating in the Pac-12.
"I was really proud of what we did," Dykes said.
At the same time, this directive is a glimpse into the complicated nature of the Cal athletic department. Winning is critical in college football, yet Dykes' first goal above all was fixing a broken academic structure at a school that juggles 30 Division I sports.
Academics translate further than the classroom. That lack of commitment spiraled into the culture Dykes inherited. It's big reason why Cal went 1-11 in Dykes' initial effort. The Golden Bears progressed steadily from there. They went 5-7 in Dykes' second year in 2014 and then 8-5 with an Armed Forces Bowl win in 2015, the team's first bowl victory since 2008. That offseason Jared Goff went No. 1 overall in the NFL Draft. Cal's recruiting trended upward, too. Dykes' first full class ranked 55th in 2014 but had jumped to 31st by the end of 2016.
"I thought we finally had turned the corner of the talent we recruited," Dykes said.
Dykes said he knew the 2016 season would likely be a step down. Not only were the Bears losing Goff, they returned a conference-low 10 starters. Cal earned an early-season win over No. 11 Texas, ranked too high, but it stumbled through a difficult Pac-12 schedule. Prior to a season-ending win over UCLA that pushed the team's record to 5-7, the Bears lost four straight to USC, Washington, Washington State and Stanford – teams that either won 10-plus games or were ranked at the time of the contest.
Two months later, a little after Dykes interviewed for a position at Baylor, Dykes was fired.
"I had no idea it was coming," Dykes said. "But as I sat down and got to look back, it was due to fractured relationships from people within the athletic department."
To that point, athletic director Mike Williams sent an email to donors after the dismissal that read: "We believe that a coaching change will reinvigorate Cal football, stimulate lagging ticket sales and renewals and energize our alumni, donor and fan base."
Williams isn't the athletic director who hired Dykes. He's also no longer the head of the Golden Bears athletic department, which is on its third AD since 2014. That partly speaks to the state of Cal's athletic department of late. "Lagging ticket sales" factored prominently into Williams' message about Dykes' departure because of massive debt stemming from a stadium renovation and the building of an athletic performance center. As of January of this year that debt stood at approximately $440 million, according to the Daily Californian.
The constant shuffling in the athletic department, debt and academic issues created a swirl of off-field complications for Dykes to contend with. Add in a lack of communication stemming from those "fractured relationships," and Dykes said an overall vision for the program never coalesced.
"I don't know if there was ever a constant goal, and certainly there was a lack of communication and cooperation," Dykes said. "We didn't have the same vision in a lot of ways. That's what made (SMU) so attractive to me. Everybody was on the same page and pulling the same way. If you're constantly starting over, you never really climb the hill."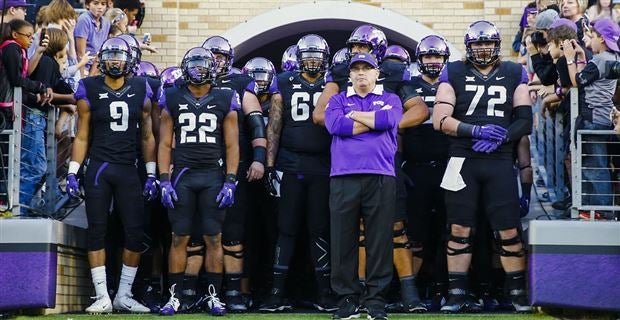 Dykes' year in Fort Worth served as more than a moment for reflection of what did and didn't work. It functioned as a program-building inspiration. TCU, likely more than any Power Five school in recent memory, is a testament to an overarching football plan.
Gary Patterson took over at TCU in 2001 as the Horned Frogs transitioned from the WAC to Conference USA. Four years later, he shepherded TCU to the Mountain West. During that time and in the ensuing seven seasons, the Horned Frogs elevated into a college football power, earning back-to-back BCS appearances in 2009-10 and a Rose Bowl victory. That success helped catch the eye of the Big 12, which absorbed TCU in 2012 after a round of conference realignment.
Since then, the Horned Frogs have become what Dykes called a "top 15" job in college football.
Patterson served as the figurehead and spur for TCU's rapid rise. But Dykes also noted the cohesion at the top of the Horned Frogs' administration. Dykes worked under Chris Del Conte (now at Texas) who had served as TCU's AD since 2009. It's Patterson, Del Conte and the rest of the TCU administration who worked in concert to prioritize football. That includes a recently announced $100 million stadium renovation and a myriad of facility upgrades over the years.
"They've invested in facilities, they've invested in infrastructure," Dykes said. "I think the university realizes how important the football program is to the university. … They have one of the top programs in the country now. That's really because Gary was there and they were able to build his vision."
Dykes said all this in response to a question about how SMU could potentially parallel TCU's climb.
SMU, like TCU, has a lengthy yet uneven football history. The Mustangs, like the Horned Frogs, are located in the talent rich Dallas-Fort Worth Metroplex. And of course SMU is starting in a non-autonomy league like the Horned Frogs did not too long ago. While Dykes called the American Athletic Conference a "heck of a league," he admits the ultimate goal for SMU would be to make a TCU-like conference migration.
"What we have to do now is have sustained success and become a program that competes for championships," Dykes said. "There's going to be some sort of conference realignment at some point, and you hope that people say, 'Wow, they run their program like a big-time program is supposed to be run.' Hopefully somebody takes notice of that."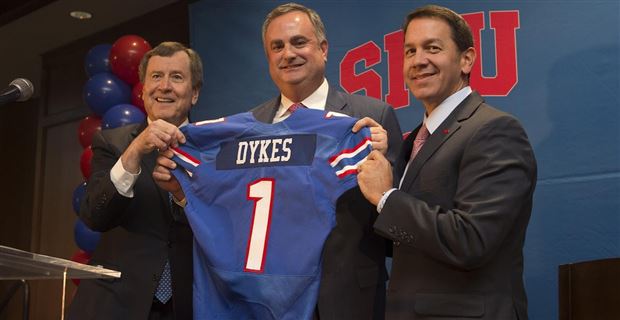 SMU's football history is complex.
A 1980s power before being chopped down by the NCAA's death penalty, the Mustangs haven't been the same since. SMU hasn't ranked in the AP Top 25 since 1986 and it's reached just five bowl games since returning to football in 1989.
There have been a few runs. June Jones led the Mustangs to four straight bowl games from 2009-12, but for the most part SMU's labored to regain its perch. Part of that is due to the massive sanctions placed upon them, but Dykes speculates part of the issue is the Mustangs did not know what they wanted to be.
"I think what happens when you go through what they went through from the death penalty standpoint is that you're always kind of apologizing," Dykes said. "You want to make sure that football doesn't become too big. I think SMU as a university, whether it's from an alumni standpoint or anything, it's been trying to figure out how important football is."
Accepting this job, Dykes judged that football is critical to the Mustangs.
R. Gerald Turner is one of the longest-tenured University presidents in the country. Athletic director Rick Hart, who's been at SMU since 2012, helped spur a planned $150 million athletic facility master plan that included the upcoming indoor practice facility. Dykes said the Mustangs have also recently renovated their locker room. Up soon are new coaches' offices, meeting rooms and a partial weight room renovation.
The vision for the Mustangs is clear – they want to win from the administration down. Asked how this compares to what he had at Cal and Dykes said: "It's completely different."
"There's a lot of communication that takes place here. Everybody is on the same page. … I think it's pretty clear they believe football is important, and that's where it starts."
SMU returns 15 starters in 2018 following a seven-win season. Dykes lauded the culture he inherited from Morris. This isn't a renovation in Dallas. It's instead improving something already built. Dykes' goal is to keep pushing the ceiling upward. Dykes no longer drives past Gerald J. Ford Stadium on his way to work. He doesn't have to. Dykes' Dallas residence is a few hundred yards away from his stadium-adjacent office. This is more than a pricey real estate investment in an expensive Dallas suburb. It's, walking convenience aside, a statement of belief.
"This is a long-term project for me," Dykes said. "I'm just really excited to be a part of it and to make SMU football into what it needs to be."