PITTSBURGH -- Bryce Harris was welcomed by the Pittsburgh media in a mob scene in which the athlete only stood out because of he was facing the mob, and, of course, his height.
The 6-6 offensive tackle was reporting to a new team for the 13th time since coming out of Fresno State undrafted in 2012. Harris, in fact, wouldn't look out of place interviewing the Steelers' next offensive tackle.
That next offensive tackle just might already be on the roster. On Tuesday, at OTA 8, undrafted rookie R.J. Prince was the Steelers' No. 2 offensive right tackle ahead of veterans Harris and Jake Rodgers.
Perhaps it was done by plan, or perhaps the Steelers just like what they've seen out of Prince so far this spring -- or both. But Prince is a 6-5 1/4, 311-pounder who played right guard the last two seasons at North Carolina (after backing up both tackle spots), and said he ran third-team RG the first two weeks this spring for the Steelers.
His first week with the team was a rookie tryout camp, from which he was signed and hopes to become the next Terence Garvin, a product of the 2013 rookie tryout camp. Garvin not only made the 90-man roster out of that tryout, he made the team, stuck for three years, and continues to play in the league three years later.
Prince, of course, heard the story. It's told often by coaches to remind all players they can get there from here.
"Stuff happens," Prince said of his disappointing draft weekend. "I can't control it. But I'm here now and I'm ready to get to work and put my best foot forward. That's all I can control, really."
Prince confirmed he was the second-team right tackle Tuesday opposite third-round rookie Chuks Okorafor after the team had to put Jerald Hawkins on injured reserve. Okorafor must now ratchet his game to the point that the Steelers can use him to replace Chris Hubbard as the swing tackle. The No. 4 tackle spot will be up for grabs between veterans Harris and Rodgers, and a youngster such as Prince.
"Mainly I'm running right guard, right tackle and probably next week I might head to the left side and play left guard," Prince said. "It's all swing right now."
The Steelers first appeared on Prince's radar screen at his pro day, when he met with assistant line coach Shaun Sarrett.
Prince's mobility in the open field drew support in this corner prior to the draft, but poor pro day times of 5.49 in the 40 and 8.00 in the 3-cone probably led to him not only going undrafted, but unsigned after the draft.
He went to Green Bay for a tryout, but said the Packers "had 15, 16 guys already signed and they didn't want to sign any more offensive linemen. So I came here for a rookie tryout."
Prince made the roster, worked at right guard, and on Tuesday lined up across from second-year edge rusher Keion Adams and will likely do so the remainder of the week before moving to left guard.
"He definitely has good footwork," said Adams. "He can definitely kick slide out and cover more ground than you really expect from him, being a smaller offensive tackle. He's grown each and every day. The things he was doing the first day, he's not necessarily doing now. You can tell that comes from his coaching and him wanting to get better himself. As long as he goes out there and does his best and does things on a daily basis to help him progress, he's going to be fine."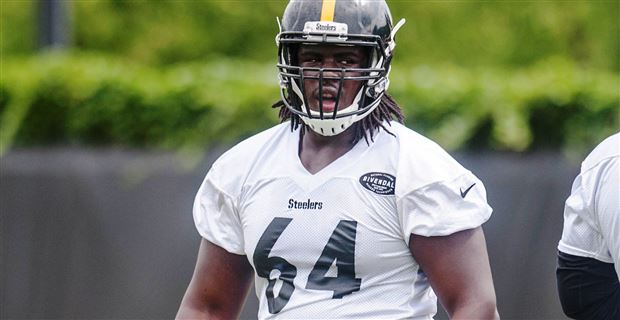 [For a subscription to SteelCityInsider and the best inside coverage of the Steelers this summer. Click here for a free trial. Or, join our free message board.]
Prince grew up in Albemarle, North Carolina, about 40 minutes from Charlotte and 25 minutes from Salisbury, the home of Steelers nose tackle Javon Hargrave. Prince began playing football at a young age and survived a long period of being bullied (as he detailed in an interview with Draft Diamonds), as well as the divorce of his parents.
"Then after my sophomore year, when we won the state championship, I really thought I wanted to play football in college, and pursued it," Prince said.
So he got a summer job and saved enough money to attend a three-day camp at Clemson.
"I showed out down there and ended up getting a scholarship offer on the way out. I went up from there," he said. "I've been in love with football ever since I was like six. I love it. It's my passion."
Did he ever play against Hargrave?
"We played North Rowan my sophomore year," Prince said. "I was a left tackle and he was a D-tackle, so, yeah."
Who beat whom?
"It was," Prince said, before pausing to consider how a Steelers veteran might view his next few words.
"We won," Prince said with a smile. "Other than that, it was a good battle between us two. It's a good story."
So, too, one day might be the R.J. Prince story. He was asked if being passed over completely on draft weekend was a heartbreaker.
"It was," Prince said. "But I read an article from Danny Amendola. He went undrafted and he said you can be sad for about an hour after that, but after that feeling sorry for yourself isn't going to help, that there are opportunities to be had and you've got to wipe it off and go to work."
So far, that approach is working.
NOTES -- Once again, missing from practice were the big three of Ben Roethlisberger, Le'Veon Bell and Antonio Brown. Three others, Cameron Heyward, JuJu Smith-Schuster and Marcus Allen, showed up for varying degrees of conditioning and technique work. ... Harris was given uniform number 69. The other newcomer, tight end Ryan Malleck, who caught a three-yard pass against the Steelers last season for the Houston Texans, was given number 82.