Sunday, United States Women's National Team captain Carli Lloyd made history, becoming the first woman and just the second player overall to score a hat trick in a World Cup Final.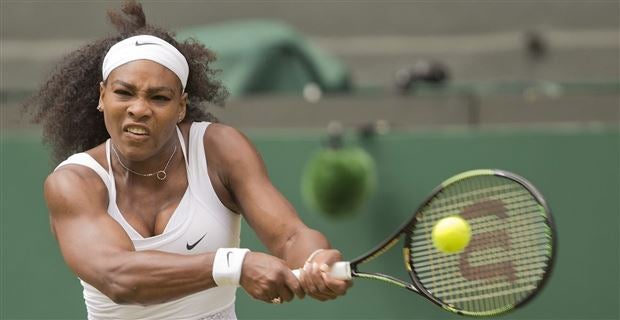 And while Lloyd's accomplishment will likely stand the test of time —Â the only other player to achieve the feat (Geoff Hurst) did so in 1966 —Â her performance was only the latest in a long history of successful female athletes.
With that — and the World Cup championship won by the U.S. Women's National Team as a whole —Â in mind, we decided to list the Top 10 female athletes of all time. As always, with any list, there's plenty of room for debate … it certainly becomes difficult not just when you're comparing the accomplishments from different athletes across different sports, but also across different eras.
Having said that, here's our list of the 10 greatest female athletes of all time.
10. Lynette Woodard, basketball
While players like Cheryl Miller and Lisa Leslie often get credited as the greatest women's basketball players of all time, Woodard rarely gets her due.
Playing at a school (Kansas) with arguably two of the greatest 15 college basketball players of all time (Wilt Chamberlain, Danny Manning), Woodard still stands as the school's all-time career leading scorer (3,649 points) and rebounder (1,716). In fact, Woodard's career point total still stands as the most ever scored by a women's college basketball player*.
*Woodard played in the pre-NCAA days of the AIAW. Jackie Stiles is the NCAA women's college basketball scoring leader, with 3,393 points.
Woodard was a two-time member of the United States Olympic Team, and captain of the 1984 team that captured gold. And she was so skilled that a year later, she became the first female member of the Harlem Globetrotters.
Woodard played at Kansas from 1977-81, yet was still selected in the 1997 WNBA Draft.
9. Annika Sorenstam, golf
Probably the greatest female golfer of all-time, Sorenstam has won 90 international tournaments —Â most ever for a woman —Â including 72 LPGA events and 10 majors.
The only woman ever to shoot a 59 in competition, Sorenstam captured the LPGA Tour Player of the Year eight times between 1995 and 2005 before retiring in 2008.
Sorenstam's 10 LPGA majors is tied for fourth, though nobody else playing post-1970 have won more than seven.
8. Nadia Comaneci, gymnastics
A dominant gymnast from Romania, Comaneci was the first ever female to earn a perfect 10 at the Olympics*.
*More on this in a minute.
Comaneci won three gold medals at the 1976 Summer Olympics, then captured two more at the 1980 Summer Olympics. Her overall medal total was much larger. She earned three silvers and a bronze in Olympic competition as well, and over the Olympics, World Championships, European Championships and Summer University Games, Comaneci won an amazing 21 gold medals, seven silvers and two bronzes.
Her five Olympic gold medals came in balance beam (twice), uneven bars, floor exercise and all-around, showcasing her versatility.
When her perfect 10 came on the uneven bars in 1976, her score was displayed as a 1.00, because the scoreboard manufacturer, Omega SA, was told before the games that four digits wouldn't be necessary because a perfect score was not achievable.
7. Bonnie Blair, speed skating
Blazing fast on the ice, Blair set the 500 meter speedskating world record at 39.10 seconds, then later became the first ever woman to crack the 39-second barrier, setting a new world record at 38.99 seconds.
Blair won five gold medals over three Olympic Games, winning gold in the 500 meters and bronze in the 1,000 meters in 1988. She then swept both events in 1992 and 1994, taking home four golds between the two games.
For her performances in 1992, Blair won the James E. Sullivan Award, which goes to the top amateur athlete in the country*, and was named both the ABC Wide World of Sports Athlete of the Year and the Sports Illustrated Sportsman of the Year.
*Florida State Heisman Trophy winning quarterback Charlie Ward won the award in 1993.
6. Florence Griffith Joyner, track and field
Flo-Jo could fly, as evidenced by her world records in the 100 meters and 200 meters, set in 1988, that not only haven't been beaten, but haven't really been approached.
In fact, while there's a slight controversy over her world record time of 10.49 seconds in the 100-meter dash — the wind gauge was likely broken —Â her fastest "wind-legal" time of 10.61 seconds would still stand as the 100-meter dash record. In winning the 1988 Olympic Gold and running a wind-aided 10.54, she crushed her closest competition by 0.30 seconds, and she broke the 200-meter dash record twice in the same Olympic games, running 21.56 in the semifinals and 21.34 in the finals.
Overall, after winning silver at the 1984 Olympics in the 200-meter dash, Joyner won three golds and one silver at the 1988 Olympics, winning the 100, 200 and 4x100, while taking second in the 4x400.
Griffith Joyner was so incredible in 1988 that she was hit with all kinds of steroid rumors. But because of those rumors, she was repeatedly and exhaustively tested, with nothing ever found. In fact, Prince Alexandre de Merode, chairman of the International Olympic Committee's medical commission, told the New York Times that "there should not be the slightest suspicion" that Flo-Jo used anything, based on the IOC performing "all possible and imaginable analyses on her."
In other words, Flo-Jo was just that fast.
5. Martina Navratilova, tennis
While Navratilova is the No. 2 tennis player on this list, there are many who would say she's the top women's tennis player of all time.
Certainly, Navratilova has the most dominant period. From 1982-96, she won 428 of 442 singles matches, going an amazing 86-1 in 1983. In 1984, Navratilova and teammate Pam Shriver won 109 consecutive matches and all four major titles, taking the doubles Grand Slam.
For her career, Navratilvoa won 18 grand slam titles, 31 major women's doubles and 10 mixed doubles titles. Her nine Wimbledon wins still stand as a record.
4. Serena Williams, tennis
There was a time when it was unclear whether Serena Williams was even the best tennis player in her own family, starting her career behind sister, Venus Williams. But Serena emerged as arguably the top women's tennis player in history, showcasing both devastating power and remarkable longevity, becoming the oldest player to achieve the No. 1 ranking in Women's Tennis Association history.
Williams has won 35 Grand Slam titles: 20 in singles, 13 in women's doubles and two in mixed doubles, while adding four Olympic gold medals. Williams' legacy goes beyond just winning though, it's how she did it, combining grace and unbelievable power, reshaping the image of the female tennis athlete as she went.
Williams' success has also made her incredibly wealthy: she's made nearly $70 million in tennis prize money alone, the most ever among female athletes.
3. Mia Hamm, soccer
In 2004, soccer legend Pelé listed off the top 125 greatest living soccer players for FIFA's 100th anniversary. Just two women made the list: Mia Hamm and teammate Michelle Akers. Nine years later, she became the first ever woman inducted into the World Football Hall of Fame.
For a sport that was somewhat in its infancy, Hamm was a serious boon, scoring a record 158 goals —Â since beaten by Abby Wambach — and finding teammates for 144 assists, still a national team record.
Hamm spent 17 seasons with the United States Women's National Team, joining the team at age 15. And she was a part of two World Cup championships (1991, 1999) and one semifinal run (1995) during that period, while emerging as one of the most marketable female athletes in history. She twice won FIFA World Player of the Year, though it's also worth noting that the award didn't start until 2001, as her career was winding down.
But Hamm's spot on this list is for more than just her numbers and her wins. Hamm and the 1999 USA Women's World Cup champions are also responsible for pushing so many in the country into the sport. And it's that kind of lasting impact that will remain a major part of Hamm's legacy.
2. Jackie Joyner-Kersee, track and field, basketball
Arguably the greatest female track star of all time, Joyner-Kersee was a dominant force in the long jump and heptathlon, medaling at four different Olympics.
Joyner-Kersee took silver at the 1984 Olympics in the heptathlon, then peaked in 1988, winning gold at both the heptathlon and the long jump. She repeated her gold in the heptathlon in 1992, while taking the bronze that year in the long jump. She finished her Olympic career with a gold in the long jump in 1996 at age 34. Along the way, Joyner-Kersee also captured four golds in the World Championships and one in the Pan American Games.
Joyner-Kersee was also an outstanding basketball athlete, starting four seasons at forward for UCLA between 1980-85, taking redshirting the 1983-84 season to prepare for the 1984 Olympics. She went back to the sport after the 1996 Olympics, playing 17 games as a pro basketball player.
Interestingly enough, Joyner-Kersee was inspired as a track and field athlete by our No. 1 athlete on this list.
1. Babe Didrikson Zaharias, track and field, golf
We often say that athletes "broke the mold" when they do something original. For female athletes, Zaharias was the mold, a strong 5-foot-7, 115-pounder who seemingly excelled at every sport she tried. And yet, when she was doing so, she had to deal with prejudices of the time, like when New York sportswriter Joe Williams actually wrote "It would be better if she and her ilk stayed at home, got prettied up and waited for the phone to ring."
Zaharias was an All-American in basketball, won two gold medals and one silver medal in track at the 1932 Olympics* and began playing golf in 1935, competing in the men's PGA event the Los Angeles Open just three years later and eventually becoming a Hall-of-Famer at the sport, winning 41 LPGA events.
*Here's how athletic Zaharias was: she captured the gold in the 80-meter hurdles and the javelin throw. Her silver came in the high jump.
Six times from 1932-1954, Zaharias was named the Associated Press Female Athlete of the Year. Not bad for a woman who was forced out early due to her early death at age 45.
Zaharias, who once described her golf swing as "You've got to loosen your girdle and really let the ball have it," was the original top female athlete, winning Olympic gold 40 years prior to Title IX.