ROCK HILL, S.C. - There were several hundred high school players on the campus of South Pointe High School for a three-day FBU Top Gun Showcase receiving instruction from coaches who total more than 500 years of NFL coaching and playing experience. It was a great event with a lot of standout moments, but here are a few players who were eye-catching in the event's final day.
One of the more physically impressive players … at the event was 2020 tight end Kristopher Bowen (San Antonio, Texas/Brandeis), who measures in at 6-foot-4 and 220 pounds. He's a tight end but worked a lot with the wide receivers during the three-day camp, which has helped him with the pass-catching part of his game.
"I've learned a lot about outside receiving," Bowen said. "Since I'm a tight end, I don't get a lot of work with pass routes and stuff like that, so Football University has really helped me with quick cuts, moving, fake moves and things like that."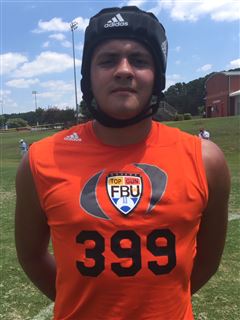 Bowen is a physical player along the line of scrimmage and showcased that during one-on-one drills. He shrugged off a linebacker who tried to play him physically at the point of attack and knock him off his route. Bowen wasn't having anything of it, threw the linebacker to the side and made a hands catch.
From a recruiting standpoint, Bowen likes the Ivy League and some of those schools are showing interest in him. Princeton invited him to camp, which he will attend in the upcoming weeks. He's also hearing from some other strong academic institutions like Boston College and Notre Dame. Academics are very important to Bowen when it comes time to choose a school.
"When all is said and done, football isn't going to last all my life," Bowen said. "I have to have something I'm good at and can make a living on in the future after football."
Bowen did say he's keeping his options open but one school he really wants to speak with and be recruited by is Penn.
A player who didn't leave on the All-FBU team but … was certainly eye-catching was class of 2021 quarterback E.J. Hickson (Aiken, S.C./South Aiken). He was overshadowed a bit by Preston Stone, who earned an All-American Game invitation, but in watching various drills over the course of the day, Hickson threw a consistent, catchable ball and showed great touch.
"The competition has been great," Hickson said. "It's been a lot of fun being out here with such good guys. I've learned out here that I have to be more confident in my approach to the game and really get into the classroom and learn coverages and fronts."
Hickson stands just 5-foot-9 and 160 pounds but he's still young and growing. He attended camp this summer at South Carolina where he had the opportunity to learn under first-year quarterbacks coach Dan Werner, a veteran in the business as he has served as an offensive coordinator at several stops, including Ole Miss.
"The coaches out here have told me they like my motion, my rhythm and my arm," Hickson said. "They want me to work on my depth and learning how to climb in the pocket. I feel like I've gotten better at those things this week."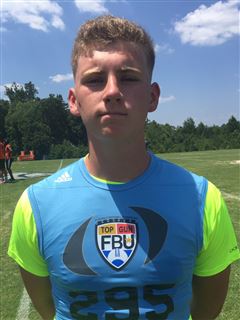 There hasn't been a lot going on in the recruiting process quite yet for Hickson, who says the three schools he'd like to speak to the most are Florida State, South Carolina and East Carolina.
Class of 2021 quarterback Cal Camp … (Madison, Ga./Morgan County) has a last name that may ring a bell for Georgia fans. His father, Drew, was a letterwinner in 1998 for the Bulldogs. Cal would like to follow in his father's footsteps at Georgia, but also points to Clemson, Ohio State and TCU as other schools he really wants to speak with as he gets into the recruiting process. Dartmouth is a school showing big interest, and academics are important to the 4.0 student.
He's been a standout at the Top Gun camp in Rock Hill, S.C. as he's shown arm strength, confidence and a great feel for ball placement.
"I'm having a good time and feel like I'm playing really well out here," Camp said. "I've learned a lot the last few days, especially working into the deeper side of coverages and where to throw, what to look for with route combinations with coverages. The coaches here are really good and it's been a really good experience for me."
Camp attended the Manning Passing Academy earlier this summer and also went to camp at Georgia. The 6-foot-2, 190-pounder is in his second year at FBU Top Gun.
"They've told me they like my arm strength and my confidence when I get to the line. I stay deep in my drops and not really move around too much. I can reset and find the open guy," Camp said. "I'm still working on processing everything. I'm still learning the game."