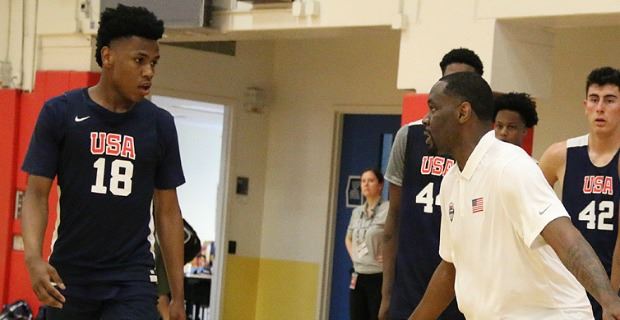 COLORADO SPRINGS, Colo. – The first part of the USA Basketball u17 training camp ended late Sunday night and the roster was narrowed to 18 early Monday morning.The list will eventually be narrowed to 12 for the u17 World Cup, which starts June 30 in Argentina.
The players that made the initial cut are: Scottie Barnes, Vernon Carey, Josh Christopher, Jalen Green, R.J. Hampton, De'Vion Harmon, Zion Harmon, Jalen Johnson, Johnny Juzang, Adam Miller, Evan Mobley, Wendell Moore, Casey Morsell, Isaac Okoro, Jeremy Roach, Isaiah Stewart, Jalen Suggs and Romeo Weems.
The three-day camp was as competitive of an atmosphere that I've seen in high school basketball. There are potential NBA players who won't end up making the final team.
Below, I've emptied my notebook with thoughts and takeaways from the event.
De'Vion Harmon develops his PG skills
One of the most impressive prospects at the u17 trials was Oklahoma pledge De'Vion Harmon. Perhaps the most impressive part about his play this weekend was his development as a guard prospect. This time last year, Harmon was classified as a combo guard or a shooting guard, but he's molded himself into a true point guard. He's not just your average point guard either — he looks like one of the very best in the class. His passing has improved, as is the command he has of his team. To complement the improvements, Harmon also plays with infectious energy and other players are drawn to and love playing with him. On the flip side, Harmon's defense is special, as he slides his feet well, plays physically and stays locked in on defense. It was a tremendous showing for Harmon.
Jeremy Roach impresses with pace, feel
It was a terrific week of camp for 2020 guard Jeremy Roach. After playing a big part on last year's u16 team, Roach has improved virtually every aspect of his game. What stood out the most at camp was his pace and ability to change speeds. His pace even drew comparisons to Chris Paul from coaches in attendance. Roach never gets sped up and is always under control. He also takes care of the ball, which was evident by looking at the stat sheets following every session. From Friday through Sunday, which consisted of five sessions, Roach didn't record one turnover during scrimmage action. A two-way player, Roach also competed on defense throughout camp.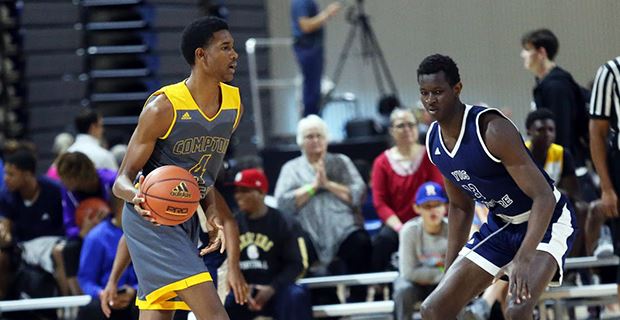 Evan Mobley makes his case for No. 1 in 2020
If the u17 trials were any indication, we have a fun battle brewing for the No. 1 spot in the 2020. At this point, Evan Mobley currently ranks No. 12 in the 247Sports Composite and No. 4 in the Top247. Both rankings are too low. Mobley has elite upside and has a realistic shot at being the No. 1 pick in the 2021 NBA Draft. You might think I'm getting ahead of myself, but I think he's that good. Mobley impacts both ends of the court. Mobley uses his length, timing, athleticism and smart defensive instincts to effect the game defensively. He was easily the best rim protector at camp. Offensively, Mobley is just as gifted. His scoring attack is versatile and he's equipped to score over either shoulder on the block or facing the rim with mid to long-range jump shots. His shot mechanics, the range on his jump shot and his touch are impressive. Mobley also measured well, checking in at 6-foot-11.5 with a 7'4" wingspan.
Jalen Green stands out
While Mobley was terrific, Jalen Green, who currently ranks No. 1 in the 247Sports Composite in the 2020 class, had a good weekend as well. A 6-foot-5 guard, Green showed off his explosive athletic ability and seemed to get better and better as the camp wore on. Not known for his shooting ability, Green made a number of off-the-dribble jump shots early on in camp. As the weekend rolled on, he showed more awareness and effort on defense, made plays at the rim and had some ridiculous moments in transition. Green, a standout at Fresno (Calif.) San Joaquin Memorial, also showed off an impressive passing ability over the last few sessions of the weekend.
Isaiah Stewart is a freight train
One of the major additions to the u17 trials from last year's u16 trials was Isaiah Stewart. A strong, chiseled post player, Stewart played with ridiculous energy, showed impressive athletic ability and bullied his way to point and rebounds. Stewart was also a consistent rim runner and an enforcer in the paint. Offensively, Stewart not only scored off hooks inside and put-backs, but he's developed confidence in his jump shot. He recently moved his shooting pocket and the mechanics look impressive. He made a number of mid-range jump shot throughout the event. Stewart measured in at 6-foot-9 in shoes with a 7-foot-4 wingspan.
2019 guard Josh Christopher continues to improve
There were some gifted scorers at the u17 trials, but you could make a case that Josh Christopher was the best scorer at camp. Strongly built at 6-foot-4, Christopher displayed his full scoring package. He has knack for creating space for shot opportunities, and while I thought he let the game come to him for the most part, he was the best in attendance at draining tough shots. He's a fine shooter from distance, but he's very comfortable from mid-range and is a good finisher at the rim because of his strength and athleticism. Christopher has had a solid spring and that certainly continued at camp.
OTHER NOTES FROM THE TRIALS
•The No. 1 player in the 2018 class, James Wiseman, showed up to camp injured and was unable to participate. He did, however, go through measurements and checked in at just over 7-foot and recorded a notable 7-foot-6 wingspan.
•2020 power forward Justin Lewis was as improved as any player at camp. Lewis has added to his game, especially on the offensive end, where he was more aggressive. He's more comfortable shooting the ball and made a number of mid-range jumpers throughout camp.
•2019 wing Kahlil Whitney certainly had his moments at camp, showing off his tremendous physical gifts and athleticism. Whitney is still learning to value every possession, but there's no denying his immense talent and what he's capable of from a scoring, rebounding and physical standpoint.
•Virginia is getting what I think will amount to an impressive college player in Casey Morsell. Morsell impressed at camp with his shooting. He has impressive and compact shot mechanics with a good release and rotation on his shot. He's also a two-way player that competes on defense. Morsell has favorable measurements too, checking in at 6-foot-2 with a 6-foot-9 wingspan.
•It would be hard to find a more versatile player in high school hoops than Scottie Barnes. At 6-foot-8 with a 7-foot-2 wingspan, Barnes can play either forward spots or even some with the ball in his hands. He can also guard wing position and the power forward. He did a little of everything at camp, but his impact was primarily felt with his defense, passing and energy.
•DePaul commit Romeo Weems played with tremendous energy throughout camp, which was a big reason he made the initial cut. Weems played tough in the paint, used his strength and athleticism against opposing players and was a constant on the glass.
•2020 recruit Jalen Johnson had a very impressive opening session, before going down on day two with an ankle injury. Johnson's feel, high basketball IQ, ability to pass and his overall versatility was impressive.
•2019 post player Vernon Carey was up and down during camp. After a slow start, Carey started to impose his will in the paint. At 6-foot-10, 277-pounds, Carey can clear out space on the block and has impressive touch and scoring ability on the block. An elite prospect in the class, Carey's next step is consistently bringing effort and getting back in shape.
•As the sessions added up, R.J. Hampton got better. The wiry guard is known for his scoring and he found ways to put the ball in the basket, especially on Sunday, where he was particularly aggressive. Not known for his defense, Hampton took on the challenge, drove on the floor for loose balls and gave good effort on that end.
•Paolo Banchero may not have made the cut to 18, but he had a very good camp. As one of the youngest players at camp, the 6-foot-7 power forward didn't back down from competition. He was tough and physical inside, rebounded and showed potential as an offensive player.
•2019 wing Wendell Moore won a Gold Medal on the u16 team last year. It was evident he was a returning player, as he had a very business like attitude to camp. Moore played a tough brand of basketball, competed on both ends and went to the glass. While he's known for his defense, he also worked in multiple mid-range jump shots during the competitive scrimmages on Sunday.