The NBA's Western conference holds the largest cross-league imbalance in sports at the moment – thanks, Golden State. But the Warrior-dominated West isn't the only West to loom over its competition.
Let's not forget overwhelming nature of the SEC West through the last decade.
Prior to Georgia's championship game victory in 2017, the Western division had captured eight straight conference crowns. Every year of that run, the West either had more or tied the East with top-15 finishers in that year's final Associated Press Top 25. And that's not even an indication of the West being top-heavy. The East never had more teams finish over .500 than the West in a single season from 2009-16. The West won five of eight possible national titles, while capturing half of the possible Heisman Trophies.
Why are we talking about this right now? Let's thank new Florida coach Dan Mullen, formerly a mainstay of the SEC West at Mississippi State, for a talking point a week away from the conference's media days.
"I know the depth in the West is always tough and makes it really hard, but it seems like the power may be shifting to the East," Mullen said, per 247Sports' Thomas Goldkamp.
Things have to be changing with the Georgia's ascension, right? One would think so. The East's lacked a true power since Urban Meyer abruptly retired at Florida, and Kirby Smart's Bulldogs appear to be a team capable of filling that void, especially with the program's recruiting prowess. Mullen is a proven program-builder. South Carolina is a popular pick to finish second in the East headed into Will Muschamp's third year.
College football tends to be cyclical, and eventually even the mightiest powers go dormant. Alabama in the decade before Nick Saban's arrival. Texas in its post-2009 run.
The East once dominated the SEC's divisional infancy. From 1993-02, the East won eight of 10 conference titles with Steve Spurrier (Florida) and Phillip Fulmer (Tennessee) piloting all but one of those victories – obligatory shout out to Mark Richt's 2002 peak. Those were the East's glory years. Florida and Tennessee recruited the best players in the region, and their Hall of Fame coaches lorded over the conference.
And then — Spurrier left for the NFL in 2001. Fulmer stuck around too long and eventually stepped down in 2008.
Those years of Spurrier's absence and Fulmer's deceleration were the only real times of parity in the SEC. In that intermittent period, the East won three conference titles. As did the West. But there's a more notable reason to remember those years, given who parachuted into the conference in that time frame. It didn't take much time to turn LSU into a juggernaut before Saban jumped to the NFL in 2004. Meyer left Utah for Florida in 2005, quickly guiding the Gators to a pair of national titles in three seasons.
Meyer retired two years later in 2010 (before eventually landing at Ohio State), and Saban returned to the SEC in 2007 to help rebuild Alabama.
The rest, as we say, is history.
Saban still reigns over the Southeastern Conference. It's a true monarchy in many ways. Saban cherry-picks the best resources (i.e. top recruits) and maintains order over the whole of college football – five national titles in 10 years is almost unheard-of in the modern era.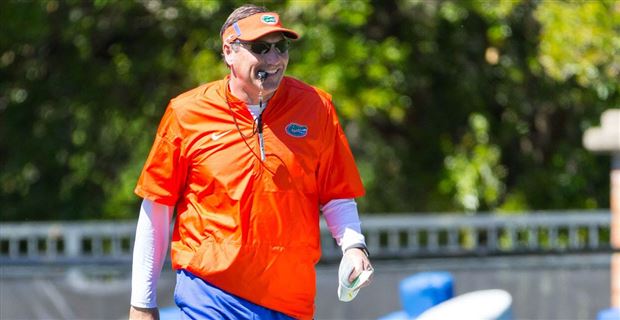 That's a brief, redundant history for many. The SEC, like college football as a whole, is long-defined by great coaches at historically good programs. When Tennessee and Florida had HOFers at the helm, they won. When Alabama, LSU, Auburn and whoever else out West you'd like to mention had overwhelming talent (hello, Cam Newton) or a great coach, they won.
It's really pretty simple. Divisional parity is possible when there are stellar coaches on both sides of the conference landscape.
When the East ruled the SEC, the top coaches wore a shade of orange — Vol or Gator. In this current iteration, arguably the top college football coach of all-time is wearing Alabama crimson. From 2003-08, a balance was possible because great coaches moved in and out of the conference. Saban won and left. Meyer won and soon after did the same. Les Miles, Tommy Tuberville and Richt also earned titles, and all of them are/were fantastic coaches in their own right.
Thus, and back to Mullen, let's turn an eye toward the present and the question of the SEC's potential divisional power shift.
Frankly, I wouldn't bet on it happening soon.
Georgia's SEC title aside, the West dominated last season. Four Western programs finished in the AP Top 25 compared to just one in the East, and five West teams finished above .500 compared to four in the East. Saban obviously hasn't gone anywhere. The West may be reshaping around him, but college football's most dominant presence isn't going to flip divisions. Auburn remains a contender and LSU is among the most talented programs annually. Speaking of difference-making coaches, Texas A&M added one of only four active national title-winning coaches, Jimbo Fisher, this offseason.
Smart looks like he could fit into that program-changing category eventually. All early signs point to that. But we need to see what Mullen will be able to do at Florida, whether Muschamp's Gamecocks can make a big leap, and how long it will take Jeremy Pruitt to rebuild Tennessee before being able to make sweeping conclusions about a divisional swing.