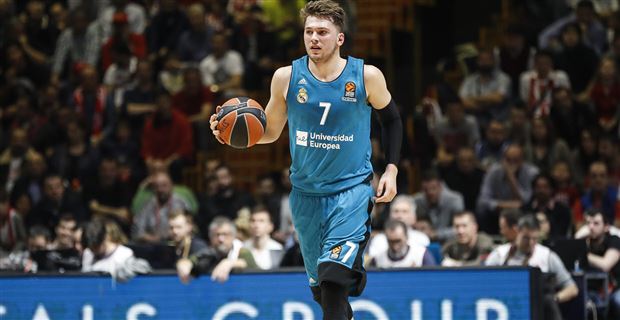 There's always an added level of intrigue to international players heading into the NBA Draft. Most fans have seen the top college players excel in big games and, in many cases, have watched the projected top picks even before they hit college through contests like the McDonald's All-American Game.
But there's so much more unknown about international prospects. The average fan doesn't tune in for EuroLeague games and, therefore, often lacks perspective on the level of competition. So there can be an extra level of projection when picking a player to come overseas to make their mark in the NBA. And that's what makes Real Madrid's Luka Doncic, one of the likely top picks in the 2018 NBA Draft such a fascinating player. Because, according to former coach and ESPN international guru Fran Fraschilla, the wünderkind has already proven himself at a high level.
"Let's put it into perspective: In the EuroLeague, roughly 25 percent of the players are former first- and second-round picks," Fraschilla told 247Sports. "And at 19 years old, Luka Doncic is one of the five most productive players in the league.
"So unlike a kid in college who is playing against very few future NBA Draft picks," Fraschilla said. "Doncic is performing at a very high level at a very early age."
For further perspective, Frank Ntilikina averaged 5.2 points per game and 10.2 points per 36 minutes for Strasbourg before the New York Knicks made him the No. 8 overall pick in last year's NBA Draft. And Ntilikina had just one season where he played double-digit minutes per game. Doncic has had three seasons playing double-digit minutes, and he's currently averaging 14.6 points per game and 21.1 points per 36 minutes.
"He's not going to be the greatest player ever to come out fo Europe. He's not going to be the most accomplished player ever to come out of Europe. He's not going to pass what Dirk Nowitzki or Pau Gasol did, or what somebody like the Greek Freak [Giannis Antetokounmpo] is doing," Fraschilla said. "Having said that, his body of work at his age surpasses those great NBA players at the same stage of their careers.
"Pau was close. When Pau was drafted [with the No. 3 pick in 2001], he had proven in a small sample size to be one of the best young players in Europe," Fraschilla said. "Ricky Rubio wasn't the scorer or all-round player, but was effective. But that's the perspective you need to look at, that level of success and the comparison between EuroLeague and college basketball."
How do the two compare? Fraschilla said that the best EuroLeague team would likely beat a team like NCAA Champion Villanova by 30 points. He compared top college basketball leagues like the Big 12 and ACC to Double-A baseball, while EuroLeague would be similar to Triple-A.
"Luka is playing against men and accomplished players," Fraschilla said. "You have to understand: what he is accomplishing at his age — he's basically had two full seasons as a prominent player at this level, starting as a 17-year-old — what he's doing is very rare. Very few college players, if any, could do what he's doing at the same age."
Fraschilla was quick to point out that he isn't afraid to call out European players that he sees as lacking, calling Dragan Bender a long-term project, for instance. And he said that he sees Doncic as "an above average NBA starter, but not necessarily a transcendent player."
"I think of the Greek Freak, and he's transcendent. [Kristaps] Porzingis, you could maybe argue is an above average starter in time if he can stay healthy," Fraschilla said. "You look at Doncic, on good teams, he would be a key figure. He's a glue guy extraordinaire who makes the game easy for his teammates."
So what does Doncic bring? First off, forget the notion that Doncic is a point guard, as Fraschilla said NBA teams evaluate a player's position by who he can guard. And while the 6-foot-8 Doncic can handle and create, teams won't put him in positions to defend the league's point guard talent on a night-in, night-out basis.
"What he is, he's a play-making small forward, a bit of a combination of Gordon Hayward or Manu Ginobili — that's what he could evolve into some day," Fraschilla said. "He's 6-foot-8, he has a great sturdiness to him, his skill level is high and he has to make some minor tweaks to his shooting, which is why he consistently shoots 33, 34 percent, which is average at best.
"His best skill is his incredible head for the game," Fraschilla said. "He is the quintessential player who sees the game a player or two ahead … there's not scheme or coverage that he won't master fairly easily. His one dilemma right now is that he isn't a dynamic athlete by NBA standards. In the Big 12 or EuroLeague, he's a good athlete. In the NBA, he's an average athlete at best, but with his IQ, he could be just athletic enough."
And while that athleticism could allow him to be an average individual defender, Fraschilla said Doncic could grow into an above average team defender.
Offensively, Fraschilla said Doncic is coming into the NBA at a time when teams covet his skill set.
"The NBA has become so well-coached that teams will scheme for one dynamic playmaker, but it's hard to scheme for an offense that has 2-to-3 playmakers," Fraschilla said. "Over the course of a 48-minute game with 100 possessions, it's hard to ask one player to do all the playmaking, minus the absolute superstars.
"Doncic can create and can at times play a small-ball four man, so his versatility offensively, he comes into the league at the right time," Fraschilla said.
Doncic projects to go with one of the top couple picks in June's NBA Draft — and whatever happens in this week's NBA Draft Combine (Doncic won't be attending), he figures to retain that status. But what does he need to do to make the transition from above average NBA starter to NBA star?
"His game will translate even better the more consistent he becomes as an outside shooter," Fraschilla said. "I think he will become a better shooter than he is right now: When I've watched him, as a coach, he has very easily fixable minor flaws in his shooting. But he shoots over 80 percent from the free throw line, so that's going to be developed.
"The better shooter he becomes, the quicker he becomes because when you are a knock-down shooter, you have an easier time getting past elite defenders and putting the defense into scramble mode," Fraschilla said.
And Fraschilla said once Doncic had defenses in scramble mode, he could carve them up with his vision and ability to find the open man.
"That's [shooting] what could keep him from becoming an All-Star, or be the reason he becomes an All-Star," Fraschilla said. "I put players into buckets. To me, it's superstar, star, starter, rotation guy and fringe player.
"Doncic is going to come in as a solid NBA starter, and he has a chance to be a sometimes All-Star," Fraschilla said. "And I think you're going to see him play in many playoff games because of his feel for the game."