Collin Sexton's NBA debut is still ahead of him, but the Cleveland Cavaliers rookie experienced his first taste of professional basketball Friday night in his first NBA Summer League game.
The former Alabama point guard helped lead the Cavs to a 72-59 victory over the Washington Wizards at the Thomas & Mack Center and Cox Pavilion in Las Vegas. And while he has plenty of games to look forward to in the future, he was excited for his inaugural outing.
"Man, it was exciting," Sexton told NBA TV immediately after the contest. "When you first get out there, you've just got to get the jitters and excitement out of you. It only takes one game for you to get everything out, and then after that, it's go time."
Sexton was one of three Cleveland players to score at least 15 points Friday evening. His 15 points came by way of 4-of-12 shooting from the floor, 1-of-1 from behind the three-point line and 6-of-6 shooting from the charity stripe. He also registered seven rebounds -- all on the defensive end of the court -- and one steal while only turning the ball over on two occasions.
Former NBA player and coach Derek Fisher, who was on the call for NBA TV, said Sexton attacked the basket "with no fear." But the 2018 NBA Draft's eighth overall pick felt otherwise.
"I feel like I did alright," Sexton said, per Cleveland.com. "I feel like I missed a few shots that I normally make, but that's just getting the reps and getting the first game under your belt."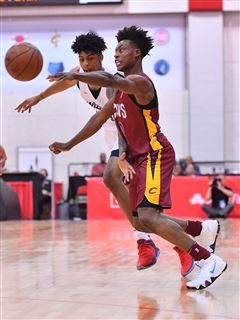 It was recently announced that Sexton signed a four-year, $20.2 million deal with Cleveland, and according to reports, the former SEC Co-Freshman of the Year also signed an endorsement deal with Nike. He was wearing the "March Madness" Nike Kyrie 4s on Friday.
Outside of his off-the-court endeavors, his new head coach Tyronn Lue is excited to work with the former Crimson Tide star but also has aspects of Sexton's game he wants him to improve.
"He just wanted me to make sure I get teammates involved, make sure that everybody's in the flow of the game and also take my shots," Sexton said. "But also just shoot it with confidence and don't worry about missing a lick."
Sexton won't have long to rest, as the Cavs and Chicago Bulls meet later this evening at 8:30 p.m. CT on ESPN2. Cleveland will conclude pool play against the Indiana Pacers on Monday, July 9 -- pitting Sexton against former Alabama standout Levi Randolph.
Each summer league team competes in three preliminary games before being seeded in a tournament that culminates with the championship game on July 17. Each team in Las Vegas will play at least five games and as many as eight before their time is up.
But the lottery pick is eager to get back on the court, even after tweaking his ankle Friday.
"Oh, it's straight," Sexton said with a smile on his face. "I don't even feel it no more, so it's good."
Contact Charlie Potter by 247Sports' personal messaging or on Twitter (@Charlie_Potter).