*** For all the latest Alabama team and recruiting news, sign up for BamaOnLine HERE. ***
We have reached the point on the calendar between the end of the college football season and the start of spring practices across the country. So, as football withdrawals reach their peak and spring ball inches ever closer, what better way to pass the time than with offseason outlooks on each position on Alabama's roster for the 2018 season?
Today, we continue our Offseason Outlook series that highlights the state of each position group, breaking down the outgoing, returning and incoming players at each spot and attempt to predict which players will step into starting roles for the Crimson Tide this fall.
Next up is the defensive line
WHO'S LEAVING?
Da'Ron Payne, Da'Shawn Hand, Josh Frazier, Jamar King
Alabama's defensive line was one of the hardest hit this offseason, in terms of attrition -- second only to the defensive backfield. A total of four defensive linemen either exhausted their eligibility or, in Payne's case, declared their intentions to enter the 2018 NFL Draft.
A force in the middle of the Tide defense, Payne received starter's minutes since his freshman year in 2015. He and Frazier leave UA without an experienced nose guard in its base package, while Hand, another starter, removes another veteran from the Tide lineup.
Three players from a 6-7 man rotation are gone, while less than that number are coming in this offseason.
WHO'S COMING BACK?
Redshirt senior Johnny Dwight, senior Isaiah Buggs, junior Raekwon Davis, redshirt sophomore Quinnen Williams, sophomore LaBryan Ray and redshirt freshman Phidarian Mathis

Davis and Buggs were mainstays along Alabama's defensive front in 2017. In his first season in Tuscaloosa, Buggs started 13 games, while Davis put together a breakout year as a sophomore by leading the Crimson Tide in sacks with 8.5 in 14 games of action.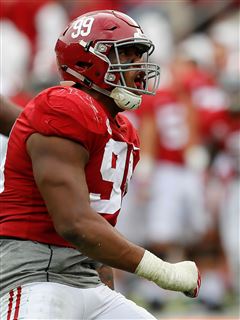 After redshirting in 2016, Williams saw his first action in an Alabama uniform and provided UA with quality depth. Ray and Dwight did the same at defensive end and tackle, respectively. After expecting to redshirt, Ray saw the field in six games before sustaining a broken foot. Dwight was another big body that showed he could fill a reserve role at nose tackle.
Mathis redshirted in 2017 but took strides behind the scenes as a first-year player.
WHO'S COMING IN?
4-star DE Stephon Wynn, 4-star DT Christian Barmore
Alabama signed two defensive linemen during the early signing period and none on National Signing Day last month. Despite being more than pleased with the pair of players he was able to add, Nick Saban was hoping for at least one more during the 2018 cycle.
"We were actually hoping to get one more defensive lineman in this class," Saban said back in February. "We feel really good about the two guys that we got. Stephon Wynn is a really good player, a big power guy. Barmore is the same kind of guy.
"I think some of the outside 'backer-type guys have become defensive linemen, so the fact that we got some really good guys at outside 'backer that have really good size and really good size potential may grow into something else in their career here. But that's something that remains to be seen. But we feel really good about those two guys.
"Again, if we had our druthers we'd have got one more guy at that position, and we'll continue to maybe look and evaluate and see if there's somebody out there that would help us."
WHO COULD STEP UP?

Buggs and Davis should start at the defensive end spots, while players like Williams, Ray and Wynn provide depth behind them. As for defensive tackle, Dwight, Mathis and Barmore give Alabama a trio of options to work with following Payne's departure.
That's eight total defensive linemen for the 2018 season. Saban hinted at moving an outside linebacker to an end position, and clearly he would like to add another body for a round nine at the three spots. But for right now, UA enters spring ball with seven players -- Wynn enrolled early, and Barmore will arrive during the summer with the rest of the class.
It's a thin group, but one that new position coach Craig Kuligowski will find a mixture of veterans, now-experienced youth and newcomers.
PREVIOUS OFFSEASON OUTLOOKS
Contact Charlie Potter by 247Sports' personal messaging or on Twitter (@Charlie_Potter).