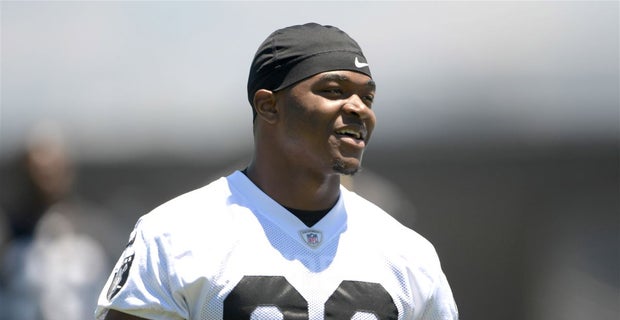 After struggling with drops last season that led career-low production numbers, Amari Cooper is poised to return to Pro Bowl form that ignited the Oakland Raiders' passing attack his first two years in the NFL.
The former Alabama All-American and Biletnikoff Award winner is turning heads in training camp this summer in Jon Gruden's new-look offense, highlighted by one rep to remember this week against the Detroit Lions.
Amari Cooper is looking absolutely disgusting #Raiders pic.twitter.com/0Hvv6RGXwr

— Raider Center (@RaiderAnalysis) August 8, 2018
As video evidence indicates, Cooper beats Lions cornerback DeShawn Shead at the line of scrimmage and leaves him on the grass after a sharp cut out of his break to the outside, easily one of the top moments from Oakland's scrimmage earlier this week. Cooper finished the rep with a nifty one-handed catch near the sideline that seemed to excite Raiders quarterback Derek Carr.
Earlier this year, new Raiders coach Jon Gruden said Cooper will be the "headliner of our offense" and mentioned last month the fourth-year pro and former first-round pick was now playing at 225 pounds. Over the course of his coaching career, Gruden's WR1 has received a steady diet of targets and production has followed for stars like Tim Brown and Keyshawn Johnson.
"We're going to move him all over the place (as our No. 1)," Gruden said in an interview on NFL Network. "He is smart, he's elusive, he can run after the catch. We've got to get more ways to get him the football."
The Raiders added tremendous talent at the wide receiver position in the offseason to help Cooper. Jordy Nelson and Martavis Bryant are proven playmakers while Ryan Switzer is a slot threat who will benefit the offense on third down.
Despite 2017's letdown season, Cooper's numbers over his first three years in the NFL stands up to some of the greatest players of all-time at the position, a great sign for the Raiders who believe in their top wideout long-term. According to Pro Football Reference, Cooper has the seventh-most receiving yards all-time before the age of 24.
Earlier this year in an interview with SiriusXM's "Mad Dog Radio", Carr attributed Cooper's production drop last fall to a nagging foot injury.
"He will never tell you, and he'll never even talk about it, but that man was out there playing on one foot," Carr said. "He's out there just trying to battle for his teammates. A lot can be said about the way it didn't work out and stats and all those things, but the thing I want to talk about is: I'll roll with that guy any day of the week because he's out there trying to give it his all, even though he could barely get out there and do it. And so, that's the kind of guy I want to play with. That's how I know we're going to be just fine.
"He would never say it to you, no one would ever say it to you, but I'll say it to you to have his back. That man was out there playing as hard as he could and giving everything he could. Honestly, a lot of guys probably wouldn't have even played with what he had going on. I commend him for what he was doing."