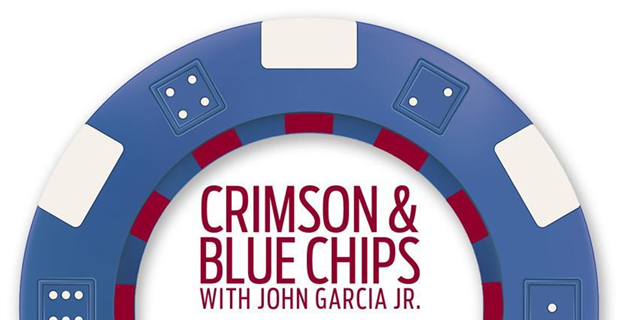 Crimson and Blue Chips, the Alabama football and recruiting podcast, is now affiliated with BamaOnLine. CABC linked up with the premiere site covering Alabama athletics and recruiting as part of the 247Sports network earlier this month. In addition to host John Garcia, Jr., BOL regulars Tim Watts, Kirk McNair, Hank South and others will join the conversation on a more consistent basis to provide expert perspective on the Crimson Tide on and off the field, an audible roster unmatched elsewhere in the space. The show will remain a free listen on BOL, itunes, BamaSportsRadio.com and via social media (#CABC on Twitter, Facebook and Instagram) moving forward.
On today's program, it's all about the quarterback. BOL's Hank South stops by to break down the unusual late addition of class of 2018 quarterback Layne Hatcher and just how it helped Nick Saban accomplish another goal. 247Sports' Blair Angulo also joins the program fresh off of a trip to Steve Clarkson's annual assembly of top high school and college passers, "The Quarterback Retreat." Alabama QB Tua Tagovailoa was a counselor and spun it some, as did younger brother and four-star Crimson Tide commitment Taulia Tagovailoa. Angulo comments on what he saw from each, how the brothers are progressing as well as where they are similar and different at the same stage having scouted each more than most. We also get into UA's chances with another top quarterback prospect, DJ Uiagalelei, who is perhaps the top prospect at the position for 2020, about to make a trip to Tuscaloosa. More listener question and answer follows our guests as we tackle topics from the current Alabama roster, with most of the 2018 class now on campus, to recruiting and beyond.
Rundown:
0:18 - Show intro
2:04 - Hank South joins the program
17:54 - Blair Angulo joins the program
42:37 - Listener questions and answers on football recruiting and more
1:20:47 - Show wrap-up
-------------------------------------------
Last Five Episodes
Click HERE for the May 24 show as we learn of new Alabama football commitment and top kicking prospect Will Reichard through the eyes of kicking guru Chris Sailer, who has lofty comparisons for the in-state recruit.
Click HERE for the May 22 show, where we hear from multiple Alabama targets at Hoover (Ala.) High School, four-star wide receiver George Pickens and top kicker prospect Will Reichard.
Click HERE for the May 17 show as 247Sports Recruiting Analyst Brian Dohn joins the program to look ahead to four-star DL Antonio Alfano's commitment and look back at former five-star Minkah Fitzpatrick.
Click HERE for the May 15 program as we welcome four-star Alabama QB commitment Paul Tyson and take a deep look at UA's in-state recruiting efforts in 2019.
Click HERE for the May 10 program, as all-timer Kirk McNair rejoins CABC for the first time since the 2017 season ended.
- The podcasts are now available on itunes (please rate and/or subscribe) and remain available on BamaSportsRadio.com.
This feature will always be free, so spread the word on Twitter, Facebook , Instagram or email us at CABCPod@gmail.com.