This story is part of an 11-week long breakdown BamaOnLine is doing of every game on Alabama's 2018 schedule (sorry, The Citadel). And we continue with Louisiana-Lafayette.
Here's a look at what Ragin' Cajuns' coaches and players are saying out of spring practice.
Head coach Billy Napier
"We wanted competition throughout the spring and got just that and I'm impressed by our team. The four scholarship guys showed out through spring and the entire offseason and earned their scholarships. They're exactly what we want out of the entire team and organization and the rest of team knows what those guys are all about. We've seen progress in Levi as a drop-back passer and he's getting more comfortable with the system. I thought that the White team front seven did well today, while the Red team seemed to struggle on the ground against the White team. I'd like to see more production from that position as we get more guys healthy."
Quarterback Levi Lewis
On progress through the spring...
"I've made great progress and I see this as a stepping stone in my development."
On the team's offense...
"Honesty, only God knows, but I think this team is destined for greatness. We hold our own destiny in our hands and the great teams are player led, much like how we are. I, along with other leaders will step up and hold guys accountable."
On the difference between this year's offense to last season...
"It's still an up-tempo style offense but Coach Napier wants and expects more out of us. We're snapping the ball more and Coach expects us to know our assignments. The teammate chemistry is still a work in progress but we built great chemistry through spring and will grow more through the summer."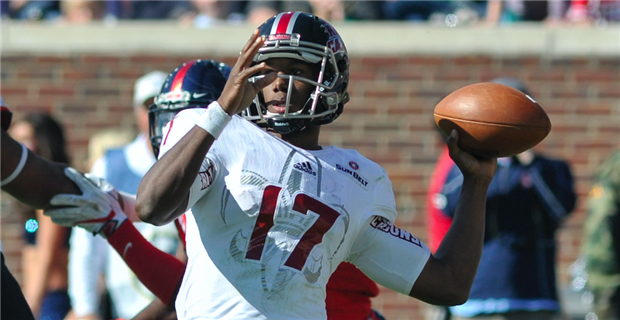 Tight end Chase Rogers
On the differences from this year to last year...
"We use the tight ends more this year than we did last season. We've got the tight end on the field almost every play of the game and they're doing a great job of getting us the ball."

On the feelings when finding out about the new offense...
"I was excited when I came in and they gave us the playbook. When we got out there I saw how they were going to be using the tight ends and it was just awesome for me and the tight ends."
On deciding to stay at ULL after the coaching change...
"It was a big decision and I thought about it for a while. My dad and I sat down for a while and talked about it, and we also sat down with coach Napier. Coach convinced me to stay and to give the new coaching staff a chance. I'm glad I made the decision to stay. Everything coach has done here since coming has been great and we've all earned his trust."
Defensive back Corey Turner
On the tempo of practice...
"Coach Napier presses on transitioning from drill to drill and I think at the end of the day it's going to make us a better football team when it comes to game time."
On what the defense is capable of...
"Our defense has a handful of athletes on it and with the group of older players that we have bringing the younger guys along, I think that our defense can be real good going forward."
On taking a step forward on defense...
"We need to continue to keep doing what we're doing and if we listen to what the coaches are telling us, we'll keep moving forward and we'll keep getting better."
*** Stay tuned for more on Alabama's Week 5 opponent throughout the week.
Contact Charlie Potter by 247Sports' personal messaging or on Twitter (@Charlie_Potter).