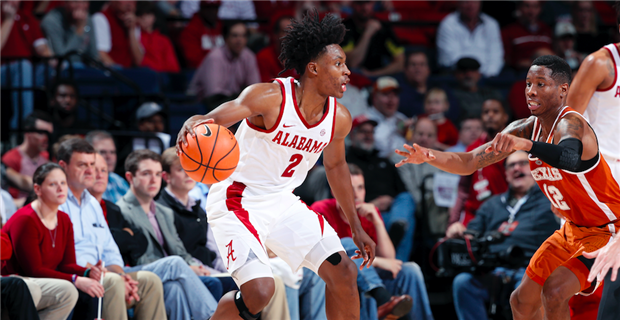 *** For all the latest Alabama team and recruiting news, sign up for BamaOnLine. Sign up here. ***
BIRMINGHAM, Ala. -- Alabama freshman point guard Collin Sexton played 32 minutes in the Crimson Tide's 66-50 loss to Texas on Friday night. But it was evident the former 5-star recruit was in pain in the final minutes of the game inside Legacy Arena.
As he exited the court for a final time, Sexton walked with a noticeable limp and was attended to by trainer Clarke Holter several times throughout the game, mostly just to provide a drink.
Following the loss, head coach Avery Johnson provided an update on the star freshman.
"He had a little bit of a tweak there in his groin, and I think he got some cramps there at the end of the game," Johnson said. "We've been trying to manage him over the last week or 10 days. But I just think he started cramping up there, got a little dehydrated."

Sexton scored eight points on 4-of-12 shooting and also tallied five rebounds and four assists. He missed his only 3-point attempt and did not visit the free throw line in 32 minutes.
The Longhorns wanted to limit Sexton and fellow freshman guard John Petty during the Vulcan Classic, and Sexton's eight points was one shy of a season-low (7 vs. UCF on Dec. 3).
"Those guys can really score," Texas head coach Shaka Smart said. "I thought our guys did a really good job buying into our game plan. We just didn't want to give Sexton and Petty anything easy. Our bigs really helped a lot in pick-and-roll situations."
Alabama (8-4) dropped its final game before SEC play begins Dec. 30 against Texas A&M.
Contact Charlie Potter by 247Sports' personal messaging or on Twitter (@Charlie_Potter).