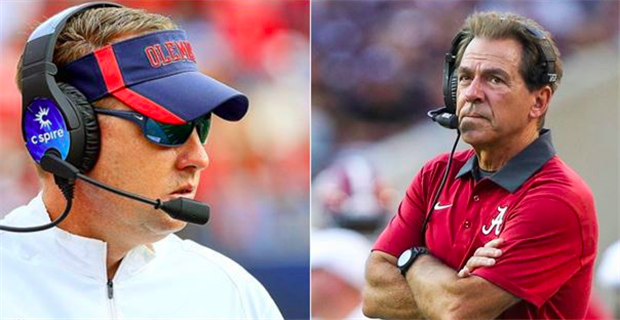 If Nick Saban had it his way, former Ole Miss coach Hugh Freeze would be calling the offense for Alabama this season.
Saban wanted to hire Freeze as the Crimson Tide's co-offensive coordinator earlier this year, but the SEC strongly urged against it, AL.com's Matt Zenitz reported Monday.
Zenitz writes, "Alabama was one of at least five SEC schools that had contact with Freeze about on-field jobs this offseason, however, SEC commissioner Greg Sankey encouraged Alabama not to hire a man as well known for the personal shortcomings that led to his Ole Miss resignation as he is for his success as a coach."
Saban effectively no-commented the Freeze situation in January after BamaOnline confirmed the pair had met, though it was clear through Saban's words the offensive guru and ace recruiter was wanted on staff.
"I don't really have a comment on that right now," Saban said."I think Hugh Freeze is a really good coach, so we'll keep evaluating and try to make our staff as strong as we can make it."
Freeze has been out of coaching since he resigned in July following an investigation reportedly discovered calls Freeze made to a female escort service on a school-issued cell phone. Freeze will be suspended for two conference games if hired as a head coach between now and Nov. 30, but he won't have any restriction if he's hired for a role other than head coach.
According to AL.com, "The SEC preferred that Freeze, who resigned in July following a 'pattern of personal misconduct,' go off the radar for at least a little while before trying to return to work at one of its schools."
Alabama has lost seven games in the last five seasons and two of them (2014, 2015) were against Ole Miss teams coached by Freeze. His tempo-driven offenses keep defenses off balance and take advantage of mismatches in space.
Saban promoted Mike Locksley to offensive coordinator following Brian Daboll's departure and ultimately hired Penn State's Josh Gattis to fill Alabama's need on offense. Gattis is one of several newcomers on a rebuilt coaching staff that has only one full-time assistant coach, Brent Key, in the same role he had last season.
"There's always a little bit of concern because you're losing both coordinators and getting a new special teams coordinator as well, that's just a lot of turnover," CBSSports.com senior writer Barton Simmons said. "But again, when Nick Saban is still running point over there, you feel good about the direction of the program and the vision. I think they're really excited about some of the hires.
"Tosh Lupoi, elevated to defensive coordinator, he's a rising star — certainly on the recruiting trail. And Pete Golding, who they brought in from Texas-San Antonio, that's a guy who is going to play a really key role in the game-planning and Xs and Os side of the things, defensively."
LSU and Mizzou were other teams interested in Freeze, but the SEC didn't find him in either program's best interest, according to the report.