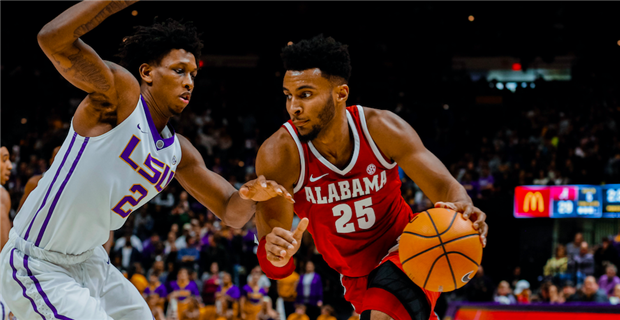 Alabama sophomore forward Braxton Key is transferring from the Crimson Tide men's basketball program, BamaOnLine.com has confirmed.
Key has been granted his release and will look to play elsewhere one offseason after testing NBA draft waters and ultimately deciding to return to Tuscaloosa, Ala. This year, however, he won't be returning for the 2018-19 campaign after what "was not an easy decision to make," he said in a later release from University of Alabama Athletics.
The Tuscaloosa News was first to report Key's transfer.
"I met with Braxton on Thursday and had a good talk with him," head coach Avery Johnson said in a release. "Braxton certainly has a bright future, but he has to do what's best for him. We wish him nothing but the best of luck in his future endeavors."
Sidelined with a knee injury for the first 10 games of the season, Key appeared in 26 games last season, starting in 17 of them. He averaged 7.0 points and 5.3 rebounds during his sophomore campaign after averaging 12.0 points and 5.7 rebounds as a freshman.
During his two seasons at UA, Key, who was named to the 2017 SEC All-Freshman team, played in 60 games and made 47 starts, while averaging 9.8 points, 5.5 rebounds and 2.2 assists per game.
"This was not an easy decision to make," Key said in a release. "I've enjoyed my two seasons at the University of Alabama. I want to thank the coaches, support staff and my teammates for helping me get better each and every day. I especially would like to thank all the fans for their support over the past two years."
He will have two years of eligibility remaining after sitting out the upcoming season.
One week ago on WJOX FM, Johnson said he felt good about his 2018-19 roster and that it was set "for the most part" unless a surprise departure occurred later in the offseason.
"For the most part, yeah. We like where we are," Johnson said. "Obviously, you can always have a surprise. You have guys transferring -- you can look at the transfer wire now, just guys are moving every day. But for the most part, we feel good about our roster unless there's some surprise we get when school ends in graduation in May. But we feel good."
The former Oak Hill (N.C.) Academy standout is now the third Alabama men's basketball player to leave the Crimson Tide program since the 2017-18 season ended with a loss to eventual national champion Villanova in the second round of the NCAA Tournament.
Freshman star Collin Sexton announced his intentions to enter the 2018 NBA Draft and senior guard Ar'Mond Davis, who sat out the season as a redshirt, left as a graduate transfer.
Senior forward Riley Norris is expected to earn a medical redshirt and return for a fifth season, and that would give Alabama 13 scholarship players, which is the NCAA limit, for 2018.
But that is "something that still hasn't been official yet," Johnson said earlier this month.
"Obviously, we hope that he will be (back)," Johnson said. "If it's a medical redshirt situation, that's a process we have to go through. If we have the opportunity to have him back, he's a senior, guy in the graduate program, desperately wants to go to the NCAA Tournament. He's a winner, so it would mean a tremendous amount if that becomes a reality."
Contact Charlie Potter by 247Sports' personal messaging or on Twitter (@Charlie_Potter).