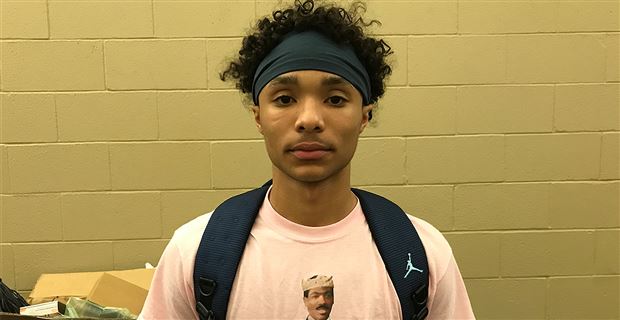 Arizona State's lone 2019 basketball commit has made a big jump in the latest Top247 class rankings.
Jaelen House, a 6-foot-1, 160 pound junior guard at Phoenix Shadow Mountain High School, is up 24 spots to No. 65 overall in the class in Thursday's update.
The top-ranked prospect in Arizona's 2019 class, House is averaging 19.9 points and 6.1 assists this season.
House is the son of former ASU great Eddie House, the all-time leading scorer in Sun Devil history with 2,044 points, and an 11-year NBA veteran.
House's commitment to the Sun Devils came on Dec. 22, during the team's game against Pacific, which completed ASU's perfect 12-0 non-conference record, a first in program history.
"I committed because I love the coaching staff and I feel like this is a place where I will fit in and be able to play my game," House told 247Sports following his pledge. "On the plus side it's not too bad that I get stay home."
The Sun Devils have signed the No. 29 and No. 55 overall recruits in the 2018 class, 6-foot-3 guard Luguentz Dort and 6-foot-6 shooting guard Elias Valtonen, and also received a commitment earlier this month from the No. 25 overall recruit in the class, Taeshon Cherry.
ASU also has a top 10 overall recruit in 2020, 6-foot-6 small forward Kyree Walker, and a potential five-star 2021 commit, 6-foot-9 power forward Mike Foster.
Stick with SunDevilSource for the latest on ASU recruiting and team coverage
Not a subscriber?
For all the latest ASU football and basketball recruiting news and complete team coverage, sign up for SunDevilSource. We'll have the very latest on the newest crop of Sun Devils, and who we could see sign with the program on National Signing Day on Feb. 7. Sign up here. Your first seven days are FREE!
Also, sign up for FREE to our Sun Devil Source Newsletter! It's a great way to get all the latest ASU football, basketball and recruiting news delivered right to your inbox!
And don't forget to like SunDevilSource's Facebook page and follow us on twitter.