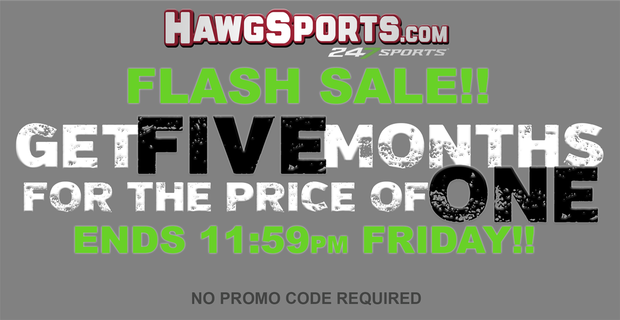 Arkansas continues to shell out new quarterback offers in the 2020 class, and the latest recipient is Michael Wright of Atlanta (Ga.) Woodward Academy. The 6-5, 170-pound signal caller added an offer from the Hogs after speaking with offensive coordinator Joe Craddock Wednesday evening.
Wright already held offers from the like of Kentucky, Ole Miss and Louisville, but said he has legitimate interest in Arkansas because of the Hogs' style of offense.
"Coach Craddock texted our recruiting coach at our school and asked if we could Facetime, so then I Facetimed Coach Craddock and Coach (John) Scott and they let me know the great news," Wright said. "Oh my goodness, I was so excited. I was really excited. I had already previously known what Coach was about when he was at SMU and what they did at Clemson, so I was actually already interested in him and he didn't even know it. I didn't get around to that during the call, but I want to make sure I let him know that, here.
"His offensive style, I would fit in that perfectly. I was very excited. I'm actually going to call them back later on this week and see if we can go ahead and set a visit date. I'll definitely be up there for a game. I'm not sure which one yet, but it will definitely happen."
Wright has a connection to Craddock that he wasn't even aware of until Arkansas began to turn up its interest.
"Both of my parents went to the University of Tennessee, so I guess there's a little bit of a connection there," Wright said. "My connection with Arkansas, though, is the crazy one. It's really, really cool. My QB coach, Andrico Hines, went to Middle Tennessee State. He was the quarterback before Coach Craddock. He played there for three years, then went and played Arena ball for a little bit. He's coaching now at Riverwood High School, and they're a really good team down here in Georgia. He's my QB coach, I've been with him since fifth grade. I just thought that was really cool to have that connection to Coach."
In addition to his new offer from Arkansas, there are a few other schools that stick out to Wright early on.
"Louisville, Kentucky, Ole Miss, those are schools that have hit me up lately and have offered me," he said. "Georgia State, too. The schools that haven't offered -- Auburn, FAU and South Carolina -- they hit me up recently, so there are some more in the mix, but those are the ones that have hit me up in the last two weeks."
CLICK HERE TO GET FIVE MONTHS FOR THE PRICE OF ONE!
Wright has a while before he'll have to make a college decision, but he's already got a good idea of what's going to be the most important factors when the time comes.
"The main factor for me is going to a school that's going to make me a better person," Wright said. "Aside from football, aside from academics, I want to become a better person. When I talk to my dad's friends and older people in general, they tell me about all the people who helped turn them into the person they are today. I want to be around people like that and become a better person. I can be known as Mike Wright, the quarterback, but I want to be known as a great person, first.
"Another factor -- and I love telling people this -- is I want to be coached. There's a lot of places where you just get pushed along and they let you get away with stuff. I actually want to get coached. I don't mind a coach telling me, 'Hey Mike, that's a terrible ball. Mike, get your footwork up.' Those are important things to me."
Until then, Wright and the War Eagles are focused on taking the next step after a great 11-2 run in 2017.
"We're supposed to be that team this year," he said. "We're projected to go all the way to the state championship according to the preseason projections and the rankings. We've got a great running back (2019 running back Tahj Gary, who also holds an offer from the Hogs), the No. 2 running back in the state of Georgia. He's that dude. We've got a great squad, so we're supposed to be the team to beat.
"For me, individually, I just want to make sure I'm fully polished. I went back and watched every single game from start to finish last year, and I found what my biggest flaws and little mistakes were. We're fixing that right now. As you get older, the game gets a lot faster. I'm just taking my flaws and trying to improve them. I want to make sure my release is faster, my footwork is faster. I just want to be polished, because at the end of the day, if your quarterback's not good, your team's not going to be good. I've got to make sure I'm up to par and everyone's on the same page. As the quarterback, you're naturally in that leadership role and I love being a leader. I feel like if we're all committed to the process this year, we'll walk out of here with a ring."
In addition to Wright, the Razorbacks have extended eight other early quarterback offers for the Class of 2020. Two of those also have strong ties to the Hogs, as Jacolby Criswell of Morrilton (Ark.) is the younger brother of current Arkansas linebacker Dre Greenlaw, while Chandler Morris of Dallas (Texas) Highland Park is the son of head coach Chad Morris.