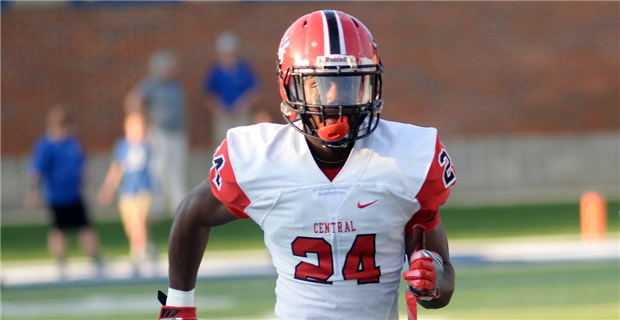 Twitter polls can be a very quick, efficient way of finding out how the masses feel about a particular topic. Phenix City (Ala.) Central running back target A'Montae Spivey learned that over the weekend when he asked fans what they're thinking between his top two schools at the moment, Arkansas and LSU.
The results were pretty staggering. Of the 8,320 votes submitted, 93 percent went in favor of the Razorbacks, who offered the 6-1, 205-pound running back on March 2. Spivey said he was blown away with the final numbers.
"It just shows how crazy the Razorback fans are," he said in a text to HawgSports.
Spivey made a four-day unofficial visit in Fayetteville in early June and quickly named the Hogs his leader before he even left town. A few weeks later, on June 23, he visited LSU and landed an offer from the Tigers. That shook up his list of favorites and evened things up between Arkansas and LSU, but Razorback players and fellow recruits are making sure they hammer home the lopsided numbers.
"You already know what they thinking. #WPS." - Arkansas four-star commit Shamar Nash
"U know how lit we get on the hill." - Arkansas defensive end Gabe Richardson
"You see it." - Arkansas commitment TQ Jackson
"It's pretty obvious now bro." - Arkansas linebacker Andrew Parker
"What you thinking!? Come holler at us over here, you know wassup!" - Arkansas linebacker Scoota Harris
Spivey, who is being recruited by offensive coordinator Joe Craddock and running backs coach Jeff Traylor, announced a top five of Arkansas, LSU, Missouri, Purdue and Lafayette on July 4. He tells HawgSports that he'll officially visit the Razorbacks when they host Alabama on October 6, and that he's hoping to make it back to campus for an unofficial visit before then.
Spivey rushed for 944 yards and 14 touchdowns as a junior in 2017. He is considered a three-star prospect and the No. 65 running back in the nation according to the 247Sports Composite rankings.
Arkansas plans to sign at least one running back in the 2019 class after inking one (JUCO signee Rakeem Boyd) in last year's cycle. The Razorbacks are still in the mix for the likes of King Doerue of Amarillo (Texas) Tascosa; Deion Hankins of El Paso (Texas) Parkway; Aaron Young of Coatesville (Pa.); Terrell Brown of Harvey (La.) Helen Cox and others.
Arkansas currently has nine 2019 commitments in Sardis (Miss.) North Panola quarterback KJ Jefferson; Bradenton (Fla.) IMG Academy wide receiver Shamar Nash; Jefferson (Texas) wide receiver TQ Jackson; Trussville (Ala.) Hewitt-Trussville offensive lineman Joseph Stone, and Tyler (Texas) Lee offensive lineman Beaux Limmer; Lufkin (Texas) defensive tackle Carl Williams; Douglasville (Ga.) Douglas County defensive end Mataio Soli; Little Rock (Ark.) Robinson defensive end Zach Williams; and Rison (Ark.) defensive back Malik Chavis.