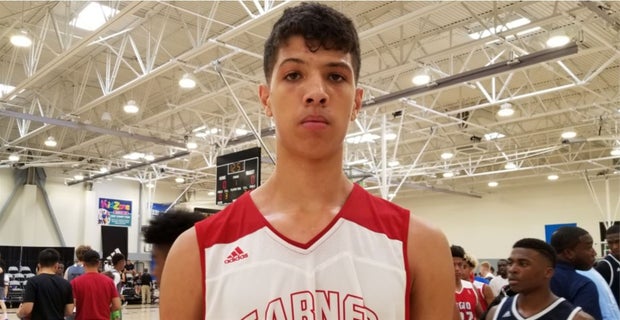 On a regional level a lot of people knew about Kadin Shedrick coming into the month of July, but on the national scale he was an unknown. That all changed in a big way at the adidas Summer Championships in Los Angeles. Shedrick, who played very well, exploded during that event, and saw his offer list expand to nearly 20 high-major schools.
For the 6-foot-9 Shedrick, who doubles as an excellent basketball player and an elite student, it has been a whirlwind few weeks, albeit a very exciting stretch.
"It has been a lot," said Shedrick of the recruiting explosion. "My phone has been going off a lot. It has been really crazy."
While it is tough to predict meteoric rises like the one experienced by Shedrick, he said his coaches with Garner Road told him it would happen.
"Coach (Dwayne) West told me this was going to happen, but it is still a little bit surprising," noted Shedrick. "I was hoping it would happen, and I am pretty excited."
Because everything came so quickly to him, it is tough for Shedrick to keep track of all the schools who have offered him.
Some of the programs who really stepped up the interest and were a presence at his games during the final two evaluation periods of July were Ole Miss, Xavier, Stanford, Northwestern, NC State, Illinois, Providence, Baylor, St. John's, Georgia Tech, Wisconsin, Minnesota, Wake Forest and Creighton.
Clearly that is a very long list. Unlike most kids in his class, Shedrick hasn't had a chance to really digest everything and learn about the schools on his list. Because of that now that the calendar has turned to August, he is hoping to sit down with his family and his coaches and begin to work through all of his options.
"We are just trying to take it all in stride," explained Shedrick of the process his recruitment is about to enter. "In August my family and I will start evaluating everything and go from there."
Over the coming weeks look for Shedrick to take a very long look at the schools recruiting him, narrow his list, and then eventually take visits.
Given that he is an elite student who is just beginning to scratch the surface of his ability on the basketball court, it is possible that Shedrick continues to see massive growth with his game.
Having grown roughly eight inches in the last two years, Shedrick is just beginning to grow into his body, and he is also very young for his class.
Look for Shedrick to make a significant rise in the 247Sports Rankings when they are updated near the end of this month, and for him to continue to be a priority target for some of the top schools in the country.