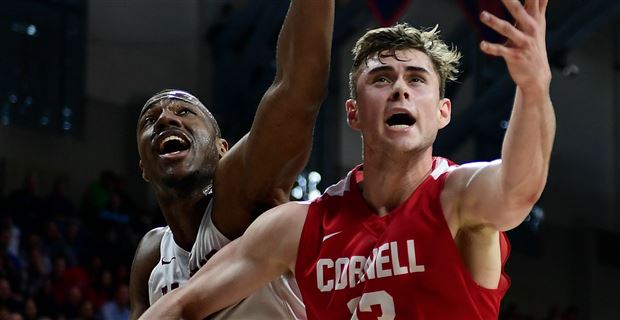 Cornell graduate transfer Stone Gettings just verbally committed to Arizona, he tells 247Sports.
"I decided to commit to Arizona," Gettings said. "I'll be going there for my graduate transfer and I'm beyond excited."
"I received interest and everything from a lot of different schools and at the end of the day I felt a lot of confidence in Sean Miller and the history of Arizona," he added. "I feel like it's going to give me the best opportunity to reach my full potential. I'm really excited to be apart of the rich history of the program and be close to home."
Gettings, a 6-foot-9, 235-pound post player, also strongly considered Stanford and Vanderbilt. Gettings took visits to all three schools involved, including a trip to Arizona on June 15th.
"I just felt really confident in everything that they are doing at Arizona," Gettings said.
"They were one of the first schools to contact me right off the bat," he said. "I was excited. I played with Parker Jackson-Cartwright in high school and I talked to him. Everyone I talked to raved about the coaching staff. Sean Miller speaks for himself and Danny Peters did a great job recruiting me. Every time I got off the phone with coach Miller I got more and more fired up each time. He's insanely motivational."
Gettings had a productive junior season at Cornell, averaging 16.7 points and 6.6 rebounds a game. He also knocked down 43 three-pointers and shot 36.8-percent from long-range. An assistant in the Ivy League told 247Sport that Gettings will be effective at Arizona because of his versatility and skill.
"Stone is a versatile four, five with a high skill level," the assistant said. "Cornell ran their entire offense through him from the high post and top of the key with his ability to pass and shoot. He was a matchup nightmare because of his perimeter skill at 6-9 in the Ivy League. He can really stretch the floor out to the three-point line but is athletic enough to go by and finish at the rim. He should be a really good contributor at Arizona either as a starter or first big off the bench".
In high school, Gettings played alongside Thomas Welsh and Jackson-Cartwright at Los Angeles (Calif.) Loyola. Gettings grew two inches once he graduated. After a pedestrian freshman season, he took off, averaging 12.4 points and 5.8 rebounds in his breakout sophomore season. Gettings thinks he can help Arizona with his skill set, but also with his leadership.
"I think overall I bring a lot to the table in term of versatility and leadership," Gettings said. "I think I can do a lot with my style of play, being a versatile big. I assisted well and shot the ball well and I've proven that I get better every day. I've shown that I can play at this level. I'm really excited to prove that on a bigger stage and provide some leadership and mentorship in practice. I'm going to work my tail off and hope to help inspire the rest of the team."
Arizona has had success in the graduate transfer market this year. Gettings marks the third graduate transfer to pledge to the Wildcats. Samford's Justin Coleman and Pittsburgh's Ryan Luther being the other two.
Arizona also added three freshman four-star prospects -- Brandon Williams, Devonaire Doutrive and Omar Thielemans -- to their team. Their high school recruiting class ranked No. 21 overall in the 247Sports Team Rankings.
Getting will graduate from Cornell in December and be eligible to play at Arizona during the 2019-2020 season.