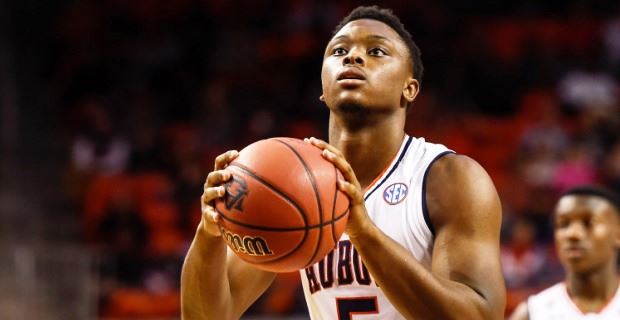 Auburn wing Mustapha Heron will declare for the NBA Draft and sign with an agent, he told 247Sports.
"The plan is to just go in with the intent to hire an agent and hopefully get invited to Chicago and hopefully play my way in that way," Heron said early Wednesday morning.
Heron, 20, is coming off a strong sophomore season, where he averaged 16.4 points and 5.3 rebounds a game. Heron led the Tigers to a SEC championship and a four-seed in the NCAA Tournament.
"It's always been a dream to play at the highest level," Heron told 247Sports. "Now is a better time than any other time. I'm coming off a pretty good season and the buzz Is there and I feel like I'm ready mentally and physically."
Heron, who starred at Waterbury (Conn.) Sacred Heart in high school, said he intends t go back to Connecticut to prep for the NBA Draft.
"Most of the stuff I'll be doing at home with my dad and my trainers," Heron said.
With Heron's decision to go ahead and sign with an agent, he's bypassing his remaining two years of college eligibility.
Coming out of high school, Heron was a consensus five-star prospect. He lived up to that billing, scoring 1,011 points and reeling in 365 rebounds in two seasons at Auburn.
"Over the last two years, the first season didn't go as planned, but we came back and were better this past season," Heron said. "It didn't end the way I wanted it too, but I grew as a player and defensively I made a lot of changes this year. Just being more lock in defensively and taking more pride in my defense."
"I think I have a skillset and an all-around skillset you can put anywhere on the floor and I don't disrupt anything," he added. "I have an attacking mentality. I'm a two-way player and a guard that rebounds."
The 6-foot-5, 22-pound wing prospect was named to the AP All-SEC Second Team and was named as the SEC Men's Basketball Player of the Week during weeks nine and 12 of his sophomore season.
As a freshman, Heron averaged 15.2 points and 6.1 rebounds a game, while connecting on 44.2-percent of his field goal attempts. Heron is known for his ability to score, but also his tough, physical brand of basketball.
Heron said he hasn't decided which agent he plans to sign with.