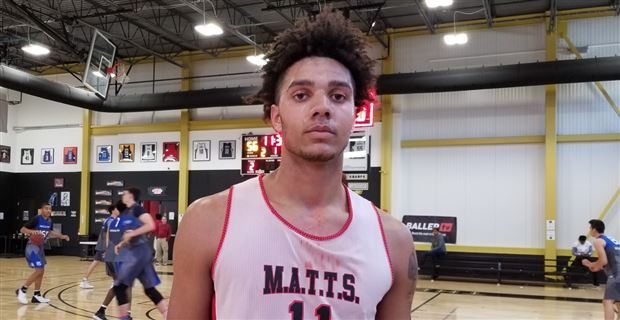 While prospects use the April evaluation period to try and raise their stock, college coaches are on the hunt for potential new prospects.
The second of two periods where college coaches are allowed on the road to evaluate players concluded this past weekend. The 247Sports national basketball recruiting team covered all the top events in Indianapolis and in Atlanta.
Which players raised their stock in our eyes?
EVAN DANIELS

Shereef Mitchell, PG, Omaha Sports Academy
One player to keep an eye on this summer is 6-foot point guard Shereef Mitchell. Mitchell, a 6-foot guard that plans to reclassify to 2019, is a point guard with a quick first step, good vision and a strong handle. In our viewing, Mitchell found ways into the paint and looked to distribute the ball. He's creative with the ball, handles it well and rarely turns it over. In his last five Gauntlet games, Mitchell has tossed out 17 assists to just three turnovers.
Recruiting: Creighton, UC-Davis, South Dakota State, Bradley, Loyola-Chicago

Keeshawn Barthelemy, PG, Brookwood
Barthelemy, a wiry combination guard, had his best game of the weekend in our viewing, scoring 13 points and tossing out four assists. A 2020 prospect, Barthelemy is a quick guard with an impressive burst of speed. Barthelemy showed good vision and is a willing passer, but he also showed promised as a scorer. Barthelemy has good shot mechanics, made a three-pointer, plus a mid-range pull-up and a floater. He's also quite effective in transition.
Recruiting: Arizona State, High Point & a host of others

JOSH GERSHON

Dahmir Bishop, CG, K Low
Bishop is an intriguing combo guard with a very high upside. He has the size to play both the one and two, long arms, plus athleticism and versatility on both sides of the court. He's a capable shooter with range to three who can put the ball on the ground, pull up from midrange and get to the basket. While Bishop played off the ball in our viewings, he showed the vision and basketball IQ to play point guard as well. Bishop is a player with an impressive ceiling.
Recruiting: Bishop listed offers from Kansas State, VCU, Penn State, Rhode Island, Seton Hall and Rutgers

Coleman Hawkins, PF, DreamVision
Hawkins is a versatile forward who showed comfort at both the three and four. While he has the size to play either forward position and is a respectable athlete, what he does best is pass the ball, as Hawkins has excellent vision. An unselfish player, Hawkins usually looks for teammates before worrying about scoring, but did show range to three with his jumper and scored in the paint. You get the feeling there's a lot of untapped potential here.
Recruiting: Hawkins holds an offer from Arizona

BRIAN SNOW

Dontaie Allen, SF/PF, MATTS Mustangs
Playing off one of the major shoe circuits it is tough to get out and see Allen as much, but college coaches definitely made their way to the Terrific 24 to check in on this Kentucky native. Allen is a highly skilled prospect who can do a little bit of everything at 6-foot-6. He isn't the most fluid or explosive athlete, but Allen creates a ton of space with his step back jumper, and then also has an excellent looking shooting stroke. Beyond that Allen can pass, is a solid rebounder, and makes others better as well. It is a matter of time before he begins to get high-major offers.
Recruiting: Providence, Xavier, Purdue, Louisville, Western Kentucky, Illinois State, Northern Kentucky, Marshall, IUPUI

Drew Pember, PF, B Maze Elite
Not a ton is known about Pember on a national scale, but he showed very well for himself this weekend. At around 6-foot-8 he is an ideal stretch power forward, but in the same vein he isn't scared of contact. Pember is an above average athlete who can handle the ball some and create his own offense. If he ups his rebounding rate a little bit he could be a dynamic player. After a strong showing all weekend long it will be interesting what direction his recruitment goes in the rest of the summer.
Recruiting: Mercer, Samford, Austin Peay

Ryan Greer, CG, NE6
One of the toughest kids seen all weekend was Greer. While Jaiden DeLaire gets most of the attention on his travel team, Greer makes a ton of winning plays. He has good size, can play either guard spot, and finds a way to be productive. Greer isn't the most athletic kid, but he will attack the rim and finish, and then also can hit shots. Also he is an elite students, and schools from all over are beginning to take notice of a kid who reminds some of former Notre Dame guard Matt Farrell at the same stage.
Recruiting: Yale, Stanford, Penn, Columbia, Brown, Bucknell, Northwestern, Georgia Tech, Auburn

JERRY MEYER

Orlando Robinson, PF, Las Vegas Knicks
A bouncy 6-10, 210-pound post player, Robinson continues to develop as a player. His upside as a prospect is attractive, and Robinson also had a productive adidas event. Robinson averaged 12.2 points per game with his top game being his last one of the event against Derrick Favors Elite were he scored 20 points and grabbed 10 rebounds. Throughout the event he shot at a 70 percent clip from the field. Robinson needs to improve his strength to become a better rebounder but the future is bright. Tulane offered after watching Robinson this weekend.
Recruiting: Tulane, New Mexico, New Mexico State, Southern Utah, Wyoming

Jake Kyman, SF, Dream Vision
Kyman, a 6-6 small forward, had a strong showing over the weekend at the adidas event. He averaged 15.2 points per game while also grabbing 4.2 rebounds per game. Kyman's long range shooting is a weapon as he shot 40 percent from three making 14 in five games.
Recruiting: UCLA, USC, LSU, UC Stanta Barbara and others