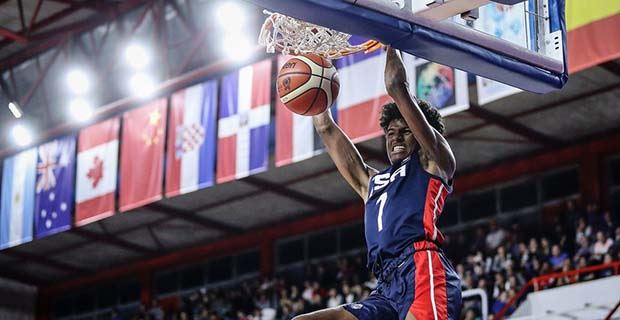 SANTE FE/ROSARIO, Argentina -- The FIBA u17 World Cup came to a close Sunday evening with USA Basketball knocking off France 95-52 and winning their fifth consecutive u17 title.
While destroying France was the finale, it was a culmination of two weeks of complete and total domination for the USA bunch. Their average margin of victory during their seven games was 53.7 points.
A host of players from USA Basketball made their mark on the event, but Jalen Green took home the event's MVP award and Vernon Carey joined him on the All-Star Five list. France's Killian Hayes, Mali's Oumar Ballo and Puerto Rico's Andre Curbelo were the other three honored.
Which prospects stood out during our time evaluating the event in Argentina? Here's a list of 12 players that are on the college track that caught our eye at the event:
Jalen Green, 2020 CG, USA
Green was dominant in this event, taking home MVP after averaging 15.7 points on an extremely efficient 73.5% shooting from within the perimeter and 34.1% shooting from three. The athletic playmaker has improved his passing ability, but he was best in this event as a scorer, due to his size, length, athleticism, handle, attacking mentality and shooting. Green remains one of the top prospects in high school basketball, regardless of class.

Evan Mobley, 2020 C, USA
This was Mobley's first experience as part of the USA youth basketball system and you get the feeling it will be far from his last. You can make the argument for Mobley being the best long-term prospect in high school basketball based on his size, length, athleticism, hands, feet, footwork, shooting ability, rebounding and rim protection, all of which her showed in Argentina.

Jermaine Miranda, 2019 SG, Puerto Rico
Puerto Rico finished 3rd in this event and Miranda's outstanding week in Argentina was a big reason why. He's a tough, physical attacking wing who showed the ability to score from all three levels. He's best from midrange and in, but Miranda is an improved outside shooter as well. Defensively, Miranda used his size and toughness to guard multiple positions, while he also rebounded very well for a wing.

Oumar Ballo, 2020 C, Mali
Highlighted by a 32-point, 32-rebound performance against the Dominican Republic, the 15 year old Ballo was absolutely dominant in this event, averaging 20.6 points and 16.9 rebounds. He's a big, strong, athletic center who plays with a relentless energy on both ends of the court. If Ballo gets the ball around the basket, it's usually an easy two points given his strength and determination. He projects as an easy high major center.

Kai Sotto, 2020 C, Philippines
Sotto entered this event with a lot of hype after a strong performance at the 2018 FIBA u16 Asian Championship and backed it up, averaging 16.4 points, 10.6 rebounds and 2.3 blocks. Sotto has good feel, as he's a terrific passer for the position. He can score with his jumper or posting up, with impressive hands, feet and footwork. While Sotto will need to get stronger and continue to improve his skill set, there's a lot of upside here.

Addison Patterson, 2020 SG, Canada
Canada had three players average double figures during the FIBA u17's, but it was Patterson who led the charge with 17.3 points a game. The 6-foot-6 guard was efficient from two, connecting on nearly 57-percent of his attempts, but struggled to get his shot from distance going (6-for-22). Patterson has good size for the position, good ball skills and presents a versatile scoring attack that's tough for defenders to stop.

Matthew-Alexander Moncrieffe, 2020 SF/PF, Canada
Although he didn't play as well late in the event, Moncrieffe was extremely effective and efficient in our two viewings of him against New Zealand and the Philippines. A 6-foot-6 versatile forward, Moncrieffe played with tremendous energy and used his athletic ability to impact the game on the glass and in transition. He has quite a bit of potential as a defender, as he will be able to defend multiple spots, and as a slasher. Moncrieffe averaged 11.2 points and 7.7 rebounds a game during the event.

Andre Curbelo, 2020 PG, Puerto Rico
Curbelo elevated his play from previous spring evaluations and certainly showed promise as a lead guard. Curbelo plays with poise and showed impressive command of the Puerto Rico u17 team, which overachieved finishing 3rdin the event. He plays with pace, changes his speeds well and has good court vision. Curbelo can also score it and is a nifty finisher at the rim, while also using runners and floaters. Next step is upgrading his long-range shooting (1-for-16). Curbelo finished the event averaging 13.6 points, 5.9 assists and 5.6 rebounds.

Victor Rosa, 2020 SG, Puerto Rico
Rosa came out of the gates hot, connecting on 12 of his first 28 three-point attempts in three games. Although he didn't shoot it great during Puerto Rico's final four games, he impressed in our viewings with his shot making ability. Rosa has impressive shot mechanics, an effortless stroke, good footwork, deep range and a quick trigger. He made shots on the move and even worked in pull-ups off the bounce. In two previous FIBA events, Rosa shot better than 40-percent from three. Heading into the event, not one college had shown interest in Rosa, who will play for CP25 during July.

Djorde Pazin, 2020 SG, Serbia
Pazin was one of the best shooter/scorers in the FIBA u17's event. Despite going 1-for-10 from three in Serbia's final game of the event, Pazin still shot 39.6-percent from three. In the previous six games, Pazin went a combined 19-for-43 from three. Pazin shoots it well off the catch, but is also comfortable shooting on the move and off one or two dribble pull-ups. For the event, Pazin averaged 15.4 points a game. Although it's not a guarantee, Pazin has admitted to having interest in possibly pursuing the collegiate route.

De'Vion Harmon, 2019 PG, USA
Harmon attacked the game in Argentina, just like he did throughout the USA u17 trials. A tough, physical point guard, Harmon played with energy on both ends of the floor and it was contagious amongst his teammates. He stays in attack mode, has improved as a passer and in his ability to run a team. Perhaps what sticks out the most is the command he has of his team and his effort on defense. Harmon is a lockdown on-ball defender that doesn't take plays off and he demands that of his teammates as well. Harmon was second in scoring for USA with 13.1 points a game. He also tossed out 3.4 assists and recorded 2.4 steals a game.

Isaiah Stewart, 2020 C, USA
Picking up where he left off at the USA Basketball u17 trials, Stewart was a dominant force throughout the FIBA u17's World Cup. You could make a case the strong, burly post player was the most steady and consistent prospect on the team. He was efficient from the field (29-for-44), scoring primarily off powerful dunks and close range finishes. But he also made a major impact on the glass, reeling in 59 rebounds in just 126 minutes of action.