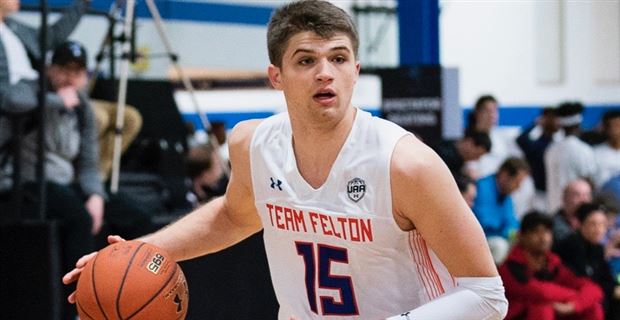 Highly touted Duke pledge Joey Baker will reclassify from 2019 to 2018, joining the Blue Devils already loaded class, he tells 247Sports.
"I talked to the coaches about it and we figured it was the best decision for my basketball game and off the court growth as well, like in the class room and socially," Baker said. "I feel like it will challenge me in all of those aspects and allow me to grow a lot faster than I would."
"Me and coach [Jon] Scheyer have a really good relationship and we talk a good amount, we just felt like to take my game to the next level this would be the best way to do that," he added. "I felt like it was the best choice."
Baker, a 6-foot-7, 190-pound wing prospect out of Fayetteville (N.C.) Trinity Christian, thinks competing with Duke's current 2018 class will help him on the court, but he also thinks this move will benefit him off the court as well.
"I think it'll help me tremendously," Baker said. "Playing against the top three players, RJ [Barrett], Cam [Reddish] and Zion [Williamson] every day in practice and learning from them and competing with them is going to force me to really grow as a basketball player. I'll learn a ton from them and get a lot better."
While a decision won't be made until the fall, Baker also noted that redshirting is a potential option that they'll look into.
"We are not sure exactly right now," Baker said. "We'll see how the summer and fall goes and practices and stuff like that. We won't make the decision now. We'll make it later in October or November."
Baker committed to Duke on October 29thof 2017, selecting them over NC State, Wake Forest, Florida, North Carolina and Kansas. Baker said he made the call for the Blue Devils because he thinks they are the full package on and off the court.
"Everything," Baker said. "The basketball aspect, the off the court stuff in the classroom educationally and coach K, of course, and the culture that he's created and then the amount of pros that he's put out. He's really developed a great basketball school with a great transition."
Baker ranks as the No. 27 overall prospect and the No. 7 small forward in the 247Sports Composite Rankings.
Duke's 2018 recruiting class already sits at the pole position in the 247Sports Team Rankings. Baker now joins a class that consists of Barrett, Reddish, Williamson and Tre Jones.