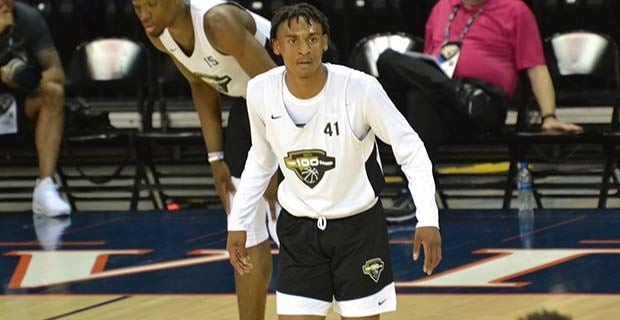 CHARLOTTESVILLE, Va. – It didn't take 2020 guard Keon Johnson long to make his presence known at NBPA Top 100 Camp.
Although ranked among the top 100 prospects in the class, Johnson, a 6-foot-4 guard out of Bell Buckle (Tenn.) The Webb School, entered camp among the least heralded prospects in the event. But if Wednesday was any indication, it certainly won't stay that way.
"No one really knows me so I really have to step my game up and prove who I am and what I can do," Johnson said following the first session of camp.
"I think I did well," he added. "There's a lot I can improve as far as my ability and my strengths, but I felt like my presence on the court was good enough."
Johnson, who has wide shoulders and a lean frame, used his athleticism in transition, competed on both ends of the floor and knocked down an off the catch three-pointer. What does Johnson consider his biggest strengths?
"My motor, as far as me going up and down and competing," Johnson said. "Probably defense."
Johnson said Vanderbilt, Alabama, Tennessee and Auburn are among the schools pursuing him.
"I went to Vanderbilt, UT and Auburn," he said about unofficial visits.
Johnson broke down what he likes about each of the three schools he's visited:
Vanderbilt: "Close to home and when you step foot on campus you don't get the feeling that you are dead center in Nashville, Tennessee, it's very secluded to the city."
Tennessee: "He's really turned the program around and he has the kids under his system and they are playing well under it."
Auburn: "I really liked it because I went to a football game. Their fans there were very into it and supportive of their athletes."
Johnson also noted that Florida recently offered him a scholarship.
A four-star recruit, Johnson is regarded as the No. 17 shooting guard and the No. 82 overall recruit in the 247Sports Composite.