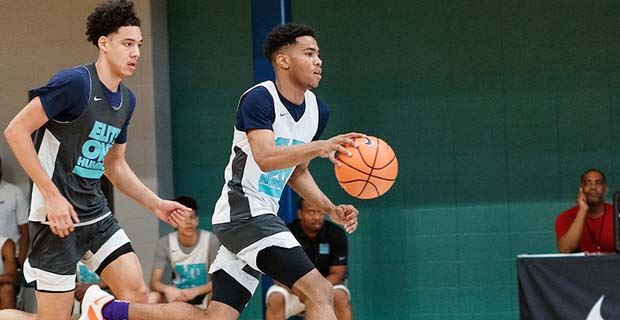 Annually the Nike Elite 100 is a great event for talent evaluators to get a glimpse of some of the best 2020 and 2021 prospects in the country. Often times the event leads to a number of players emerging on the national scene.
Enter 6-foot Chicago (Ill.) Whitney Young point guard Tyler Beard.
Beard, who was unranked heading into the event, was arguably the biggest breakout performer, as he effectively ran the point guard position, competed on both ends of the floor and led his team to a camp championship.
"Honestly, I felt like one of them," Beard said about his big weekend. "Not having a ranking made me go harder and wanting to be in a similar position that some of those players are in. I felt like was at least top 30 at that camp."
"I felt like I played solid," Beard said. "I could have been better in some of the games I played. I was doing a lot of everything, I like to think. That's what I like to do when I get on the court, facilitate, score, open up shots for my teammates and rebound."
Beard, who played for the Meanstreets 16's team during the spring, showed an impressive balance of facilitating and creating for teammates and scoring, which he did effectively in transition, mid-range and from the three-point line.
"Slashing, dishing and scoring and just getting everyone involved and just having a high motor," Beard said when asked to describe his game. "I'm at my best when I have the motor going and everything is working out and my shot is going in."
"My shooting has gotten better," he added. "It's not where I want it to be right now, but if I take a shot I have the confidence that it's going to go in. The facilitating and scoring comes natural. I like to mix both. As a point guard you have to be able to do both at a high level to be able to be as good as you can be."
From a recruiting standpoint, Beard entered the camp with scholarship offers from DePaul, Florida Atlantic and Iowa.
"It's kind of slowed down with AAU ending, really just for this moment," he said of his recruiting process. "I have those offers and interest from the local schools like Illinois, NIU, SIU and I just got a call from Villanova, or my dad did."
Beard picked up an offer from UIC following camp and he said he's also heard from Nebraska and Virginia. To date, he's only taken an unofficial visit to DePaul, but is planning to visit Illinois "sometime this month or next."
While Beard certainly has some college interest, if Elite 100 was any indication, his list of schools and scholarship offers is set to grow in the very near future.