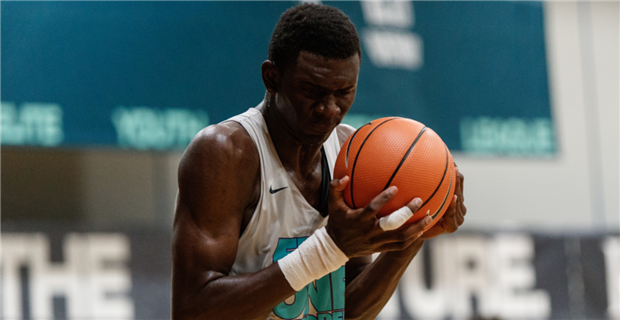 ST. LOUIS -- Some of the nation's top 2020 and 2021 prospects spent the last four days on St. Louis University's campus for the Nike Elite 100.
Over the next two days, the 247Sports team in attendance will be breaking down the position standouts in each class. This feature focuses on the 2021 bigs that caught our eye. Obviously this group is still developing, but there is a lot of raw talent to work with on all of these top prospects.
Frank Anselem, C, Westlake/Georgia Stars
One of the more intriguing young big men in attendance was Anselem, a 6-foot-10 post prospect out of Georgia. Blessed with a lean body type with long arms, Anselem showed godo athleticism and impressive mobility, running end-to-end consistently. He showed value as a rim protector and rebounder. Offensively, Anselem flashed good hands and even made a 15-footer in one viewing. There's still plenty of fine tuning to do, but there's a lot of tools to work with here. -- ED
Warren Kidd, C, The Rock/Nike Team Florida
The physical make up of Kidd, a 2021 recruit out of Gainesville (Fla.) The Rock, is impressive, as he's equipped with broad shoulders, long arms and good athleticism. Kidd showed potential as an offensive player. Kidd showed off a right jump hook, and finished particularly well with his right hand around the basket. There's a lack of strength at this stage, but he's mobile, runs well and has quite a bit of potential and upside. -- ED
Franck Kepnang, C, MacDuffie School/PSA Cardinals
Listed as a 2021 prospect, Kepnang is shall we say, very physically mature. He measured in at almost 6-foot-10 and 225 pounds with a 7-foot-4 wingspan. Those physical attributes showed up on the defensive end in a big way. Quite simply Kepnang erased virtually every shot at the rim.
His natural timing for blocking shots is tremendous, and when you combine that with his length and athleticism, and Kepnang is a major problem to score over. Also Kepnang stands out for his ability to rebound and his motor. There might not have been a harder working big in the entire camp, and that is with him almost never touching the basketball on the offensive end. -- BS
Caleb Furst, C/PF, Blackhawk Christian/Indy Heat
One of the younger prospects in attendance, Furst and his fundamentally sound and skilled style of play really shined through. He isn't the most explosive athlete, but he does finish above the rim, especially when he gets a few steps on the break, and then he has the ability to score from all over the court.
Also Furst held his own on the glass, and measured surprisingly well at over 6-foot-8 with a plus two wingspan. Another inch or two of growth would really take Furst to the next level, but in a camp loaded with length and athleticism down low, it was Furst's skill that made him standout from the pack. -- BS