In news that was somewhat expected, I can confirm that Boston College fifth-year senior forward Deontae Hawkins has decided to forego a sixth year of eligibility and turn pro, signing with Imperial Sports yesterday.
Hawkins was eligible for a sixth year, but already age 24 and having professional aspirations, Hawkins and the BC staff decided it would be best for him to turn pro and pursue European opportunities.
While he only was able to play in 7 games, Hawkins still played a huge role last year. While nobody will recognize it, Hawkins played a massive role in changing the culture at Boston College, bringing a winning attitude and lead-by-example type of leadership, teaching the younger guys on the team how to win games and compete on and off the court.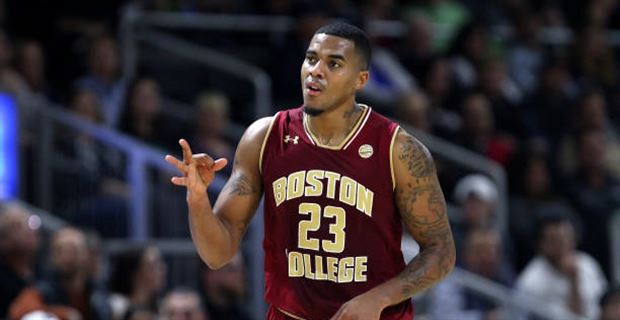 The 6-foot-8, 220 pound forward from Dayton, Ohio transferred to Boston College for his graduate transfer year after three seasons at Illinois State. He was expected to play a major role, and early on in the season, he was living up to those expectations.
In just 7 full games prior to suffering a season ending knee injury against Nebraska, Hawkins posted numbers of 12.4 points and 9.1 rebounds per game, posting double doubles in 4 games, including his final three.
When Hawkins went down, people immediately started speculating about a sixth year of eligibility, but it just was not the right move for Hawkins, who will likely play at a high level overseas.
In three years at Illinois State, Hawkins posted the following numbers:
As a freshman (2014-2015 season) - 22.4 minutes per game posting 7.4 points per game, 5.2 rebounds per game, and 0.8 assists per game on 38.0% shooting, 32.3% from the three point line and 76.2% from the free throw line
As a sophomore (2015-2016 season) - 24.9 minutes per game posting 10.3 points per game, 5.8 rebounds per game, and 1.1 assists per game on 41.5% shooting, 36.6% from three and 68.3% from the free throw line
As a junior (2016-2017 season) - 27.3 minutes per game posting 14.0 points per game, 6.5 rebounds per game and 1.1 assists per game on 47.0% shooting, 44.3% from three and 77.8% from the free throw line
Hawkins ability to stretch the floor and shoot the three as well as handle the rock a little will make him an extremely valuable asset in European basketball, which prioritizes stretch big men.
While this is a loss for Boston College, it is certainly not unexpected. BC, which was seemingly out of scholarships, has been recruiting for the Class of 2018 or a grad transfer, knowing that Hawkins was heading out for the past few weeks. BC is currently targeting 4-star small forward Saddiq Bey as well as a few grad transfer options to round out their 2018-2019 option. Class of 2018 PG Jordan Latham remains an option as well.
After Hawkins injury last year, sophomore center Nik Popovic really stepped his game up, emerging as a very capable ACC center. Popovic averaged 9.9 points per game and 6.2 rebounds per game in 26 minutes, and figures to play a major role next season. Freshman forward Steffon Mitchell also played a huge role once Hawkins went down, entering the starting lineup and making a difference on the boards and on the defensive end.
Stay tuned with Eagle Insiders for more.