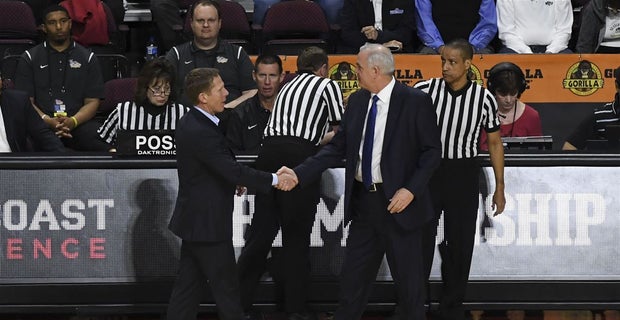 The BYU Basketball schedule has officially finalized with dates with the 2019 West Coast Conference schedule being released today.
Some notes on BYU's conference schedule. The Cougars open up on the road at Pacific and then the following Saturday at Saint Mary's. The final week of conference play closes with a bye on Thursday and then a game against San Diego on Saturday, March 2nd.
The Cougar Cagers play Gonzaga at the Marriott Center on Thursday, January 31st and then travel to The Kennel on Saturday, February 23rd.
The entire WCC schedule for BYU basketball:
Week 2: at Pacific, at Saint Mary's
Week 3: Portland, Santa Clara
Week 4: at Pepperdine, at San Francisco
Week 5: Saint Mary's
Week 6: Gonzaga, Loyola Marymount
Week 7: at Portland, Pacific
Week 8: at San Diego, at Loyola Marymount
Week 9: San Francisco, at Gonzaga
Week 10: San Diego
From the West Coast Conference Press Release:
SAN BRUNO, Calif. -- The West Coast Conference announced its 2019 men's basketball conference schedule on Wednesday ahead of what promises to be another exciting year. The race for the WCC regular-season crown will stretch over a nine-week span, featuring 16 conference games in a new schedule format adopted in May of 2018. Conference play is slated to begin on Thursday, January 3, 2019, and will conclude on March 2.
Three WCC teams enter the 2018-19 season with a top-60 ranking in the ESPN Preseason BPI poll, led by defending regular season and conference champion Gonzaga (No. 2), BYU (No. 32) and Saint Mary's (No. 54). After advancing to four consecutive NCAA Sweet 16 berths, the Bulldogs are generating Final Four buzz in multiple publications. The Cougars and the Gaels (quarterfinals) both advanced to the NIT last season.
All told five WCC programs earned postseason berths in 2017-18. San Francisco advanced to the finals of the CBI, while San Diego made a run to the quarterfinals of the CIT.
This marks the debut of the modified WCC men's basketball schedule. The 16-game schedule is the result of changes adopted by the WCC Presidents' Council as part of the Conference's Men's Basketball Enhancement Plan.
These schedule initiatives demonstrate the league-wide commitment by West Coast Conference Presidents and Athletic Directors to adopt an innovative approach to advance men's basketball on the national stage.
Early schedule highlights once again include BYU and Saint Mary's, as the two will square off in Moraga on January 5. Gonzaga will begin its title defense January 5 at home against Santa Clara.
BYU and Gonzaga square off for the first time January 31 in Provo for a Thursday night showdown. The return game in Spokane is scheduled for February 23.
Gonzaga and Saint Mary's play twice in four weeks, with the first meeting on February 9 in Spokane. The series shifts to Moraga onMarch 2 for the regular season finale for both teams.
The West Coast Conference will celebrate its 11th year in Las Vegas when the 2019 West Coast Conference Basketball Championships return to the Orleans Arena from March 7-12.
Not a subscriber? Sign up now for a seven-day free trial and to get access to everything Cougar Sports Insider has to offer, including daily the best team and recruiting coverage on BYU sports. Don't forget to sign up for our Cougar Sports Insider Newsletter. It's free and a great way to get daily updates on BYU football, basketball and more delivered straight to your inbox. Like us on Facebook. Follow us on Twitter.