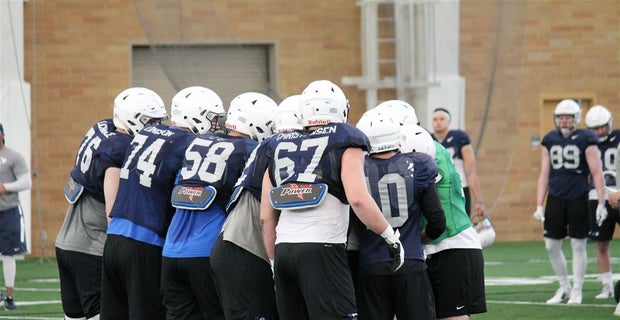 One of the surprises since spring ball last March around the BYU football program has been the emergence of offensive tackle Brady Christensen.
I caught up with Christensen during fall camp to get to know Brady, his background, and what has caused his rise within the BYU offensive line power structure.
Cougar Sports Insider: So Brady, how has Camp Kalani treated you so far?
Brady Christensen: I'm just enjoying it. Enjoying the process. It's been a grind so far and that's how it's supposed to be. We are all working hard as a unit.
CSI: You were one of the big storylines in spring ball emerging at left tackle with the first-team, are you still seeing first-team reps in camp?
Christensen: Coach Pugh is just trying to find the best five. Me and Austin Hoyt have been switching off at tackle, I've played a little right tackle. We're just trying to get to know all the positions and play our hardest. I'm just trying to help the team wherever I can.
CSI: What do you think you've done to earn those first-team reps in practice?
Christensen: I think more than anything I just to improve on my mistakes. I'm still young, I still make a lot of mistakes. Go watch the film, study it, and see what I can do better every day and improve on it, little-by-little.
CSI: For fans that might not be familiar with your background, you were once committed to Air Force in the class of 2015. Why did you decommit from the Academy and ultimately sign with BYU?
Christensen: Air Force was a great school, I decided to go there. But then Coach (Garret) Tujague was after me a little bit, but not too much. He said come on an official visit and that was about a week or two before Signing Day, and they offered there. I just knew this was a school I needed to go to. I've always loved BYU and I always wanted to play at BYU.
CSI: You mentioned Coach Tujague, that was with a previous staff. Was there any concern while you were on the mission of getting lost in the shuffle and not have a spot waiting for you, or was that spot always there?
Christensen: I didn't know the new staff, so I was a little nervous, but I was focused on the mission more at that point. Coach Empey did reach out to me a few months after he was hired and he told me I would have a spot and that he would treat me right, and he did.
CSI: What are some of your personal goals and the offensive line's goals in camp?
Christensen: I think our goal is to be the best execution offensive linemen in the nation and the toughest as well. We're just going to give it all we got and that's my goals as well. They run right in line with the rest of the offensive line.
CSI: What strides do you think you and your offensive line teammates have made in fall camp from Day 1 to now?
Christensen: I think more than anything, just execution. I think the first days of camp, we didn't execute as well. So that's the biggest thing, just execution.
CSI: You played multiple sports in high school, baseball and basketball, do you feel playing those sports helped you in your development as an athlete?
Christensen: Oh, a ton. As an offensive lineman, you still have to be athletic. Sometimes it has helped me in blocking. Because sometimes I haven't been in the best position, but I can still get the job done and I attribute that to the other sports I played.
CSI: When did you know football was the sport that you would want to continue pursuing?
Christensen: Since the age of 7. I've always loved football and always knew I would play this sport.
Not a subscriber? Sign up now for a seven-day free trial and to get access to everything Cougar Sports Insider has to offer, including daily the best team and recruiting coverage on BYU sports. Don't forget to sign up for our Cougar Sports Insider Newsletter. It's free and a great way to get daily updates on BYU football, basketball and more delivered straight to your inbox. Like us on Facebook. Follow us on Twitter.