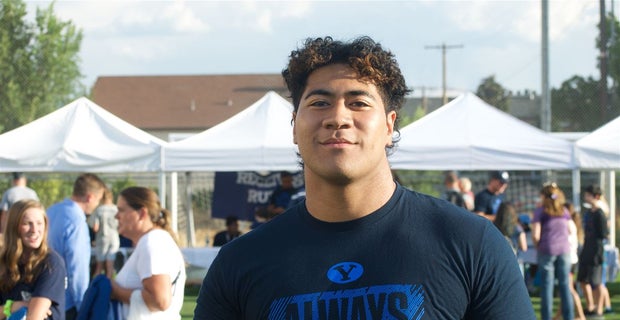 Had the chance to catch up with BYU defensive lineman Alden Tofa. Tofa redshirted last season after suffering a season-ending leg injury before arriving on campus for his freshman season. A year later, Tofa is looking to make an impact along BYU's defensive front.
Cougar Sports Insider: How has fall camp been for you so far?
Alden Tofa: It's been great. Happy to be back. I had to sit out last year during fall camp because of my leg and I'm grateful to be here.
CSI: How difficult was it to try and bounce back from that injury?
Tofa: Looking back it was probably one of the more harder things I've had to go through. I felt like I let a lot of people down. My mom always told me that a little setback would lead to a major comeback.
CSI: What was it about BYU and this coaching staff that appealed to you and do those feelings still hold true today?
Tofa: Yeah, definitely. I think the whole environment here is a good place. I remember when I had my coach visit, Kalani came over and he and my mom were crying and I remember right there that was the moment that I had to be here.
CSI: What position are you currently playing at right now along the defensive line?
Tofa: They want to keep me a hybrid. I spend a majority of my time at defensive end.
CSI: Everyday you guys are getting a depth chart, where do you currently stand on the pecking order at defensive end?
Tofa: At two right now. Coach Tuiaki is doing the depth chart right now by Intel so he's trying us out at different spots to see what our defense needs.
CSI: Who have been some of the guys on this team that has taken you under the wing and been mentors to you?
Tofa: There's a lot of them. But mainly, Khyiris Tonga and Tevita Mo'Unga. Ever since I got here those guys have been looking out for me and got my confidence up.
CSI: What is it about Ilaisa Tuiaki that makes him such an effective developer of talent at defensive line?
Tofa: I think the way he carries himself. You can tell that he's an intelligent man by the way he speaks. He has a lot of intelligent ideas and he makes it simple for us.
CSI: Which offensive linemen have given you the toughest looks in 1-on-1's?
Tofa: Man, all of them are really good. The guys with size aren't the ones I worry about, it's the more athletic guys like Brady Christensen. The ones that keep up with you are the toughest to go up against.
CSI: What are some goals that you have personally and also goals you and the defensive front have?
Tofa: Personally, my main goal is to start by hopefully, Arizona. As a defensive front, we have to keep a motor. Tuiaki wants us to be a nasty front. I think we are doing a good job right now. We changed our front and we're collapsing the pocket a lot better than last year. I'm excited to show out.
CSI: What do you think it's going to take to be one of those starters along the defensive front against Arizona?
Tofa: For me, I think it's more mentally. The coaches believe me in my potential. As long as I can reach that potential and try to limit my mistakes, I think I can get there.
Not a subscriber? Sign up now for a seven-day free trial and to get access to everything Cougar Sports Insider has to offer, including daily the best team and recruiting coverage on BYU sports. Don't forget to sign up for our Cougar Sports Insider Newsletter. It's free and a great way to get daily updates on BYU football, basketball and more delivered straight to your inbox. Like us on Facebook. Follow us on Twitter.