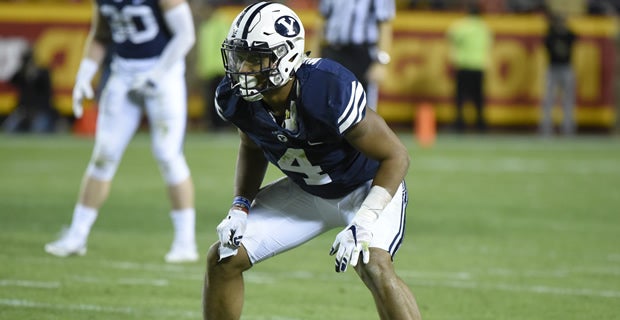 The much anticipated NFL debut of former BYU linebacker Fred Warner will have to be delayed at least another week.
Warner did not play in the 49ers preseason opener on Thursday night due to a chest injury he has suffered in camp. Warner could have played but apparently, it was a precautionary move by the 49ers.
When Warner does make his debut, there might be a greater opening for Warner to take a starter role within the Niners starting linebacker unit because Malcolm Smith limped off the field after just six plays in the Niners 24-21 over the Cowboys on Thursday. There has been a lot of buzz in the Bay Area about Warner making a case to be in the starting lineup before Smith's injury, now this just opens that conversation even more as long as Warner is healthy as well.
Warner was a three-year starter in his career at BYU where he piled up 262 tackles, 6.5 sacks, seven interceptions, five fumble recoveries, and three forced fumbles.
Warner was selected in third round of the 2018 NFL Draft at pick number 70 to the 49ers.
The 49ers next game is on the road against the Houston Texas on Saturday, August 18th, at 6 p.m. (MDT).
****
NFL Preseason Week 1 scoreboard
Tampa Bay Buccaneers 26, Miami Dolphins 24
Carolina Panthers 28, Buffalo Bills 23
Cincinnati Bengals 30, Chicago Bears 27
Pittsburgh Steelers 31, Philadelphia Eagles 14
Cleveland Browns 20, New York Giants 10
New Orleans Saints 24, Jacksonville Jaguars 20
Baltimore Ravens 33, Los Angeles Rams 7
New England Patriots 26, Washington Redskins 17
Green Bay Packers 31, Tennessee Titans 17
Houston Texans 17, Kansas City Chiefs 10
San Francisco 49ers 24, Dallas Cowboys 21
Indianapolis Colts 19, Seattle Seahawks 17
Friday games
Atlanta Falcons vs. New York Jets
Detroit Lions vs. Oakland Raiders
Saturday games
Minnesota Vikings vs. Denver Broncos
Los Angeles Chargers vs. Arizona Cardinals
Not a subscriber? Sign up now for a seven-day free trial and to get access to everything Cougar Sports Insider has to offer, including daily the best team and recruiting coverage on BYU sports. Don't forget to sign up for our Cougar Sports Insider Newsletter. It's free and a great way to get daily updates on BYU football, basketball and more delivered straight to your inbox. Like us on Facebook. Follow us on Twitter.