Frankly, with very few exceptions, we've never been healthier. Much credit must go to A.D. Jim Donovan, and of course to our fine coaches and student-athletes.
With 2017-18 Big West Championships in Men's & Women's Soccer, Men's Basketball, Men's Track & Field, Softball and Baseball, it was no surprise that we won our first Big West Commissioner's Cup.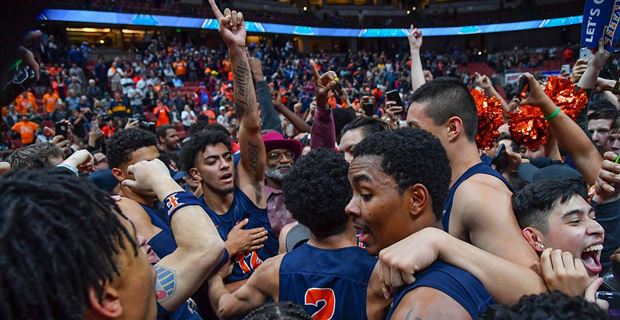 Men's Soccer: Coach Kuntz has been with the Titans for four seasons. It is no small coincidence that the Titans have been to the NCAA Tournament in three of those four years.
Let's remember that the program was in the absolute doldrums when he arrived, and Fullerton hadn't been to the postseason since the Al Mistri-era in 2000.
Jim Donovan was faced with a difficult challenge early in his tenure. Should he replace a head coach who was a former player, and was well-liked on campus? Donovan looked at performance, and made his decision accordingly. We were then blessed when coach George Kuntz, then at UCI, expressed his strong interest in our head coach position.
We are now fortunate to have a coach who is respected nationally, and came here with the goal of winning a national championship! The immediate target for coach Kuntz is to start winning a round or two in the NCAA tournament, to demonstrate that a national championship is possible.
Grade: A- / B+. (This grade is based upon a "national" bar).
Women's Soccer: The tandem of head coaches Demian Brown and his mentor and predecessor, Ali Khosroshahin have kept women's soccer on the national map for quite some time. The Titans have long been considered a strong West Coast power, with eight NCAA Tournament appearances in their history, including four out of the last seven years.
Like men's soccer, the challenge of late has been to advance beyond the first round of the NCAA Tournament. They were tantalizingly close in 2017 and 2015, but fell just short each time.
Grade: A- / B+. (This grade is based upon a "national" bar)
Volleyball: Southern California is an obvious hot bed of volleyball talent and interest. Many Titan fans who are much more informed than I feel that we are just not making enough lasting progress. Head coach Ashley Preston surely had a very empty cupboard when she arrived on campus. But Preston is now entering her fourth season, and presumably the final season of her contract. With a couple of recruiting classes now behind her, she has failed to demonstrate that the Titans are preparing to turn the corner. Her overall record stands at a dismal 11-76, including an 0-28 season in 2015.
As A.D. Jim Donovan has demonstrated, performance matters. With only one returning All-Big West Honorable Mention player, Preston will be looking to a host of new recruits to presumably save her job at Cal State Fullerton. She is a very nice person, and I certainly wish her the very best of luck.
Grade: D-
Men's Basketball: Did I have my doubts? Sure. Am I happy how things turned out? You friggin' bet!
The Dedrique Taylor-era started inauspiciously with overall season records of 11-20, 9-22, and 10-20. Things turned around on Saturday, January 28. 2017. Coming into that game with Cal Poly, Fullerton was 8-11 overall, and 2-4 in league play.

An 81-71 win in historic, tropical Titan Gym sparked an 8-2 regular season league run, a first-time Big West Tournament win in the Honda Center, and very narrow loss to Weber State in the CIT.
The trio of Kyle Allman, Jr., Jackson Rowe and Khalil Ahmad had Titan fans eagerly anticipating the 2017-18 season. The Titans did not disappoint, finishing the season at 20-12, with a Big West Tournament Championship, and a trip to the Big Dance!
Many of us believe that the Titans achieved these results a year earlier than expected. With all but one player returning, the fightin' Titans could be looking at another championship season in front of them.
Kudos also for a very successful fundraising dinner before the start of the season that featured Cedric Ceballos and Bruce Bowen.
Grade: A. (To be fair, this grade is based upon a Big West bar. We are not Duke or UNC).
Women's Basketball: As many of you know, women's basketball has not had a winning season since my hair was dark, and I believe the elder George Bush was President. In other words, a long damn time!

Enter head coach Jeff Harada. With a host of unsuccessful predecessors in his rear view mirror, and inheriting exactly four returning scholarship players following a team mutiny the prior 4-25 season, Harada had a mess that was probably only equaled by Ashley Preston's first year.

Despite arriving on campus in mid-April of 2017, and having two of the four November signees deciding to pull out and go elsewhere, Harada and his staff worked hard to put together the best squad that he could in a limited time, and actually found a couple of gems.

With only one legitimate post player, Harada's Lady Titans had no quit in them, and were competitive in almost every contest, finishing with a remarkable 8 wins, and nearly qualifying for the Big West Tournament. Before the season started I charitably predicted 3 to 5 wins, so they were more than able to surpass my loftiest expectations, and doubled the win count from the previous season.
Furthermore, Harada put together a postseason banquet at the end of year one, and astonishingly everyone seemed to still like one another! This is indeed progress!! The last several seasons would have made the Beach Boys seem like a functional, happy unit.
With what appears to be a strong recruiting class coming in, a talented redshirt who will now be eligible, and a returning nucleus of competitive performers, the future looks bright indeed for Titan women's basketball.
Grade: C-. (Please keep in mind that the prior year grade was an F).
Softball: Coach Kelly Ford has led her Titans to the NCAA Tournament in each of the last three seasons. Unfortunately, each of these Tournament appearances landed them in the UCLA Regional. The Titans went to a final game against the Bruins this season, and came tantalizing close to a Super Regional berth.
How to get past UCLA or another big-money Pac12 team? Heck, your guess is as good as mine. However, that remains the challenge. I think coach Ford just may be up to the task. Coach Ford's enthusiasm is infectious, her recruiting has been solid, and young women seem to love to play for her. It's hard to ask for much more than that!
Grade: A- / B+. (Again, this grade is on a "national" bar).
Baseball: As THEmarquee program on campus, no other program is so heavily scrutinized. There are seemingly always the early season naysayers who have some beef with coach Vanderhook or the performance of the team. This can often be interpreted as a question as to if thisgroup of Titans is worthy of the legacy of their predecessors.
Year and year out, coach Rick Vanderhook gets achievement out of his squads. We've had CWS appearances in 2017 and 2015. This year we were twice only 3 outs away to a return trip to Omaha. It didn't happen, and I won't rehash it.
It should be noted that USC, Cal, LMU, USD, Cal Poly, UCR, UCI and Long Beach State ALL FAILED to reach the NCAA Tournament this year, let alone achieve a berth in a Super Regional.
After 40 NCAA Tournament appearances and 4 national championships, every college baseball fan in America surely recognizes Cal State Fullerton as a perennial national power. Coach Vanderhook certainly factors in as an enduring figure in our long legacy of success.
I would be remiss if I didn't mention that no Titan head coach has ever worked harder in fundraising for his own program. Dinner with the Titans has grown by leaps and bounds, and most of that credit belongs to Rick Vanderhook.
Grade: A-. (Again, a really high "national" bar: A- for a Super Regional. A for Omaha. A+ for a national championship).
M&W Track & Field, M&W Cross Country, M&W Golf, W Tennis: I hate to refer to them collectively as our "minor sports," so I will refer to them as Olympic sports, as all of them more or less qualify for that moniker.
Except for our comparatively new golf programs, all have been traditionally underfunded, and had few expectations attached to them. The question has always been, what could actually be accomplished with more money and scholarships?
With the recent Student Success Initiative, muscled through by Jim Donovan and former President Mildred Garcia, that question has been very successfully answered by our Men's Track & Field team, and our Women's Tennis team.
To show that it was no fluke, coach John Elders put together his second consecutive Big West Champion Men's Track & Field squad, including a 4x100 team that qualified for the NCAA nationals in Eugene, Oregon. The success of the sprint team is remarkable, as there are no football players to draw from, as many programs across the country do.
Coach Dianne Matias has improved the Women's Tennis program in each of her five years. In 2018 they finished 20-6, and made it to the final match for the Big West Team Championship. With most players returning, an actual Big West Championship might be on the horizon.
M & W Golf? Nothing too earth-shattering to report. Very average seasons for both. There were some initial splashes for both programs in 2013-14, but nothing has lived up to those seasons.
Olympic Sports Grade: Pass.
Facilities: A.D. Jim Donovan has put an emphasis on dressing up our facilities as best we can. Titan Stadium got a paint job and there are large-scale murals everywhere. Historic Titan Gym will never be mistaken for the Staples Center, but it has been dressed up as much as possible, and the floor certainly looks dynamic on TV.
Titan Gym, Titan Stadium, Anderson Family Field, and Goodwin Field all benefit from large, modern video boards. The tennis courts and track have all recently been resurfaced. Additional bleacher seating has been added to the track facility, as meets like the Ben Brown Invitational are well attended.
But the jewel in the crown is the much-anticipated $10-12 million-dollar improvement project slated for Goodwin Field and Anderson Family Field. The final concept is still being worked on, but improvements will surely include new locker rooms, meeting rooms and coaches' offices. Yes, I hope they put some money aside to take down those dang poles that obscure the views in Goodwin Field.
Fundraising: Greg Paules, formerly Cris Powell, and now Eric Lane and others have done a quietly phenomenal job. When I was President of the Titan Athletic Club in '05, I believe. We set a record of over $600,000 raised for athletics. In 2016-17, just over $2 million was raised. In 2017-18, with a couple of weeks to go in the fiscal year, we anticipate raising around $3.7 miliion!
Additonally, the culture has changed. If I remember, every sport had some type of fundraising / friend-raising event this school year.
Administration: While many deserve mention for their contributions to the success of Titan athletics, including Steve DiTolla, Jenn McGhen, Meredith Basil, Dr. Eanes, etc., etc., I am going to focus on two individuals: Athletic Director Jim Donovan, and Interim President Fram Virjee.
Once again, to give transparency and full disclosure, I was a vocal advocate for Jamie Mullin from Syracuse when Brian Quinn retired as A.D. I don't apologize, as the reasons no longer matter.
With that said, Dr. Garcia and Dr. Eanes hit a home run with their selection of Jim Donovan as "boss" of the Titans. In my opinion, Donovan has brought accountability to our coaches and administrators, and a business-like, customer service style approach to Titan athletics. I particularly like having our student-athletes as ticket-takers at events. It gives them an opportunity for some much-needed spending money, and the first face that a fan sees is a smiling student-athlete. Brilliant! Talk to one of them sometime. Recognizing a student-athlete and their sport will absolutely brighten their day.
Secondly, Jim recognizes that facility appearances are important. From top to bottom our facilities look as good or better than when some of them debuted in 1992. Jim worked hard and wisely to ensure the passage of the Student Success Initiative, where we had seen similar initiatives fail.
The benefits have included additional scholarships, including for those that might never have been able to attend college. Additional funding for programs across the board, and the eventual major enhancements to Goodwin Field and Anderson Family Field are just part of the deal.

Jim worked with his contacts at ESPN to bring the Thanksgiving weekend basketball tournament, the Wooden Classic, to Cal State Fullerton. While our team may not get to participate every year, that big TITANS logo is on TV all weekend.
Bottom line: I think Jim Donovan has done a tremendous job at the helm of the Good Ship Titan. Our programs are winning and winning! I stand in lock-step support of him, and I hope that he will stay with us for many, many years.
Now, before we get to President Virjee, or "Fram" as he insists upon being called, I'd like to give you some background:
In my younger days, as a new alumnus, I met President Cobb on several informal occasions.She was always pleasant, but it was clear that she didn't particularly understand or enjoy sports. Could she have helped to save Football before she retired? We'll never know.
I was on a first-name basis with Dr. Gordon. I was a featured guest on his cable TV show, and attended several events at his home. I really liked him as a man, and most of the newer buildings on campus would never have been built without his direct influence. He deserves tremendous big-picture credit. With that said, he was an ex-athlete who wanted more emphasis on the "student" portion of student-athlete. More lip service than actual help was given to athletics, and his primary concern was NO LAWSUITS! Football, wrestling, men's and women's gymnastics, water polo, and fencing were all terminated during his tenure. Athletics fundraising was given zero priority. That will be part of his legacy.
The very first thing that Dr. Garcia did when she arrived on campus was to clean house in Development. It didn't take a physician to see that the patient was sick on that part of campus. New people were brought in, and athletics was at last invited to the table and given some meat. Some professors on campus were wary of the direction that she wanted to take the university, and I always felt that she was always auditioning for her next job. She didn't socialize like Dr. Gordon, and I only met her a couple of times. She, however, did understand the recognition and free, positive publicity that comes from athletics. She worked shoulder-to-shoulder with Jim Donovan on the passage of the SSI, which gave athletics room to breathe, and a much-needed influx or revenue. I will always be grateful for that.
Which brings us to Fram. Fram played water polo in college, and it is very clear that he loves this university and the sports teams that represent it. It is no exaggeration to say that in his few short months here, he and his wife have attended more athletics events than all the predecessors mentioned since my graduation in 1983. If possible, let's keep him!