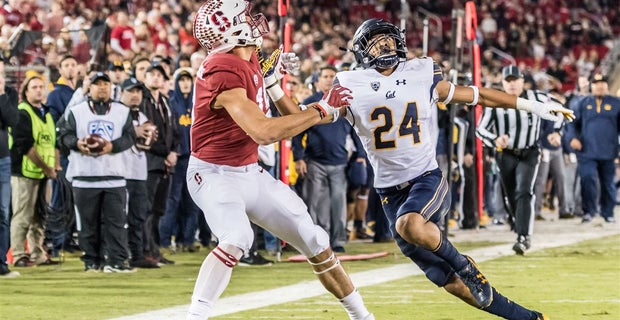 As Cal heads into fall camp, BearTerritory is going to take a look at each positional unit on the team to see who the Bears have returning, who is primed for a breakout season and who could be the linchpin at the position.
On offense, we took a look at the quarterbacks, the running backs, the wide receivers, the tight ends and the offensive line. On defense, we looked at the defensive line and the linebackers, and we'll now take a peek at the secondary.
As it stands, the Bears' secondary looks like it has the potential to be one of the best groups for Cal. There's a lot of returning talent — and I do mean a lot. It's one of the deepest groups on the roster, and it's chock-full of young guys who took over starting roles as last season went along. It took some time for the group to find its footing last year — the defensive backs allowed an average of 265.8 yards per game last season (No. 113 in college football) — but with essentially all the key pieces back in the blue and gold, there should be a lot of room for optimism.
At Pac-12 media day, head coach Justin Wilcox said he's seeing talented players turn that ability into skill.
"We've got a lot of experience coming back in the secondary, some good players back there," Wilcox said. "And I think now, for them each one of them taking the next step as a player, some of those guys didn't have a ton of experience last year, but they've got talent. Now, it's about the smallest details, the football intelligence, playing the game within the game. Before the snap, you're kind of knowing what to expect as opposed to reacting when the ball is snapped. I think across the board in football, but especially at that position, that's where you take your game to the next level."
Redshirt sophomore cornerback Camryn Bynum is the most prolific returner on the group (three interceptions, eight pass breakups and 58 total tackles), and he started all 12 games for the Bears last season, one of three Cal defensive players to do so. Bynum has flashed some remarkable speed and good coverage ability. It looks like he's still working some on blitz packages, and he's going to have to up that takeaway total. Also at cornerback is sophomore Elijah Hicks, who recorded 38 total tackles and three passes broken up; he also forced two fumbles, and true freshman Chigozie Anusiem, who has the talent to get some big playing time his first year.
Safety Jaylinn Hawkins, a redshirt junior, is another player who had a standout 2017 — 41 tackles, one interception, one pass breakup and one forced fumble — although there's clearly some room for improvement. Redshirt sophomore Evan Rambo could be an x-factor at the position, too, and he should return to the top of the depth chart as he's coming off an injury that kept him out of spring ball. Ashtyn Davis, a redshirt junior, and Quentin Tartabull, a redshirt senior, are the elder statesmen of the group and look like they'll bring some nice depth to round things at safety out.
The final piece to the puzzle is defensive backs coach Gerald Alexander, who'll be in his second year, and who has been praised by Wilcox for what he has done with the defensive backs.
"Gerald's got juice," Wilcox said at Pac-12 media day. "I coached Gerald at Boise State, known him for a long time. He was an intense player, he's an intense coach. Very knowledgeable. He's a really good, young coach. And, just like all of us, he's continuing to get better. The players respond to him, and he provides discipline for that room and some levity. But guys can talk to him, but they know the line and what the expectations are, and that's a sign of a good coach."