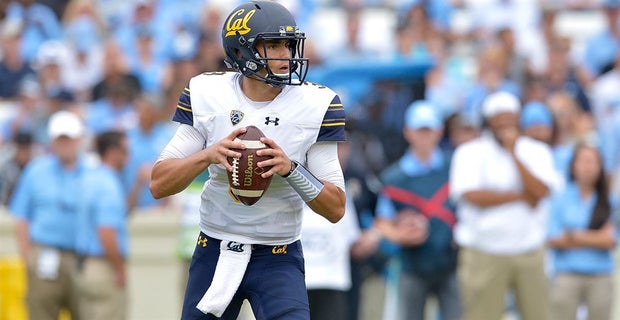 One of the most closely watched positions heading into fall camp was quarterback — head coach Justin Wilcox has been tight-lipped about who the starter would be — and fans were left wondering who would be the Bears' QB1 come September.
It looks like that position battle is all but over — on the second day of camp.
Ross Bowers made tight throws and deep throws and short throws, and he looked more confident in the pocket than he's looked previously.
And people have noticed.
Cal offensive coordinator Beau Baldwin said that while he thought Bowers made big strides this spring in terms of where he came from in the fall and the winter, the changes the quarterback has made this spring to summer — From April to August — Baldwin said is arguably a bigger jump than from December to April. And that development can really be seen in his understanding and command.
"Once you have that understanding and command, it's funny than how your accuracy and timing, everything improves," Baldwin said. "So you can say the physical things are improving, but I think those are always there. It's just when you start to get to a level mentally where you know exactly where to go with the football, you know what the adjustments are, you know what the timing of it, then, all of a sudden, your physical tools will look better even if, at the end of the day, a lot of it just becomes his mental approach."
Baldwin added that the Cal coaching staff tells all four of the team's quarterbacks (Bowers, Brandon McIlwain, Chase Garbers and Chase Forrest) that they need to go out there in practice and prepare as if they're going to be the starter just so everyone is always ready should a need arise.
Tight end Ray Hudson is someone who has spent a lot of time this offseason working with Bowers outside of practice. Hudson joked that he might put his phone on 'Do Not Disturb' mode to get away from Bowers' frequent texts about going out and putting more work in.
"Sitting there, I was like, "We threw this morning, we're throwing this afternoon and night?" I was like, 'God, we got camp coming up,'" Hudson said with a laugh. "But, no, he's definitely taken that next step. He's worked his butt off, and he's one of those guys where, I always know where he's at — he's always here, he's watching film, he took that Jared (Goff) and Davis Webb approach where, if you're going to be the best quarterback, you've got to be the best quarterback out on the field and in the film room. And that's the next step, he's got to the point where he comes out here, he can look at a defensive back, 'Alright, this guy is going to be open.' And he can check out of things ... and he makes the check, and you're like, 'Yeah, I could see that working. Here we go.'"
Bowers seems to have taken on a more vocal leadership role and spent Sunday's practice encouraging the wide receiver and defensive backs and was more demonstrative. Hudson said that extends to the point where he's truly respected at every level — "whether coaches to players to anybody that hears his voice and they listen and they know whatever he says is what we're going to do, and it's the right thing to do, and we're not going to question it. "
At Sunday's camp, Bowers made several nice throws — including a beautiful 30-yard touchdown pass to Jordan Duncan — and the quarterback looks more poised, in particular. He dealt with some inconsistency last year, but if he truly is more confident and comfortable, he might just turn the page.
Regardless, if he keeps playing and impressing like he did today, well, there's your starter versus UNC.