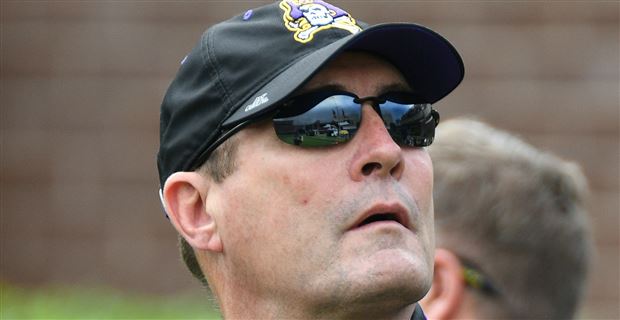 After accepting a buyout in excess of $1 million on Friday, Jeff Compher is out as the director of athletics at East Carolina beginning on May 1.
Despite some positive moments during his tenure, Compher likely won't be remembered as one the best ADs in ECU history. Here's a look at five questionable decisions that turned fans against him and sealed Compher's fate.
1. The football coaching change
Football drives the bus at ECU and this will always be the turning point in Compher's career. As every Pirate fan knows by now, Compher made the controversial and largely unpopular decision to fire Ruffin McNeill following a 5-7 season in 2015. McNeill had struggled a bit to close out some big American Athletic Conference wins, but the Pirate alum had also won five straight games over the ACC, was 42-34 overall during his tenure, was beloved by the community and players, and was a Pirate in the truest sense of the word. He also was largely competitive and almost got the Pirates to a bowl game in his final year, even with some devastating developments that took out his top two quarterbacks in Kurt Benkert and Philip Nelson.
But even if you agreed that McNeill should have been let go and the Pirates needed a fresh start in football, many disagreed with how the firing was handled. While no situation like that can be done cleanly, McNeill was fired after a visit to Compher's office and barely had time to walk back down to his office a floor below before the news went public. McNeill didn't get to inform the players and many of the coaches found out through the media. Also, looking back on it, McNeill was offered an extension midway through the season. He didn't sign it because his assistants didn't get the raise McNeill felt they deserved. Then, just a month or two later, Compher elected to pull the trigger and fire him outright. If a top decision-maker is so easily influenced and willing to completely change his mind by results over such a short period of time, he or she probably isn't making a great decision.
Either way, Compher could have somewhat made fans forget about the firing - one that split the fan base and made national headlines - by hiring an established, big-name coach to replace McNeill. Instead, the AD whiffed on a few top candidates and wound up bringing in little-known Duke offensive coordinator Scottie Montgomery. While Montgomery's tenure at ECU isn't over, he's produced two 3-9 seasons in a row, furthering the frustration and angst from fans towards Compher.
During the latter stages of a poor 2016 season, I wrote Compher deserved blame following a short-sighted decision to fire McNeill. It's a move that always hung over Compher's head, and rightfully so, especially when it comes to the one sport at ECU that truly matters the most.
2. Mismanagement of the budget
When Compher took over the position in 2013, records show his administration had a surplus of more than $3 million to work with, left over by former AD Terry Holland. Five years later, and the Pirates are projected to be in a financial hole of more than -$3 million come later this summer. As a result of his administration's own shortfall in this area, Compher was forced to slash the athletic budget and limit resources by 10 percent across the board heading into the 2017-18 fiscal year, and that's likely a trend that will need to continue to get ECU out of the red going forward.
In some respects, Compher's crew incurred costs and expenses that were always going to be tough to deal with. The exit fee of Conference USA and entrance fee into the American Athletic Conference weren't cheap, and neither is the annual Cost of Attendance, which ECU had to implement in order to stay competitive with the rest of the country. But Compher also had the benefit of a larger television deal with the AAC and the new 10-year deal with adidas that ECU signed, a contract that was expected to give the Pirates some nice financial help.
But Compher's administration simply spent too much money, especially at the beginning of its tenure, and it likely expected rising football ticket sales with increased success to cover those costs. Instead, football began to decline, season tickets dropped in multiple sports and ECU had no real answer, especially when Pirate Club membership fell off and the scholarship deficit continued to rise.
3. Adding women's lacrosse
When you're in a budget crisis, the last thing you want to do is incur another big expense. But that's exactly what ECU did with the addition of women's lacrosse. Announced as the 20th intercollegiate sport at ECU in March of 2016, the program started play this year and has already picked up its first win in school history. But the cost of the program is an estimated $500K per year, and with 19 other sports to take care of already, it just seemed inefficient to add the program.
Some in Compher's administration pointed to a possible Title IX problem given ECU's student ratio of females to men, but it was never publicly confirmed that was the primary reason behind the addition of the sport. And if it was, it arguably would have made more long-term sense to slash a male sport to even the ratio rather than incur another big expense in women's lacrosse.
4. Cutting himself off from the average fan
One of the main criticisms Compher faced during his tenure was the lack of ability to connect with the rank-and-file fans. And at ECU, where there are only so many elite donors, that's a major issue. Compher had a solid background as a businessmen and had made some good decisions in his athletic past to led him to the AD job at ECU, but there's no doubt he wasn't the most sociable administrator to work with, and his antics largely paled in comparison to predecessor Terry Holland, who would walk the tailgating lots prior to every home game and seemingly knew everyone's name.
The other big mistake Compher made early in his tenure? Deleting his Twitter account. Fed up with the backlash and criticism from the dismissal of McNeill, Compher exited the social media platform and largely cut himself off from fans as a result. From a leadership position, it always came off as a weak move.
5. The handling of Jeff Lebo
Shortly after Compher took over the reigns of the athletic director position in 2013, he extended head basketball coach Jeff Lebo's contract in the winter of 2014, adding two more years to a deal than already ran through 2019, giving Lebo a raise and extra long-term security through 2021. While some saw it as unnecessary in terms of the length of the deal, many also praised Compher for trying to keep Lebo locked up (at the time, he was coming off a record-breaking 2012-13 season).
But things quickly took a downward turn after the extension. Lebo finished the 2013-14 year at 17-17. The following two seasons in the AAC produced records of 14-19 and 12-20, the latter of which many began to call for Lebo to be let-go. Instead, Lebo got a vote of confidence from Compher and came back for 2016-17. The Pirates were 9-10, 1-5 in league play and on a five-game losing streak when Lebo stepped away for hip surgery midway through the season. The Pirates finished the year 15-18, but Compher again elected to let Lebo play out his contract despite more criticism from fans.
Finally, following a 2-4 start to the 2017-18 campaign, Lebo stepped away on his own, resigning at the start of his eighth year with the program. The Pirates finished the season 10-20 overall under interim coach Michael Perry.
While Compher can't be necessarily blamed for the extension he gave to Lebo at the beginning of his tenure when the coach was taking the programs to new heights, the unwillingness to move on from Lebo once the downward trend started, and continued, will always be a head-scratcher that seemingly delayed the inevitable for many.