ECU sets starting rotation for opening weekend
Sophomore Trey Benton will open the season on the mound for the Pirates next Friday.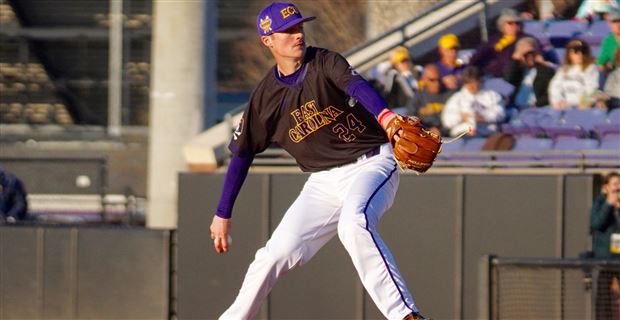 ECU has established its starting rotation for opening weekend.
The Pirates will open their season with sophomore right-hander Trey Benton on the mound next Friday, Feb. 16 inside Clark-LeClair Stadium against Western Carolina at 4 p.m. ET. Left-hander Jake Agnos, a fellow sophomore, will get the ball on Saturday. Junior righty Chris Holba is scheduled to start Sunday's series finale.
All three players are returning with weekend experience from the Pirates' 2017 campaign.
Benton started a team-high 14 games as a freshman, posting a 3-4 record with a 4.18 ERA, 74 strikeouts and 19 walks in 71.0 innings pitched. The right-hander threw in Friday's scrimmage at Clark-LeClair Stadium.
Agnos went 3-3 with a 3.22 ERA as a freshman.
Holba, who's dealt with some arm soreness this preseason, is scheduled to throw three innings this weekend and - if all goes well - will close out the series against the Catamounts. Holba went 4-2 with a 3.38 ERA over 14 appearances and six starts last season.