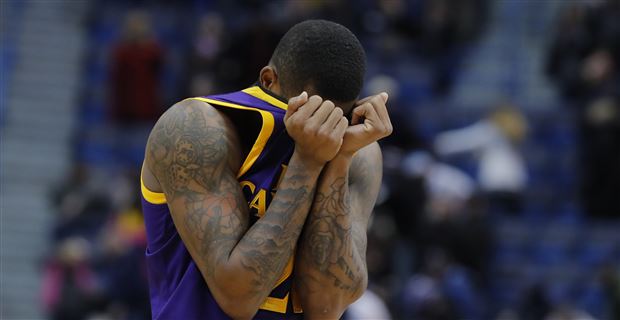 ECU made things interesting for a while on Thursday in the opening round of the American Athletic Conference tournament in Orlando, but couldn't complete its upset attempt in a 66-52 loss to UCF.
The 11th-seeded Pirates, who trailed by 11 points at halftime, used a 13-0 run midway through the second half to trim the deficit to one point with less than 10 minutes remaining, but saw sixth-seeded UCF answer with an 18-1 run of its own as the Knights pulled away at the Amway Center.
The loss ended ECU's campaign with a final record of 10-20 overall in a season that saw head coach Jeff Lebo step away from the program six games in with a 2-4 record. Interim head coach Michael Perry coached the team to a 8-16 record the rest of the way, including a 4-14 mark in conference play during the regular season.
The 10 overall wins marks the lowest victory total for ECU since 2009-10 when the Pirates went 10-21 in Mack McCarthy's final season.
UCF advances to play third-seeded Houston on Friday evening in the second round.
ECU finished with 20 turnovers.
"The turnovers started to mount for us in the last seven minutes of the game and I can't help but think our fatigue had a lot to do with that," Perry said on the postgame show on the Pirate IMG Sports Network. "You can't give the team more chances than you and that's exactly what happened. We're just undermanned and don't have a lot of options to turn to."
ECU put together a 13-0 run, capped by BJ Tyson's 3-pointer, to cut the deficit to 46-45 with 9:36 remaining
But, despite struggles on the offensive end of the floor, the Knights continued to get to the free throw line and knocked down several shots from the charity stripe to extend the lead. UCF went 20-for-36 from the line for the game compared to ECU's eight makes in 12 attempts.
Shawn Williams, the AAC Freshman of the year, led the Pirates with 17 points, while Tyson netted 14 points in his final collegiate contest.
"BJ shows up every day and gives you 100 percent effort and as a coach there's nothing more you value more than that," Perry said of Tyson. "His leadership is going to have an impression on so many of our young guys, in particular Shawn Williams, who he really started to take under his wing.
"He's about the right stuff on and off the floor. He's done the right things in the classroom and as a citizen. He's one of the most popular athletes I've seen in the 11 years I've been here, and for good reason."
BJ Taylor led UCF with 17 points.
Leading 11-9 in the first half, UCF extended its lead to 22-9 thanks to an 11-0 run and a near six-minute scoring drought from ECU midway through the first half.
ECU appeared it would head into halftime with some momentum and a single-digit deficit, but Caesar DeJesus drilled a 3-pointer from the corner at the halftime buzzer to make it 36-25 going into the locker room.
The Pirates committed 14 of their 25 fouls in the first half.
As for the future of the Pirates' basketball program from a coaching perspective, things seem to be heading into a different direction going forward, though Perry - who also took over the team with solid success in 2016-17 following Lebo's midseason hip surgery - stated his desire to remain at the helm for a full season going forward.
"I'm sure we'll have some conversations in the coming days," Perry said in regards to his future. "My intention is to be here, I want to be here, and I want to finish what I started.
"I think if you talked to coaches around this league, they would kind of tell you I shouldn't be measured on what just happened this year. I should be measured on what happened last year some too. That was a better team so we had better results. ... I would really like the opportunity to put my fingerprints on this thing and begin to establish a culture here."